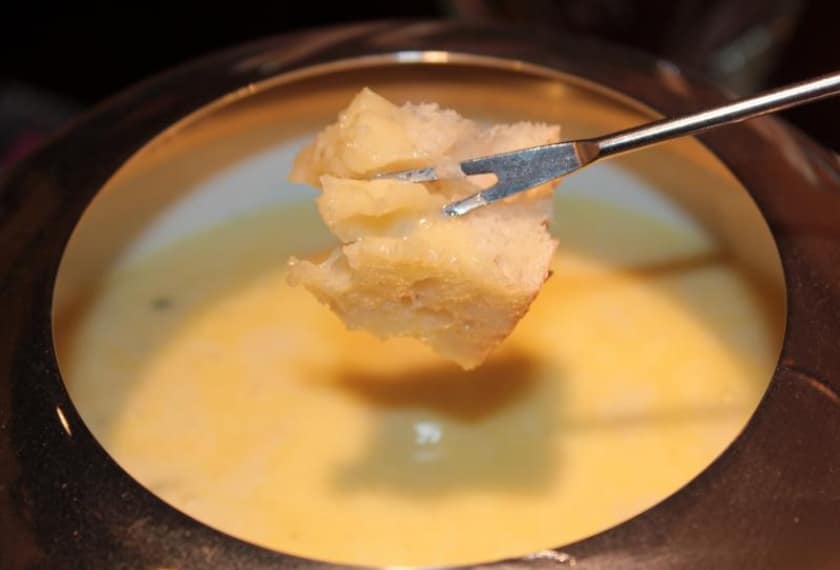 Ingredients
½ small onion
300ml dry cider
1 tsp. lemon juice
450g Knockanore Cheddar (grated)
1 tbsp cornflour
2 tbsp dry sherry
Pinch mustard powder
1 tsp chopped fresh sage
Fresh ground black pepper
Method
Rub the inside of the fondue pot with the cut side of the onion.
Place the cider & lemon juice in the pot and heat gently on top of the stove until bubbling. Gradually stir in the grated cheese and heat gently, stirring until completely melted.
In a small bowl blend together the cornflour and sherry. Add the mustard and stir into the cheese mixture.
Continue to cook, gently stirring until thick and smooth. Stir in the sage and season with black pepper. Transfer the fondue pot to a lighted burner.
Dip crusty farmhouse bread, apple and celery on forks into the fondue.

You may also like
New Season Irish Carrot Cake

International Guest Chef Fred Cordonnier. Recipe baked by Aisling Boggan from team Good Food Ireland.

Greek Yogurt, Lemon Zest and Pistachio Pancakes

Since 1990, the Faughnan family of Dromod, Co. Leitrim have been ensuring the traditional Irish food, boxty remains a key part of Irish food culture with their Dromod Boxty food business.