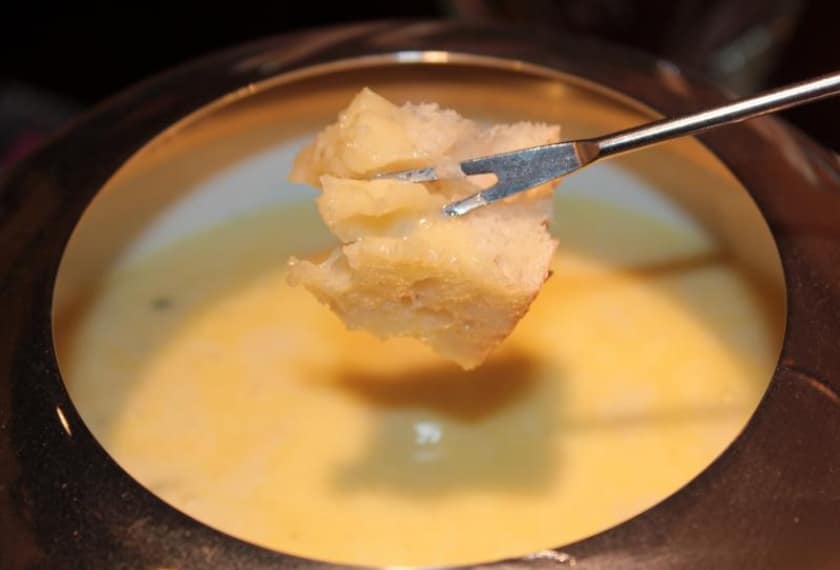 Ingredients
½ small onion
300ml dry cider
1 tsp. lemon juice
450g Knockanore Cheddar (grated)
1 tbsp cornflour
2 tbsp dry sherry
Pinch mustard powder
1 tsp chopped fresh sage
Fresh ground black pepper
Method
Rub the inside of the fondue pot with the cut side of the onion.
Place the cider & lemon juice in the pot and heat gently on top of the stove until bubbling. Gradually stir in the grated cheese and heat gently, stirring until completely melted.
In a small bowl blend together the cornflour and sherry. Add the mustard and stir into the cheese mixture.
Continue to cook, gently stirring until thick and smooth. Stir in the sage and season with black pepper. Transfer the fondue pot to a lighted burner.
Dip crusty farmhouse bread, apple and celery on forks into the fondue.

You may also like
Simnel Cake

Ballymaloe House is home to the cooking dynasty of the Allen family, so you know you are in for a gastronomic treat when you dine here. This elegant country house has all the elements you will need to enjoy a relaxing full of great hospitality and of...

Traditional Roast Beef Dinner

The suburbs of Cork City are home to a little secret. Located near Douglas, just a short drive from the centre of the Rebel City, Maryborough Hotel and Spa is set in a private estate of mature grounds and gardens. You can sense the 300 years of history...