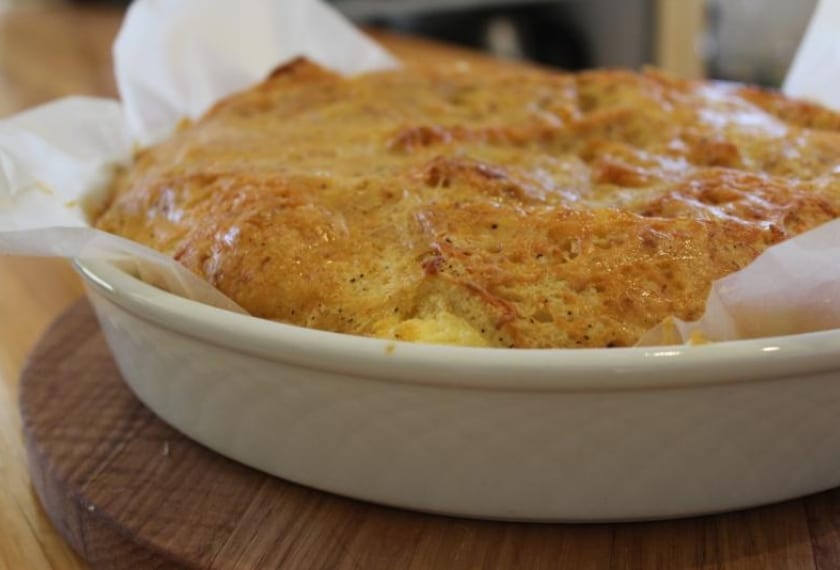 Ingredients
1 loaf (about 600g) sourdough bread, crusts removed
2 eggs
4 egg yolks
500ml (2 cups) pouring cream
200ml milk
250g grated Knockanore smoked cheddar
Method
Cut sourdough bread into 1cm-thick slices, then halve diagonally.
Lightly whisk eggs, yolks, cream and milk in a bowl and season to taste with sea salt and freshly ground black pepper.
Place a single layer of bread over the base of a baking paper-lined 28cm-round baking dish, pour over half the egg mixture, scatter with half the grated cheese, repeat with remaining bread, egg mixture and cheese.
Stand for 10-15 minutes to allow bread to soak up the mixture, then bake at 180°C for 30-40 minutes or until egg mixture is set and cheese is golden. Cool, then turn out onto a board and cut into wedges.
Reheat on a baking paper-lined oven tray at 200°C for 5 minutes or until heated through.

You may also like
Simnel Cake

Ballymaloe House is home to the cooking dynasty of the Allen family, so you know you are in for a gastronomic treat when you dine here. This elegant country house has all the elements you will need to enjoy a relaxing full of great hospitality and of...

Traditional Roast Beef Dinner

The suburbs of Cork City are home to a little secret. Located near Douglas, just a short drive from the centre of the Rebel City, Maryborough Hotel and Spa is set in a private estate of mature grounds and gardens. You can sense the 300 years of history...