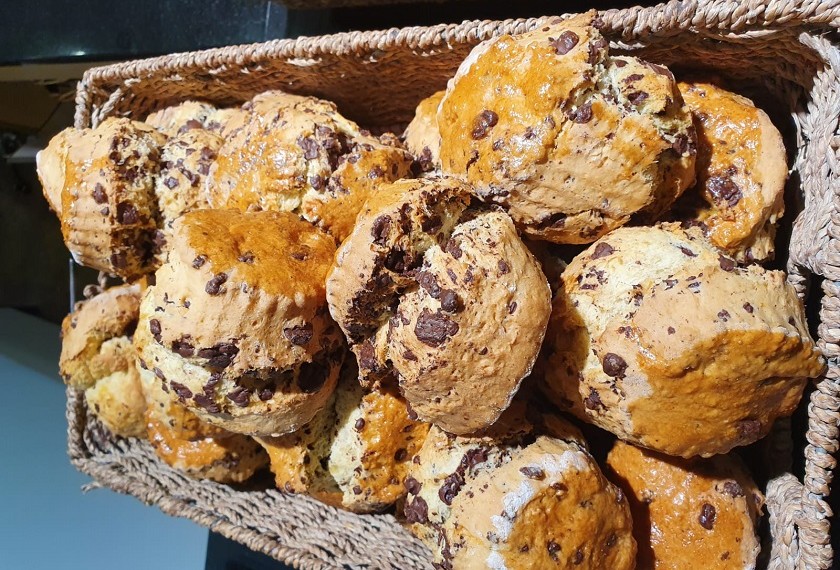 Ingredients
Makes 12
400g Self-Raising Flour
1 1/2 tsp. Baking Powder
50 Icing Sugar
100g Real Irish Butter
100ml Milk
50ml Cream
1 Medium Egg
2 Oranges
100g Chocolate Chips/Grated Chocolate
Method
Sieve flour, baking powder and icing sugar into a large bowl.
Rub in the butter until it resembles breadcrumbs.
Whisk the milk, cream and egg together (hold back some of this for glazing).
Bring the wet and dry ingredients together, use a butter knife to mix.
Mix the zest and juice of two oranges into the mixture.
Gently mix the chocolate chips/grated chocolate through the mixture.
Tip the mixture out onto a floured table, push down gently to about 1 1/2 -2 inches in height. Cut out
with a cutter or cut into squares with a knife. Glaze with the remaining milk, cream and egg mix.
Bake in a preheated oven at 180c for 20 minutes on a lightly floured baking tray.

You may also like
Simnel Cake

Ballymaloe House is home to the cooking dynasty of the Allen family, so you know you are in for a gastronomic treat when you dine here. This elegant country house has all the elements you will need to enjoy a relaxing full of great hospitality and of...

Traditional Roast Beef Dinner

The suburbs of Cork City are home to a little secret. Located near Douglas, just a short drive from the centre of the Rebel City, Maryborough Hotel and Spa is set in a private estate of mature grounds and gardens. You can sense the 300 years of history...