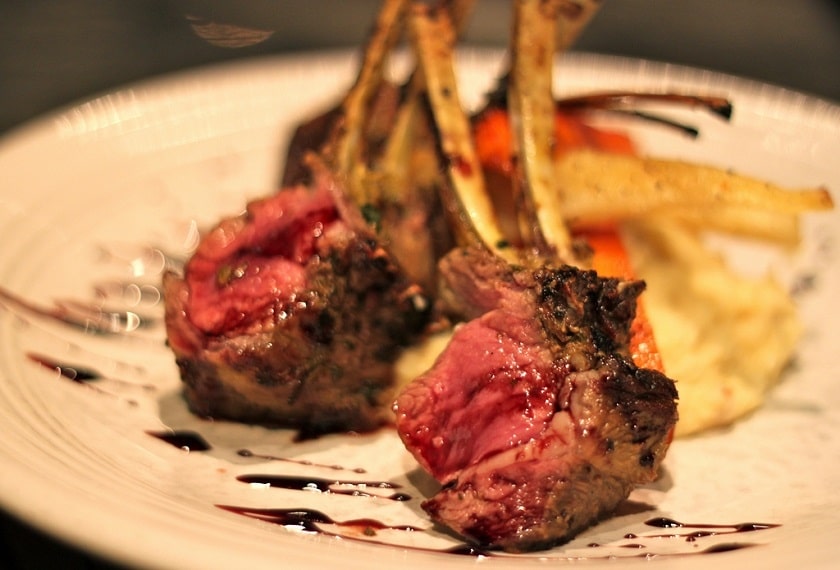 Ingredients
4 Lamb Shanks (oven ready)
3 Tbsp Olive Oil
4 Sprigs of Rosemary
Salt and Black Pepper
4 Tbsp Butter
2 Chopped Cloves of Garlic
2 Tbsp Chopped Parsley
250g (10oz) Carrots and Parsnips (cut into small chunks)
8 Shallots (peeled)
Flat Leaf Parsley (for Garnish)
Scallion Mash:
1- 2 Good sized peeled potatoes per person
Butter to your liking (some people like their mash extra buttery!)
A generous portion of diced scallions
Season with Salt and Pepper
Method
For the Lamb, Veg and Sauce:
Pre-heat the oven to 160°C / Gas Mark 3. Heat oil in a large roasting dish and brown the shanks on all sides.
Remove the shanks and brown the vegetables. Remove the vegetables.
Put the shanks and juices back in the dish with rosemary and garlic and ½ glass of water. Season with salt and pepper.
Cover the dish with tin foil and cook for 1 ½ hours.
Then add the vegetables to the dish and continue to cook for a further hour. Remove from the oven, place the shanks and vegetables on a dish and keep warm.
Strain off the juices into a small pot. Remove any visible fat from the juice. Boil for 5-6 minutes until it has a light sauce consistency.
Remove from the heat and whisk in the butter, then add the chopped parsley and chives. Warm four large plates. Place shank of lamb in the centre, surround with vegetables and coat with the sauce. Garnish with flat leaf parsley and serve with scallion mash.
For the Mash:
When it's about 45 minutes to an hour to dinner, boil the potatoes, when you can easily insert a knife, take them off the heat.
Drain and leave to sit so that the water evaporates off.
When they are dry and fluffy, put them in a big bowl, mash with the butter and scallions.
Season to taste and serve.

You may also like
Simnel Cake

Ballymaloe House is home to the cooking dynasty of the Allen family, so you know you are in for a gastronomic treat when you dine here. This elegant country house has all the elements you will need to enjoy a relaxing full of great hospitality and of...

Traditional Roast Beef Dinner

The suburbs of Cork City are home to a little secret. Located near Douglas, just a short drive from the centre of the Rebel City, Maryborough Hotel and Spa is set in a private estate of mature grounds and gardens. You can sense the 300 years of history...