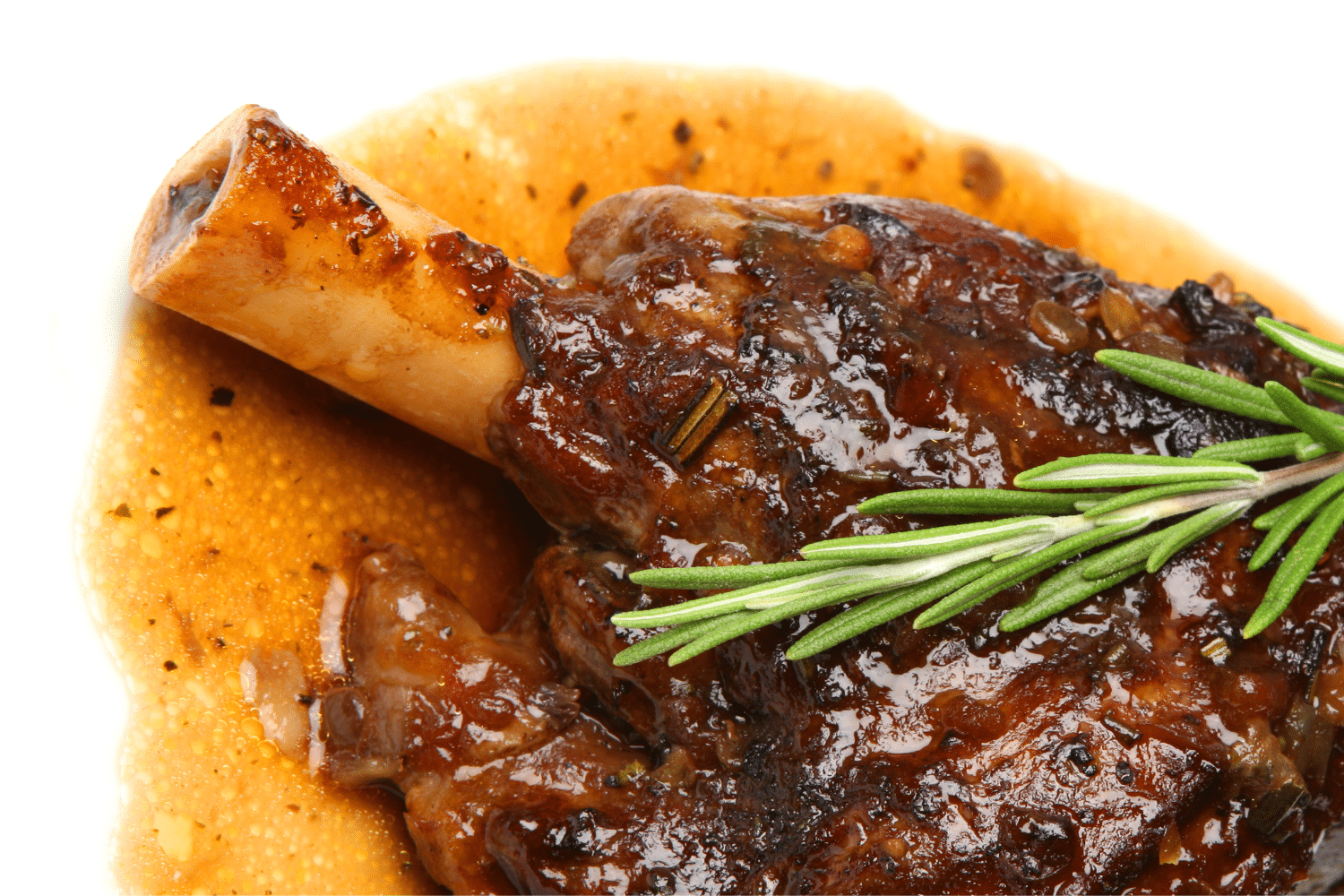 Ingredients
4 Lamb Shanks (oven ready)
3 Tbsp Olive Oil
4 Sprigs of Rosemary
Salt and Black Pepper
4 Tbsp Butter
2 Chopped Cloves of Garlic
2 Tbsp Chopped Parsley
250g (10oz) Carrots and Parsnips (cut into small chunks)
8 Shallots (peeled)
Flat Leaf Parsley (for Garnish)
Method
For the Lamb, Veg and Sauce:
Pre-heat the oven to 160°C / Gas Mark 3. Heat oil in a large roasting dish and brown the shanks on all sides.
Remove the shanks and brown the vegetables. Remove the vegetables.
Put the shanks and juices back in the dish with rosemary and garlic and ½ glass of water. Season with salt and pepper.
Cover the dish with tin foil and cook for 1 ½ hours.
Then add the vegetables to the dish and continue to cook for a further hour. Remove from the oven, place the shanks and vegetables on a dish and keep warm.
Strain off the juices into a small pot. Remove any visible fat from the juice. Boil for 5-6 minutes until it has a light sauce consistency.
Remove from the heat and whisk in the butter, then add the chopped parsley and chives. Warm four large plates. Place shank of lamb in the centre, surround with vegetables and coat with the sauce. Garnish with flat leaf parsley and serve with scallion mash.

You may also like
Irish Seafood Chowder

Bill Kelly is the fourth generation to head up this hotel, and we think it really sums up Rosslare. It has been such an integral part of this beachside location and now International Europort since 1895, that to imagine the place without it is unthinkable....

Tips for Cooking Irish Hereford Prime Steak

Farmer-led and owned, Irish Hereford Prime was founded in 1997 with the aim of promoting Irish Hereford Beef as a premium brand associated with quality and produced with sustainable methods. Since is formation, Irish Hereford Prime has gained a reputation...