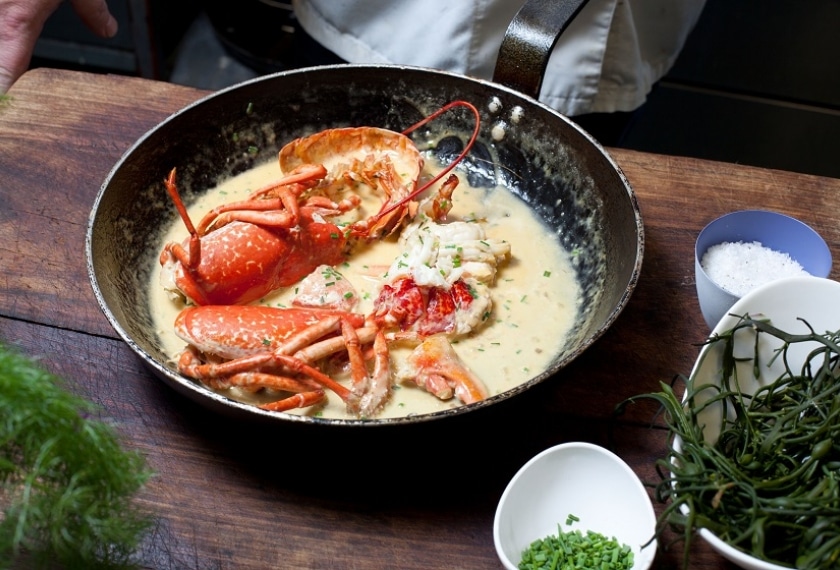 Ingredients
1 700g whole lobster
1 shallot, chopped
1 tblsp brandy
1 tblsp dry white wine
1 tsp light Dijon mustard
1 knob of butter
100ml fresh cream
100ml lobster cooking liquid or fish stock
2 sprigs of parsley
10g fresh bread crumbs
20g fresh parmesan grated
80g of rice to serve on
Method
Bring a large pan of salted water to the boil and cook the lobster for about 8 minutes. Allow to cool.
Remove the claws and split the lobster from head to tail. Remove all meat from claws & body and set aside. Take care to keep the shells intact.
Gently sauté the shallots in a little butter. Add the lobster shells, stock and white wine. Cook until it has reduced by half. Then remove the half shells and set them on a grill tray.
Add the brandy to the pan and flame off the alcohol. Stir in the cream and mustard. Add the lobster meat and most of the Parmesan cheese to the sauce. Taste and adjust seasoning if needed.
Chop parsley then mix it with bread crumbs and remaining parmesan cheese.
Cook the rice.
Heat the shells under a grill. Divide the rice between two warmed plates and place a half lobster shell on each mound of rice.
Carefully spoon the sauce into the half shells. Sprinkle the crumb mixture on top. Pop under the grill to gratinate and serve immediately.

You may also like
Irish Seafood Chowder

Bill Kelly is the fourth generation to head up this hotel, and we think it really sums up Rosslare. It has been such an integral part of this beachside location and now International Europort since 1895, that to imagine the place without it is unthinkable....

Tips for Cooking Irish Hereford Prime Steak

Farmer-led and owned, Irish Hereford Prime was founded in 1997 with the aim of promoting Irish Hereford Beef as a premium brand associated with quality and produced with sustainable methods. Since is formation, Irish Hereford Prime has gained a reputation...