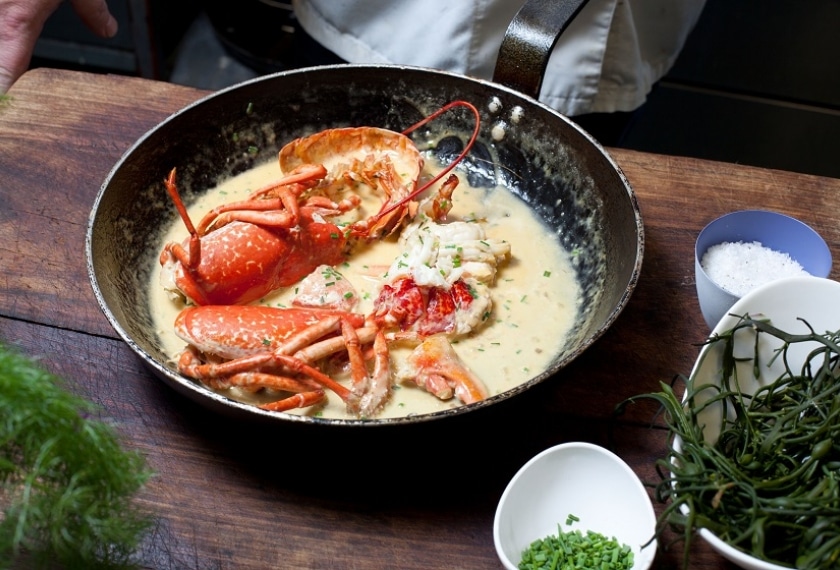 Ingredients
1 700g whole lobster
1 shallot, chopped
1 tblsp brandy
1 tblsp dry white wine
1 tsp light Dijon mustard
1 knob of butter
100ml fresh cream
100ml lobster cooking liquid or fish stock
2 sprigs of parsley
10g fresh bread crumbs
20g fresh parmesan grated
80g of rice to serve on
Method
Bring a large pan of salted water to the boil and cook the lobster for about 8 minutes. Allow to cool.
Remove the claws and split the lobster from head to tail. Remove all meat from claws & body and set aside. Take care to keep the shells intact.
Gently sauté the shallots in a little butter. Add the lobster shells, stock and white wine. Cook until it has reduced by half. Then remove the half shells and set them on a grill tray.
Add the brandy to the pan and flame off the alcohol. Stir in the cream and mustard. Add the lobster meat and most of the Parmesan cheese to the sauce. Taste and adjust seasoning if needed.
Chop parsley then mix it with bread crumbs and remaining parmesan cheese.
Cook the rice.
Heat the shells under a grill. Divide the rice between two warmed plates and place a half lobster shell on each mound of rice.
Carefully spoon the sauce into the half shells. Sprinkle the crumb mixture on top. Pop under the grill to gratinate and serve immediately.

You may also like
Simnel Cake

Ballymaloe House is home to the cooking dynasty of the Allen family, so you know you are in for a gastronomic treat when you dine here. This elegant country house has all the elements you will need to enjoy a relaxing full of great hospitality and of...

Traditional Roast Beef Dinner

The suburbs of Cork City are home to a little secret. Located near Douglas, just a short drive from the centre of the Rebel City, Maryborough Hotel and Spa is set in a private estate of mature grounds and gardens. You can sense the 300 years of history...