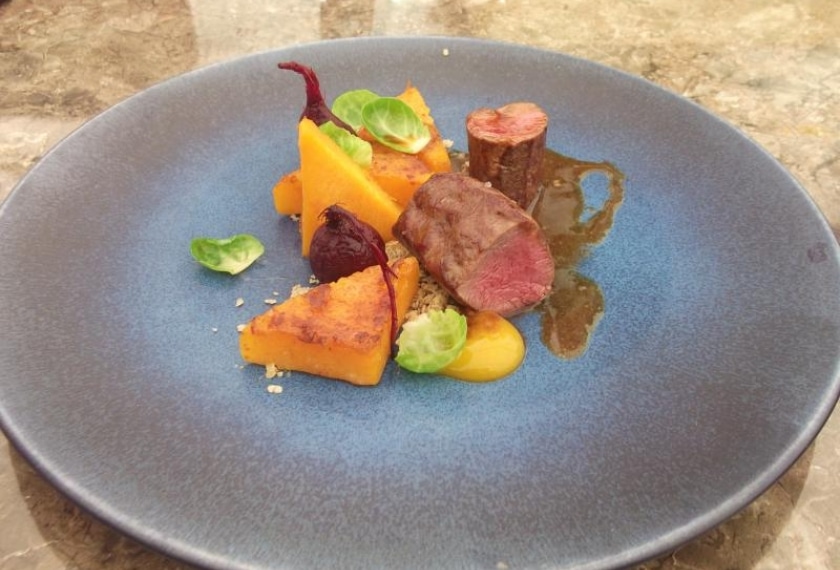 Ingredients
Venison Saddle if possible, get your local butcher to prepare the venison into 8 once portions and to keep the venison bones and trimmings, as you will need these for the sauce.
Game Jus:
2 kg of Bone from the venison Saddle (Or if local butcher can source you some)
White Onion
1/2 Celery ( finely sliced)
1 Carrot ( finely sliced)
1/2 Leek ( finely sliced)
1 Garlic ( finely sliced)
12 Black Peppercorn
2 Star Anise
2 Bay leaf
4 sprigs thyme
200ml Cognac
300ml red wine
1 Butternut squash
1 pound Butter
400ml water
14 Baby Beetroot ( tail On)
1 lt water
250ml red wine
200ml Red wine Vinegar
140g Brown Sugar
1 sprig Thyme
1 Bay Leaf
2 black peppercorns
1/2 tsp salt
18 Sprout cups (outer leaves of the brussel sprouts)
Butter
1 lt Water
Orange Juice
5g Agar Agar
10g Sugar
170g Oatmeal
4 Shallots diced
3 tsp Thyme
40g Sugar
60g Duck Fat
1/2 tsp Salt
Method
Venison Jus
To make the venison jus, rough chop the venison bones and then place into an oven at 200 degrees for 20-30 minutes until the bones are well roasted. Meanwhile in a large pot, sauté 3/4 of the vegetables just lightly colouring. Then add in the venison bones, 1/2 peppercorns, 1 bay leaf and 1/2 the thyme. Cover with water and simmer for 3-4 hours continually skimming and then pass through a fine strainer and reserve. Next stage take the venison trimming and roughly chop into small pieces. Fry all the venison pieces of in small batches so as you can achieve a very dark colour on the venison, place to one side on a cloth so as to remove any excess fat. Take a large bottom pot and sauté of remaining vegetables, and then add in remaining spice, herbs and sauté venison pieces. Cook for 2-3 minutes and then add in the red wine and brandy. Reduce the alcohol and then add in the reserved veal stock and reduce to a light sauce. Pass through fine strainer or muslin, and cool.
Peel the butternut squash, and then cut the top end of the squash off leavening the bottom. Using the top part, cut this into 2 inch square pieces reserving the trimming and bottom part of the squash for other use. In a medium hot pan, lightly colour both sides of the butternut squash squares and then add in the water and the butter insuring the squash is fully submerged. Place into a pre heated oven at 180 degrees until cooked. Remove from the liquid and strain. Take the baby beetroot and remove any excess dirt. Place all remaining ingredients into a pot and bring to a simmer. Add in the beetroot and cook until cooked through. Remove from the poaching liquor and while still warm use a tea towel to gently rub of the skin. Place back into poaching liquor and cool. Place the tangerine juice & sugar in a pot and reduce to 800 ml. Cool fully and then add in agar agar and stir leaving for 2-3 minutes. Place on the heat and let the mix come to the boil for approx 3 minutes. Remove from the heat and leave cool for 3-4 hours. Remove from the fridge and cut into small cubes and blitz in a liquidiser until fully smooth and sauce consistency. In a large pan, light sweat of the shallots in the duck fat for 4-5 minutes. Add in remaining ingredients and mix well together. Pour onto a non stick tray and place into a oven at 100 degrees for 2 hours.
To Serve Fry the venison loin in a medium to hot pan until brown all over. Then place into a oven at 180 degrees until medium ( 3-4 minutes). Take out and leave to rest in a warm place for 5 minutes. Place the butter squash on a tray and brush with melted butter and heat in the oven until hot through. Then take the beetroot and heat up in the cooking liquor and the leave to one side. blanch the sprout leaves in water and butter for 20-30 seconds until just barely cooked. Heat a small amount of the venison jus. On a main course plate, place a line of orange gel along the middle of the plate. Sprinkle some oatmeal crumble alongside this. Cut the butternut squash into triangles, and place the squash and beetroot along the right side of the plate. Place 3-4 sprout cups around these decoratively. Then take the venison loin and give 40 seconds in the oven to heat up. Then slice the venison into 2 pieces and place on the right side of the orange gel. Pour a little sauce over the meat. Take a glass cloche, and place over the dish, and using a smoking gun, fill with oak smoke.

You may also like
Rhubarb Martini

What a delight to see rhubarb fabulously starting to make its presence known in the garden. As we are leaving our caves, and with more sunny days, we decided to share this easy and seasonal drink with you.