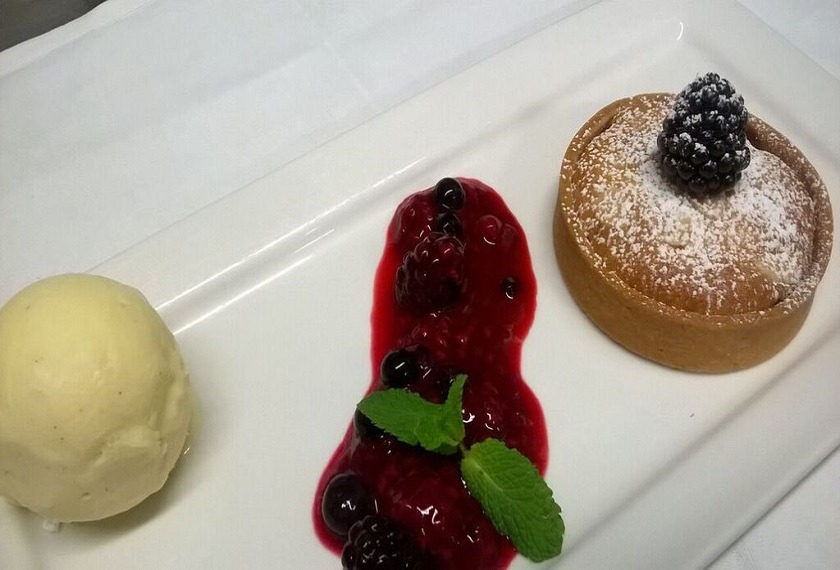 Ingredients
For the Sweet Pastry:
681gr of butter
227gr of icing sugar
2 whole eggs
681gr of cream flour
For the Mincemeat:
225gr of Bramley Apple cores chopped small
225gr of shredded suet
350gr of raisins
225gr of sultanas
225gr of currants
225gr of whole mixed peel
350gr of dark brown sugar
Zest and juice of 2 oranges
Zest and juice of 2 lemons
50gr of whole almonds cut into slivers
4 tsp of ground mixed spices
¼ tsp of ground cinnamon
A good grinding of fresh nutmeg
250ml of brandy
For the Frangipane:
227gr of butter
227gr of sugar
6 eggs
227gr of ground almonds
Method
For the Mincemeat (This should be prepared in advance):
Mix all the ingredients together except the brandy.
Cover and leave overnight.
Set oven to 120°C, cover loosely with foil and place in oven for 3 hours, when finished, take out, let it cool.
Pour brandy over the mixture, stir and let it cool down for a day.
Store in sterilised wax paper jars until needed.
For the Sweet Pastry:
Sieve the icing sugar into a bowl.
Dice the butter at room temperature.
Place sugar and butter in a mixer and beat till creamy.
Add 2 eggs slowly, beat till fully mixed.
Add the flour slowly.
Turn the mixture onto a lightly floured board and gently knead.
Divide into 4 pieces wrap in cling film.
Keep in fridge for minimum 30 minutes or until ready to use.
The pasty will keep for up to 3 days refrigerated.
For the Frangipane:
Cream butter & sugar.
Add eggs one by one beating each time.
Add ground almonds – Beat for a couple of minutes.
Bringing it all together:
When ready roll the prepared pastry on a floured board and cut rounds with a cutter to fit greased muffin tins.
Place a teaspoon of mincemeat mixture in each muffin.
Pipe the Franzipan on top of the mince meat.
Bake for about 15 minutes at 180°C or until golden brown.
Relax in the tin for 6 minutes, turn on to a cooling tray.
Serve with fresh cream, ice-cream of choice or brandy cream.

You may also like
Simnel Cake

Ballymaloe House is home to the cooking dynasty of the Allen family, so you know you are in for a gastronomic treat when you dine here. This elegant country house has all the elements you will need to enjoy a relaxing full of great hospitality and of...

Traditional Roast Beef Dinner

The suburbs of Cork City are home to a little secret. Located near Douglas, just a short drive from the centre of the Rebel City, Maryborough Hotel and Spa is set in a private estate of mature grounds and gardens. You can sense the 300 years of history...