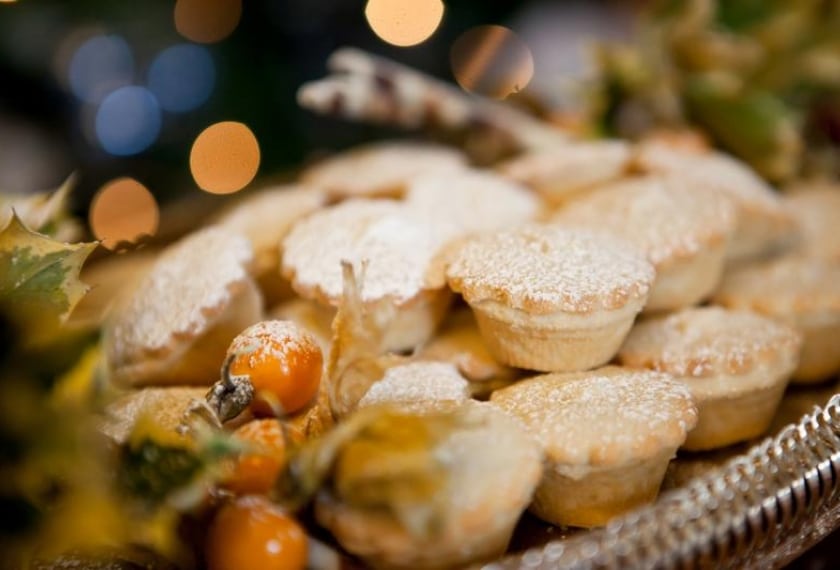 Ingredients
Mincemeat
225g suet (ask your butcher for it and to mince it for you)
225g cooking apples, peeled and then grated on the coarse side of a box grater
125g candied peel
225g sultanas
225g raisins
225g currants
200g light brown sugar
1 tsp mixed spice
50ml brandy
1 orange, juice and zest
For the Pastry (12 portions, 180°C, 15 minutes)
200g butter, cubed
400g plain flour
100g ground almonds
100g golden caster sugar
1 orange zest
2 tbsp milk
Method
Mincemeat
Mix all the ingredients together and store in an airtight container until ready to use.
For the Pastry (12 portions, 180°C, 15 minutes)
Blitz the butter, flour and ground almonds in a food processor until you get a crumbly texture. Then blitz in the orange and sugar. Slowly add the milk, while the motor is still running and until the ingredients come together to form a dough. Tip onto a lightly floured surface and knead if required. Rest for 10 – 15 minutes and then roll out. Cut out 12 discs sizes for the base of a bun tin and 12 discs to fit as the lids. Fill these with the mincemeat and cover with the lids, brushing the edges on the bottom side to help secure.
Bake in a preheated oven for 15 minutes and pop out onto a wire tray to cool. Server with custard or cream

You may also like
Simnel Cake

Ballymaloe House is home to the cooking dynasty of the Allen family, so you know you are in for a gastronomic treat when you dine here. This elegant country house has all the elements you will need to enjoy a relaxing full of great hospitality and of...

Traditional Roast Beef Dinner

The suburbs of Cork City are home to a little secret. Located near Douglas, just a short drive from the centre of the Rebel City, Maryborough Hotel and Spa is set in a private estate of mature grounds and gardens. You can sense the 300 years of history...