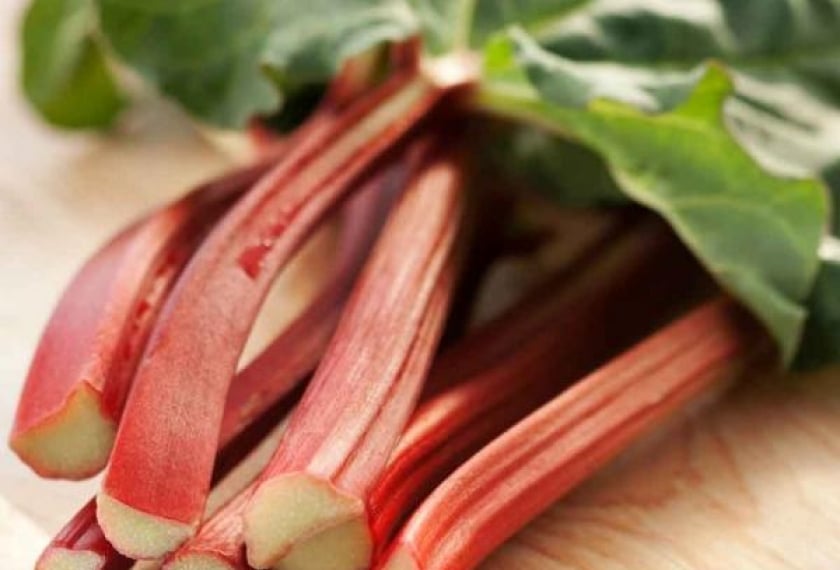 Ingredients
Pastry:
8ozs (225g) butter
2ozs (50g) castor sugar
2 eggs, preferably free range
12ozs (300g) white flour, preferably unbleached
Filling:
2lbs (900g) sliced red rhubarb (about 1/2 inch thick)
13ozs (370g) -14ozs (400g) sugar.
2-3 cloves
Egg wash-made with one beaten egg and a dash of milk
Castor sugar for sprinkling
Method
To serve:
Softly whipped cream
Barbados sugar
Tin, 7 inches (18cm) x 12 inches (30.5cm) x 1 inch (2.5cm) deep
Preheat the oven to 180°C/350°F/regulo 4.
First make the pastry. Cream the butter and sugar together by hand or in a food mixer (no need to over cream). Add the eggs and beat for several minutes. Reduce speed and mix in the flour. Turn out onto a piece of floured greaseproof paper, flatten into a round wrap and chill. This pastry needs to be chilled for at least two hours otherwise it is difficult to handle.
To make the tart Roll out the pastry 1/8-inch (3mm) thick approx, and use about 2/3 of it to line a suitable tin. Place the sliced rhubarb into the tart, sprinkle with sugar and add the cloves. Cover with a lid of pastry, seal edges, decorate with pastry leaves, egg wash and bake in the preheated oven until the rhubarb is tender, approx. 45 minutes to one hour.
When cooked cut into squares, sprinkle lightly with castor sugar and serve with softly whipped cream and Barbados sugar.

You may also like
Simnel Cake

Ballymaloe House is home to the cooking dynasty of the Allen family, so you know you are in for a gastronomic treat when you dine here. This elegant country house has all the elements you will need to enjoy a relaxing full of great hospitality and of...

Traditional Roast Beef Dinner

The suburbs of Cork City are home to a little secret. Located near Douglas, just a short drive from the centre of the Rebel City, Maryborough Hotel and Spa is set in a private estate of mature grounds and gardens. You can sense the 300 years of history...