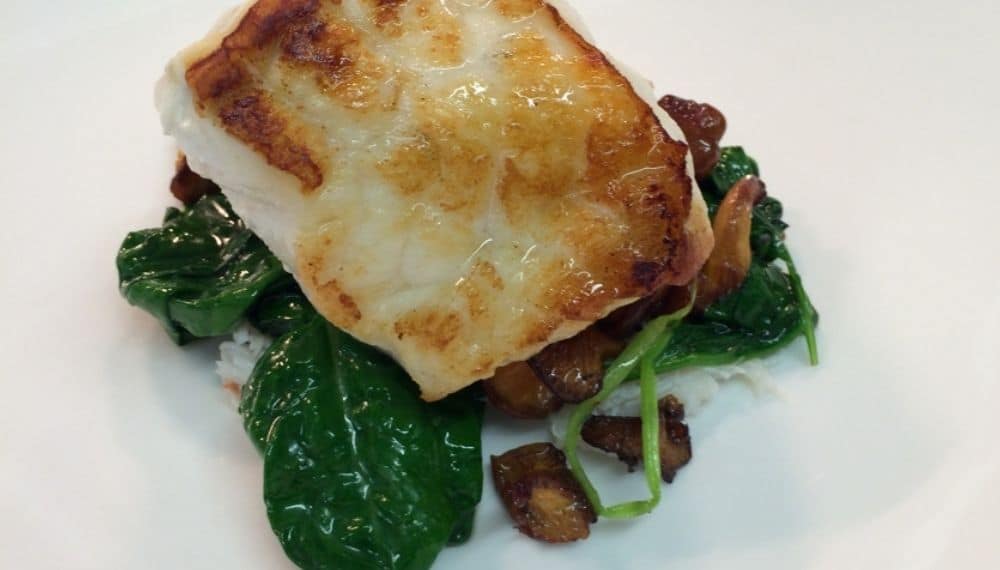 Ingredients
Fish:
2 x 160 g pieces of Monkfish (portioned and cleaned by your fishmonger)

20 g Butter

Splash of Olive Oil

Salt & Pepper
Lemon Confit:
2 Lemons + Juice of 2 Lemons

100 g Sugar
Spinach & Mushrooms:
Handful of Girolles Mushrooms, wiped clean

Handful of Spinach

Knob Butter

Splash White Wine

Splash of Olive Oil

Salt & Pepper
Method
There's nothing more refreshing than a fresh fish dish, with some lemon confit, and then a healthy side of spinach and mushrooms. This Monkfish meal with tick all the health boxes, while not giving up any of the flavour. Healthy food can be delicious, and this is an excellent example of Monkfish cooked to perfection, with a unique balance of flavours from Tankardstown House. 
First:
Heat oven to 180°
Lemon Confit:
Segment 2 of the lemons and place in a pot along with the sugar and juice of 2 lemons.  

Heat gently until the sugar has dissolved, remove from the heat and reserve.
For the Fish:
Heat the oil in the pan, avoid letting it get too hot.

Place the monkfish in the pan and gently brown on both sides. 

Add the butter and baste the fish creating a beurre noisette, Season.

Place in the oven for 3-5 minutes
For the spinach and mushroom
:  
Heat the oil in a small pot, and brown the mushrooms.  

Add the butter to the pot, along with the spinach and a splash of white wine.

Cook gently until the spinach wilts & season with salt & pepper.
To Serve:
Place a base layer of spinach and mushroom on a plate and top with the monkfish.  

Finish the dish with a generous drizzle of lemon confit. Serve and Enjoy.
This is a fairly easy recipe, the best thing you can do is prep everything before you start cooking, as once the fish is on this is nearly ready!

You may also like
Spinach & Irish Greek Style Cheese Rolls

This delicious recipe if from McCormack Family Farm, a Father and Sons team with a taste for excellence and passion for produce has excelled in creating a range of products that is both innovative and commercial in nature.

Raspberry Fool

Irish Raspberry Fool is one of the simplest desserts, made with just 3 ingredients. All you need to do to enjoy this mouthwatering dessert from Ballymaloe Cookery School is to swirl pureed raspberries togheter with fresh whipped cream.