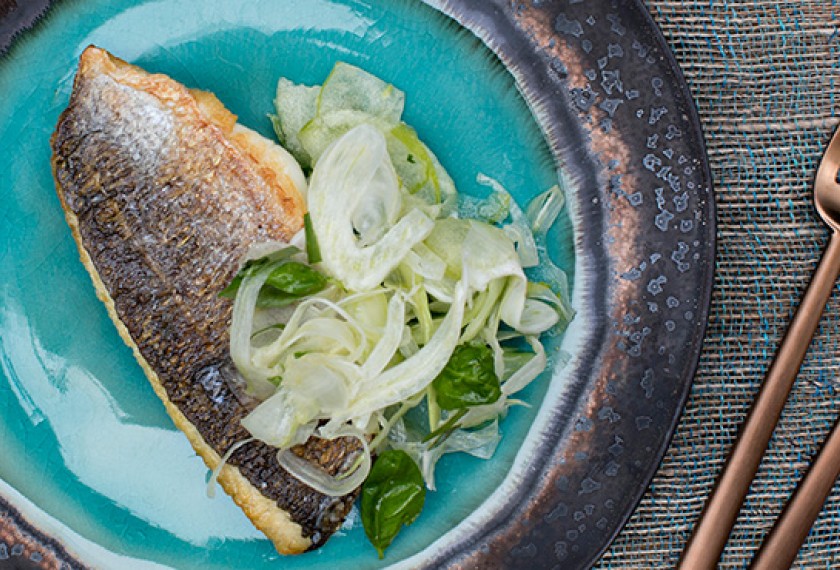 Ingredients
These smaller fish allow for quick cooking and the crisp skin provides a textural contrast to the soft flesh of the fish.
4 fillets sea bream or sea bass, about 120-140g each, skin on
olive oil, for pan frying the fish
The fennel and apple salad is a perfect accompaniment to many types of fish: fresh and very tasty.
Fennel & Apple Salad:
1 fennel bulb
1 Granny Smith apple
2 stalks of celery
zest of half lemon
small handful basil
small handful flat leafed parsley
10-20 mint leaves, depending on size
1 stalk tarragon
For The Dressing:
2 tbsp maple syrup
2 tbsp lemon juice
4 tbsp extra virgin olive oil salt and pepper
Method
To prepare the fennel & apple salad:
Chop the fennel stalks from the bulbs and discard, keeping any of the feathery fronds on the bulb (if there are any) for the salad. Cut the fennel in half through the root end and remove the core. Using a very sharp knife or mandolin, shave the fennel as finely as possible (this is important) and place in a bowl.
Leaving the skin on, slice the apple thinly from top to bottom, turning the apple each time you come close to the core. Stack some of the slices and chop into julienne (thin matchstick pieces).
Using a small utility knife, peel the fibres from the outside of the celery and slice thinly crossways.
Chop the herbs.
Put the apple, celery and herbs into the bowl, add the grated lemon zest and season.
The Dressing:
Pour the maple syrup and lemon juice into a bowl.
Whisk continuously while adding the oil.
Season.
Spoon the dressing over the fennel mixture (you may not need it all) and toss everything together.
To cook the sea bream or sea bass:
Dry the fish with kitchen paper.
Season both sides.
Heat a non-stick frying pan and when hot, add 2 tablespoons of oil to the pan.
When the oil is hot, place the fish in the pan, skin side down. At the outset, press the fish gently in the centre with a fish slice to keep it flat, keeping the heat fairly high. After a few minutes, the skin will start to colour on the underside.
When the edges of the fish become tinged golden, check the colour of the skin. If it is still quite pale, continue cooking at a high heat for another minute or so. With a fish this thin, ninety per cent of the cooking can be done on the skin side.
Turn the fish over, remove the pan from the heat and allow the flesh to cook in the residual heat of the pan for the last 30 seconds.
Place the fish on kitchen paper before transferring to a warm plate.
Serve with the fennel and apple salad.

You may also like
New Season Irish Carrot Cake

International Guest Chef Fred Cordonnier. Recipe baked by Aisling Boggan from team Good Food Ireland.