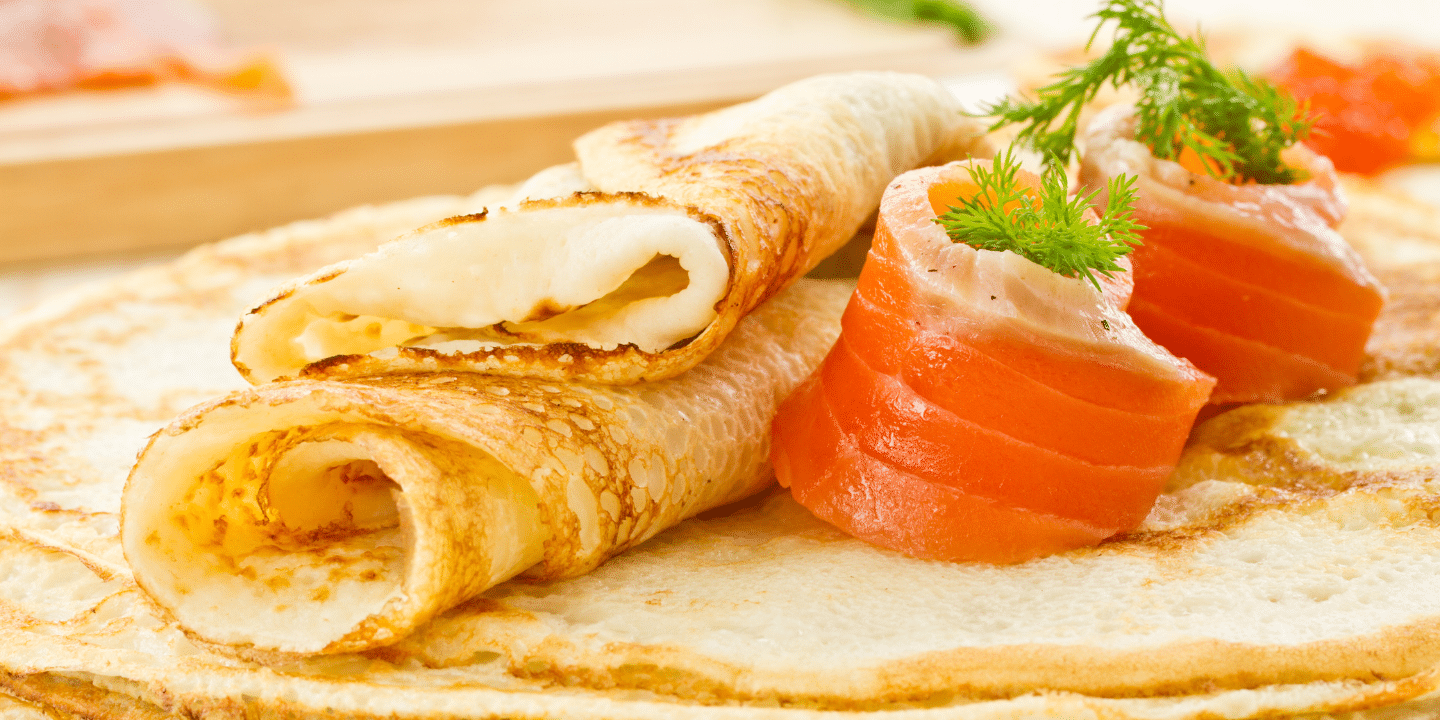 Ingredients

2 large (free-range/organic) eggs
120g plain flour
180ml milk
8 tblsp olive oil
sea salt
freshly ground black pepper
a bit of butter (or rapeseed oil) for frying
150ml crème fraiche
1 small bunch fresh chives
200g Burren Smoked Irish Organic Salmon
2 tblsp lemon juice
Method
You can make the pancakes up the day before, keep them in the fridge wrapped in cling film, then slice them up before serving.
Crack the eggs in a mixing bowl, then add the flour to the bowl so it sits in a pile to one side of the eggs. Gently start mixing the eggs with a whisk, then gradually whisk the flour in, little by little, until it's all incorporated. If it gets a bit thick, add some of the milk to loosen it up. Once all the flour is mixed in, add the rest of the milk, 2 tablespoons of oil and a good pinch of salt.
Leave for at least 1 hour before using. Heat a large non-stick frying pan and melt a bit of butter (oil) in it.
Pour in a ladleful of batter, swirl the pan around, then pour any loose batter back into the bowl it came from. You should be left with a thin pancake stuck to the pan. Let it cook for a minute or so, flip it over for 30 seconds and then slide it out onto a plate. Repeat until all your batter is used.
Let the pancakes cool completely on a wire rack.
The batter should yield about five pancakes, so you could use the remainder for breakfast.
Make a rectangle of double thickness cling film about 40cm x 15cm and lay two pancakes on it side by side, slightly overlapping. Spread them with a thin layer of crème fraîche, lay most of the chives on top, season well with pepper and place a layer of smoked salmon over the top. Use the cling film on one of the long sides of the rectangle to roll the pancakes up tightly like a Swiss roll. Re-wrap in cling film and leave for at least half an hour in the fridge to firm up before slicing into slices about one inch thick. Serve with a dip made from the rest of the oil, lemon juice and salt and pepper.
Sprinkle with the remaining chives before serving.


You may also like
Irish Seafood Chowder

Bill Kelly is the fourth generation to head up this hotel, and we think it really sums up Rosslare. It has been such an integral part of this beachside location and now International Europort since 1895, that to imagine the place without it is unthinkable....

Tips for Cooking Irish Hereford Prime Steak

Farmer-led and owned, Irish Hereford Prime was founded in 1997 with the aim of promoting Irish Hereford Beef as a premium brand associated with quality and produced with sustainable methods. Since is formation, Irish Hereford Prime has gained a reputation...