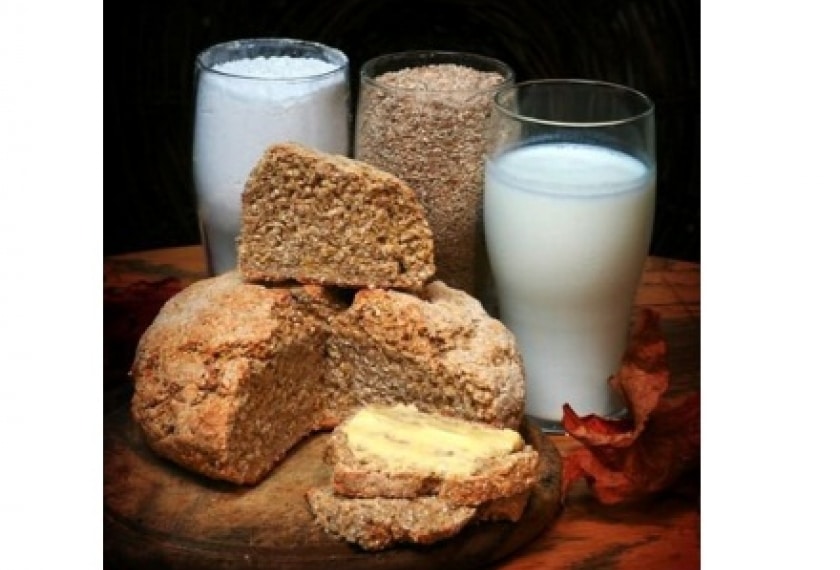 Ingredients
Pint glass coarse flour
Pint glass white flour
3/4 pint buttermilk
Enough salt to coat the bottom of a pint glass
Enough soda to coat the bottom of a pint glass
4T butter
Note: If you use the same to measure the ingredients, note that the vessel in question is a 20-ounce imperial pint glass.
Method
Preheat the oven to 375°
Sprinkle 1 tsp. of the all-purpose flour over the centre of a baking sheet and set aside. Put 2 tsp of the all-purpose flour into a small bowl and set aside. Meanwhile, put remaining all-purpose flour, whole-wheat flour, baking soda, and salt into a large bowl and mix well with your hands to combine. Add butter, breaking it up into small pieces with your fingers, and mix it into flour mixture until combined. Make a well in the centre of the flour–butter mixture and add buttermilk. Slowly incorporate buttermilk into flour mixture with your hands until a rough ball forms, then turn out onto a lightly floured surface and form into a neat ball (without kneading).
Transfer dough to centre of baking sheet and press gently to form a 7 1/2″-wide round. Using a sharp knife, slash a cross 1/2″ deep across the entire top of the loaf and dust top of loaf with the reserved flour. Bake until bread is light golden and a tap on the bottom of the loaf sounds hollow, about 70 minutes.
Wrap bread in a clean kitchen towel, prop against a windowsill, and allow to cool for about 1 hour.
To Serve: Slice and serve at room temperature or toasted with a generous spread of country butter – simply delicious!

You may also like
Simnel Cake

Ballymaloe House is home to the cooking dynasty of the Allen family, so you know you are in for a gastronomic treat when you dine here. This elegant country house has all the elements you will need to enjoy a relaxing full of great hospitality and of...

Traditional Roast Beef Dinner

The suburbs of Cork City are home to a little secret. Located near Douglas, just a short drive from the centre of the Rebel City, Maryborough Hotel and Spa is set in a private estate of mature grounds and gardens. You can sense the 300 years of history...