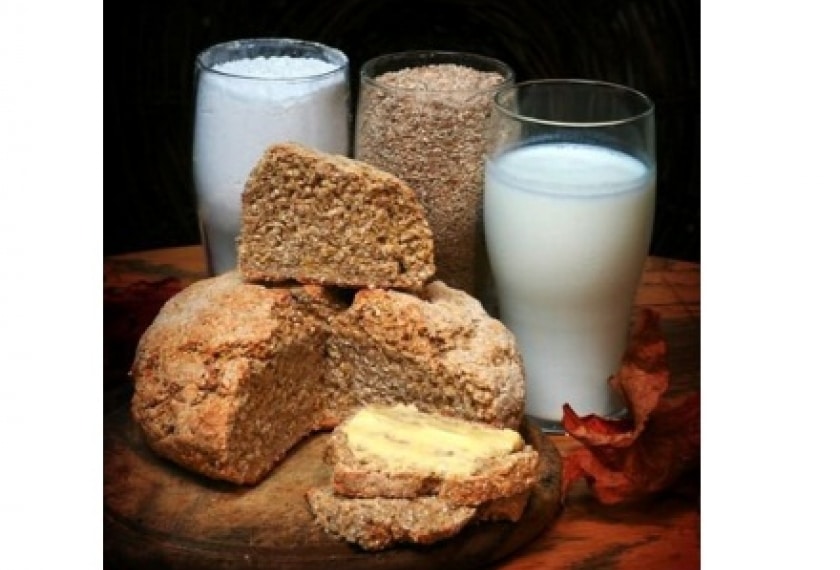 Ingredients
Pint glass coarse flour
Pint glass white flour
3/4 pint buttermilk
Enough salt to coat the bottom of a pint glass
Enough soda to coat the bottom of a pint glass
4T butter
Note: If you use the same to measure the ingredients, note that the vessel in question is a 20-ounce imperial pint glass.
Method
Preheat the oven to 375°
Sprinkle 1 tsp. of the all-purpose flour over the centre of a baking sheet and set aside. Put 2 tsp of the all-purpose flour into a small bowl and set aside. Meanwhile, put remaining all-purpose flour, whole-wheat flour, baking soda, and salt into a large bowl and mix well with your hands to combine. Add butter, breaking it up into small pieces with your fingers, and mix it into flour mixture until combined. Make a well in the centre of the flour–butter mixture and add buttermilk. Slowly incorporate buttermilk into flour mixture with your hands until a rough ball forms, then turn out onto a lightly floured surface and form into a neat ball (without kneading).
Transfer dough to centre of baking sheet and press gently to form a 7 1/2″-wide round. Using a sharp knife, slash a cross 1/2″ deep across the entire top of the loaf and dust top of loaf with the reserved flour. Bake until bread is light golden and a tap on the bottom of the loaf sounds hollow, about 70 minutes.
Wrap bread in a clean kitchen towel, prop against a windowsill, and allow to cool for about 1 hour.
To Serve: Slice and serve at room temperature or toasted with a generous spread of country butter – simply delicious!

You may also like
New Season Irish Carrot Cake

International Guest Chef Fred Cordonnier. Recipe baked by Aisling Boggan from team Good Food Ireland.

Greek Yogurt, Lemon Zest and Pistachio Pancakes

Since 1990, the Faughnan family of Dromod, Co. Leitrim have been ensuring the traditional Irish food, boxty remains a key part of Irish food culture with their Dromod Boxty food business.