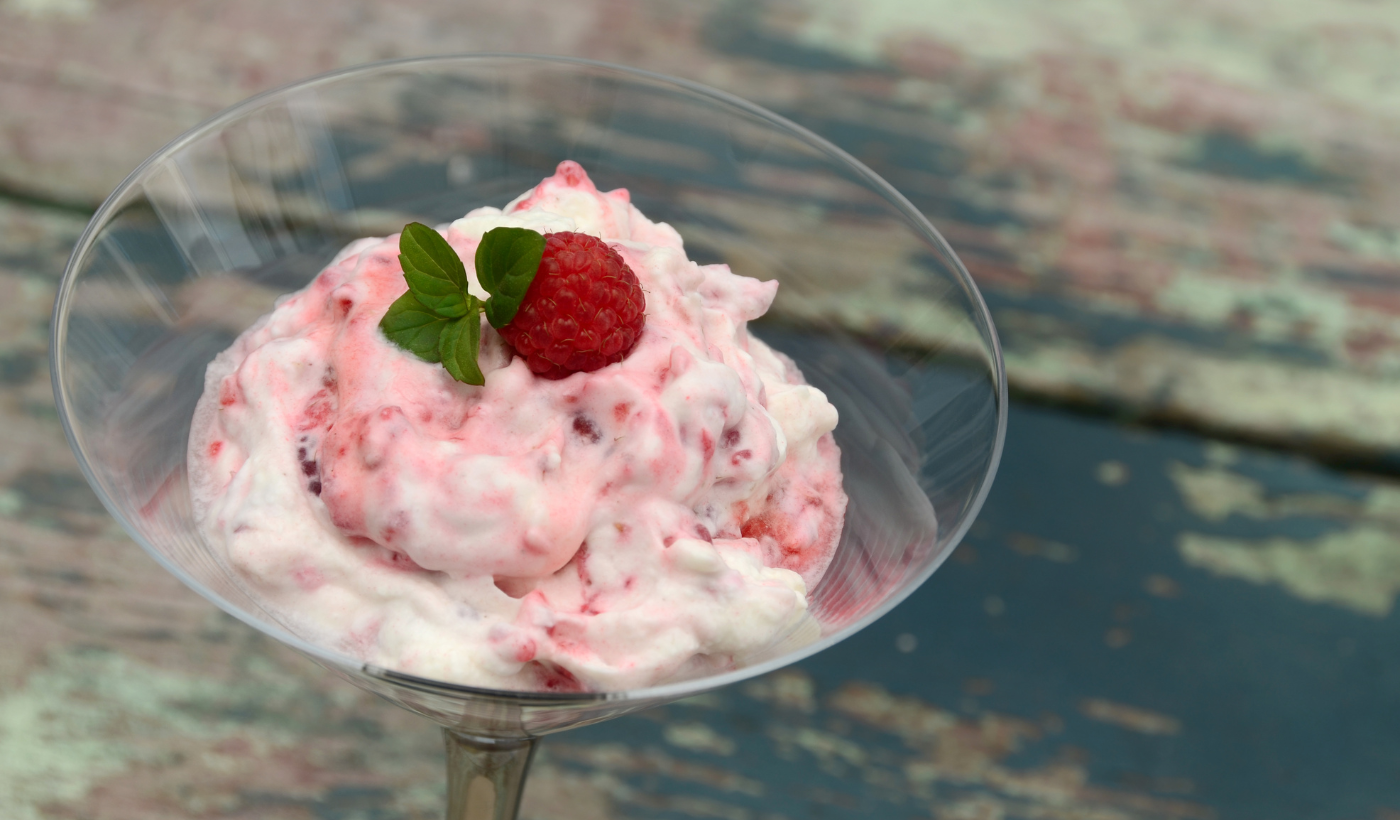 Ingredients
450 g (1 lb) raspberries, fresh or frozen

150-225 g (6 – 8 oz) caster sugar

600ml (1 pint) of whipped cream
TO SERVE
Shortbread Biscuits Recipe (makes 25)
175 g (6 oz) white flour or Spelt

110 g (4 oz) butter

50 g (2 oz) caster sugar

Method
Recipe by Ballymaloe Cookery School.
This is one of those recipes that somehow is much greater than the sum of its parts. Raspberries, sugar and cream, three easy to source ingredients produce a rich and luscious result. When available and in the season I use fresh raspberries. However, this is excellently made with frozen berries and I haven't quite decided yet if it is not actually better made with frozen fruit. Soft fruit becomes more bitter when frozen and this seems to accentuate the flavour when the fool is made with frozen berries. Serve shortbread biscuits or Palmiers with the fool. If you have some of the fool left over, freeze it and serve as a raspberry ice cream.  
Lay the raspberries out flat on a dish. Sprinkle on the caster sugar and allow to macerate for 1 hour. If you are using frozen berries this should be long enough for them to defrost.

Puree the fruit in a liquidiser or blender. Pass the puree through a sieve to remove the seeds. Discard the seeds.

Gently fold in the whipped cream. If you wish to create a "swirly" effect just be a little light-handed with the folding in of the cream. The fool is now ready to be served or can be chilled for serving later. 

Serve with shortbread biscuits.
Jane's Shortbread Biscuits 
Put the flour and sugar into a bowl, rub in the butter as for shortcrust pastry. Gather the mixture together and knead lightly. Roll out to 1/4 inch (7mm) thick.  

Cut into rounds with a 2 1/2 inch (6cm) cutter or into heart shapes.  

Bake in a moderate oven 180°C/350ºF/Gas Mark 4 to pale brown, 8-15 minutes, depending on the thickness of the biscuits. Remove and cool on a rack. Serve with fruit fools, compotes and ice creams. 
NOTE Watch these biscuits really carefully in the oven. Because of the high sugar content, they burn easily. They should be a pale golden – darker will be more bitter. However, if they are too pale they will be undercooked and doughy. Cool on a wire rack. 
Visit Our Shop

You may also like
White Chocolate Soup

Noel McMeel is a chef from Northern Ireland, who is the executive head chef at Lough Erne Golf Resort and Hotel in Enniskillen, County Fermanagh.

Chicken, Mushroom, Potato and Thyme Winter Stew

A perfect, slow-cooked chicken, mushroom, potato and thyme stew recipe, that feeds a party. Consider preparing this hearty dish, full of tender meat pieces and mouth-watering vegetables a day ahead to allow it to develop best, rich flavour.