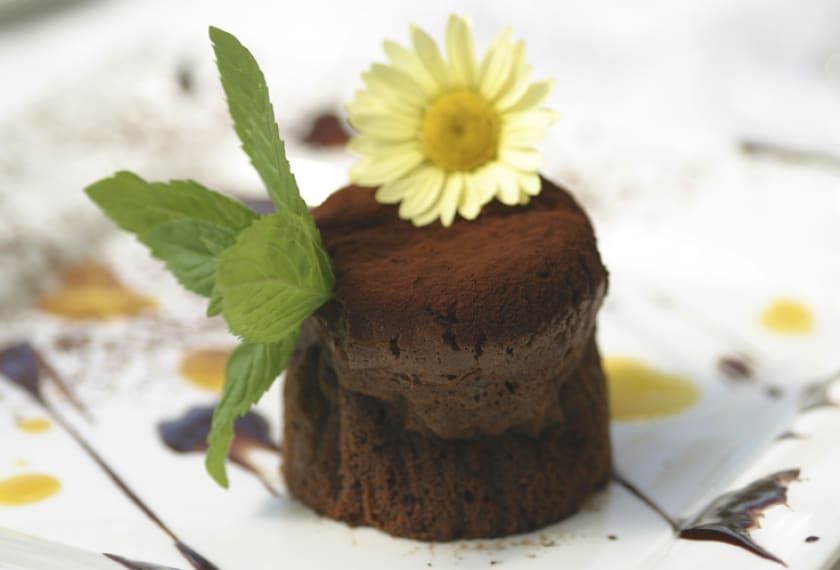 Ingredients
100g (4oz) Plain Chocolate
80ml Cream
100g (4oz) Butter (softened)
100g (4oz) Castor Sugar
2 tsp Brandy
2 Eggs
90g (3 ½ oz) Self Raising Flour
50g (2 oz) Cocoa Powder
Method
To make the filling: Heat the cream in a pan until hot but not boiling. Remove from heat and add the chocolate, stir until melted, add the brandy. Pour into a bowl and chill for 2-3 hours.
Preheat the oven to 200°C / Gas Mark 6. Lightly grease 4 x 150ml pudding moulds, base line with greaseproof paper. Cream together the butter and sugar in a bowl. Gradually add the eggs beating well. Sift the flour and cocoa powder into the mixture and fold in. Spoon 1 tbsp pudding mixture into the base of each mould. Place a ball of chocolate filling into each mould. Top the remaining pudding mixture. Level and cover with greaseproof paper. Secure with a string. Place moulds on a grill rack over a roasting tin half filled with boiling water. Cover with foil and place in the oven and cook for 30-35 minutes.
To Serve: Turn the pudding out onto warmed serving plates and serve with vanilla ice cream.

You may also like
New Season Irish Carrot Cake

International Guest Chef Fred Cordonnier. Recipe baked by Aisling Boggan from team Good Food Ireland.