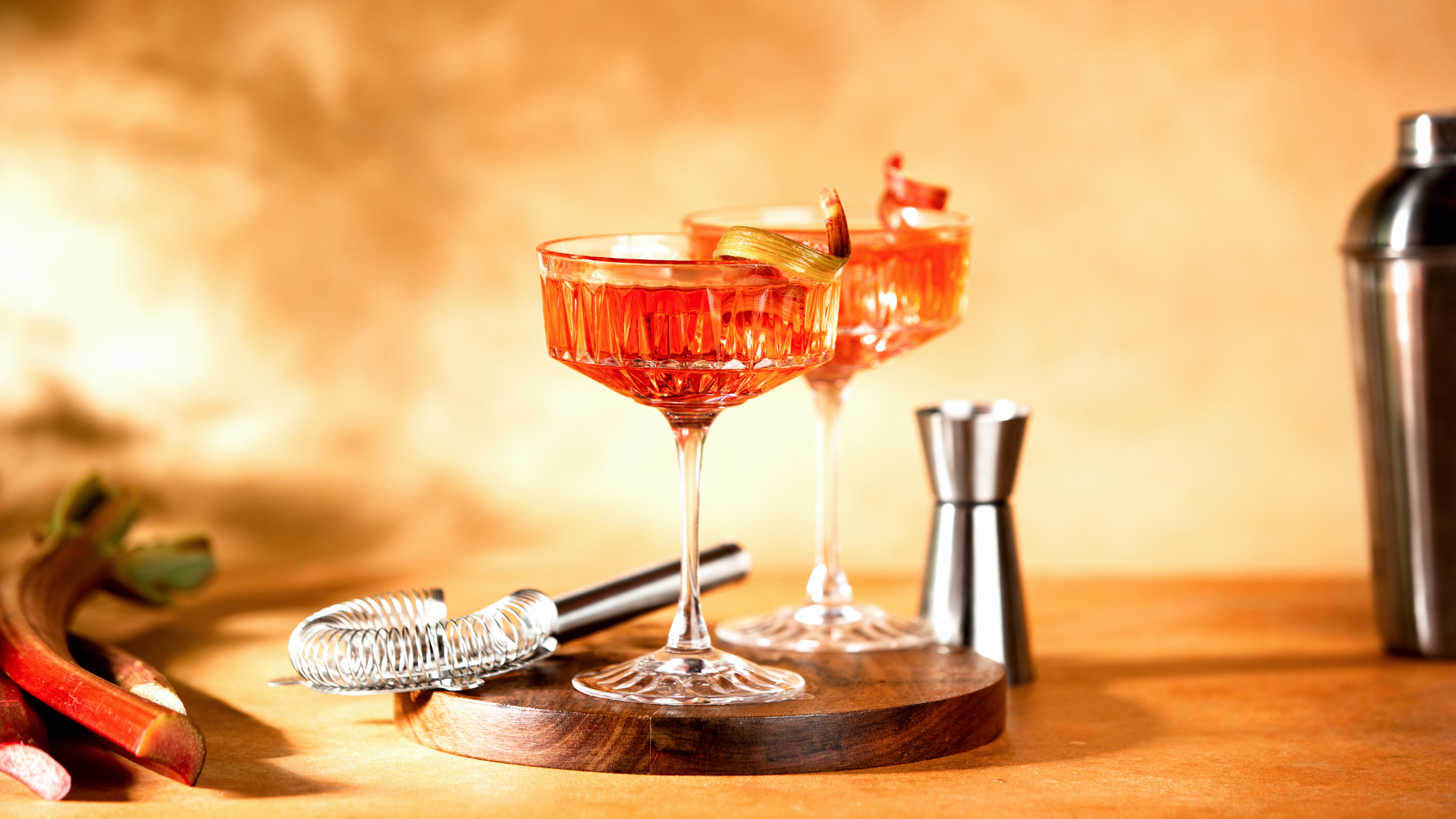 Ingredients
For 2 Rhubarb Martinis:
3 shots vodka
2 shots rhubarb syrup
1/2 shot fresh lime juice
2 lumps ice
1 cocktail shaker
2 martini glasses
Rhubarb Syrup:
1lb caster sugar
1 pint water
1 tea spoon fresh root ginger
1 bunch rhubarb
Method
Rhubarb Syrup:
Boil the sugar and water to make sugar syrup. Once the sugar has dissolved, add the chopped rhubarb (2 inches long) and grated ginger and poach gently until the rhubarb is soft. Allow to cool for one hour and strain the rhubarb through a sieve. Decant the rhubarb syrup into a bottle and store in the fridge. It will keep for a couple of weeks in the fridge and it freezes really well too.
2 Rhubarb Martinis:
When using a cocktail shaker, always avoid trying to make too much quantity in one go as the cocktail doesn't mix well when full. Mixing two Martinis in one shaker is best. Put all the ingredients together into a cocktail shaker and shake vigorously for 30 seconds. Hold the shaker in two hands and shake it over your shoulder. Chill the Martini glasses by putting them in the freezer or leave a few lumps of ice in them for a few minutes. Pour the Rhubarb Martini through a cocktail strainer into the glasses. Always taste before pouring and add more syrup if too sour or more lime juice if too sweet.

You may also like
Irish Seafood Chowder

Bill Kelly is the fourth generation to head up this hotel, and we think it really sums up Rosslare. It has been such an integral part of this beachside location and now International Europort since 1895, that to imagine the place without it is unthinkable....

Tips for Cooking Irish Hereford Prime Steak

Farmer-led and owned, Irish Hereford Prime was founded in 1997 with the aim of promoting Irish Hereford Beef as a premium brand associated with quality and produced with sustainable methods. Since is formation, Irish Hereford Prime has gained a reputation...