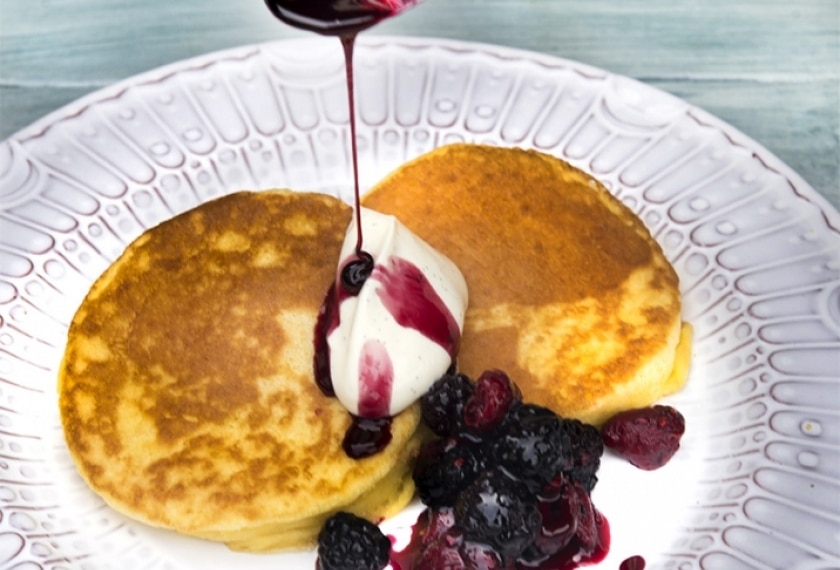 Ingredients

Ricotta Pancakes:
225g ricotta
170ml milk
4 eggs, separated
140g plain flour
1 tsp baking powder
A pinch of salt
50g butter
Mixed Berries:
150g blackberries
100g raspberries
300ml red wine
200g sugar
2-star anise
1 cinnamon stick
½ vanilla pod
Vanilla Yoghurt:
150g Greek yoghurt
½ vanilla pod
15g honey
Method
Place the ricotta, milk and egg yolks in a bowl and whisk together. Sift the flour, baking powder and salt into a bowl. Add this to the ricotta mix and combine.
Place egg whites in a bowl and whisk until stiff peaks form. Fold the egg whites into the batter until just mixed through. Lightly grease a large, non-stick frying pan with a knob of butter and drop two heaped tablespoons of batter per pancake into the pan. Cook until each pancake is golden on the underside, turn over and repeat on the other side.
For the berries, place the sugar, water, red wine, cinnamon stick, star anise and vanilla pod in a saucepan and bring it up to the boil. Add the blackberries and cook for 1 minute and then add the raspberries. Turn off the heat. If you wish to have a thicker sauce, remove the fruit with a slotted spoon and reduce the syrup to gain the consistency you need.
Add the yoghurt and honey together in a bowl and then scrape the seeds from the vanilla pod and add them to the mix.
The pancakes may be wrapped in tin foil and held in a warm oven if necessary.
Serve the ricotta pancakes with mixed berries and vanilla yoghurt.


You may also like
White Chocolate Soup

Noel McMeel is a chef from Northern Ireland, who is the executive head chef at Lough Erne Golf Resort and Hotel in Enniskillen, County Fermanagh.

Chicken, Mushroom, Potato and Thyme Winter Stew

A perfect, slow-cooked chicken, mushroom, potato and thyme stew recipe, that feeds a party. Consider preparing this hearty dish, full of tender meat pieces and mouth-watering vegetables a day ahead to allow it to develop best, rich flavour.