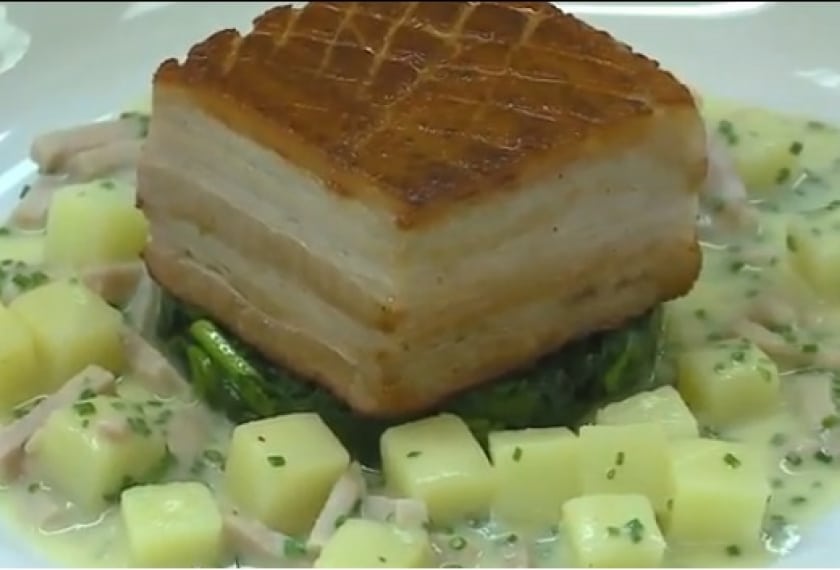 Ingredients
Pork Belly:
180g cooked pork belly (see below)
160g sausage cut into small strips
160g bacon cut into small strips
320g diced potato
320mls potato soup (see below)
80mls parsley oil
300g cooked baby
spinach (800g uncooked)
50g butter
20g chopped chives
Potatoe Soup:
1L chicken stock
5 shallots
6 potatoes
2 cloves garlic
3 sprigs thyme
20g butter
100 ml milk
Method
Step 1 – Pork Belly: You will need 2kg of pork belly. Slow Cook the 2kg pork belly in a roasting tray with 500L chicken stock and mire poix for 2 hours at 170°. Take out of oven and place between 2 clean chopping boards, press and chill. When cold cut into square 150g portions.
Step 2 – Potato Soup: Sauté the shallots, garlic and thyme in butter until soft, add the 100mls milk peeled potatoes, stock and cook for 20 minutes, blend in a blender, pass and season. To serve: Sear belly in a hot pan and roast in a hot oven until golden brown. Heat the sausage, bacon, potato in the soup and finish with chopped chives. Sauté spinach in butter and assemble!

You may also like
Simnel Cake

Ballymaloe House is home to the cooking dynasty of the Allen family, so you know you are in for a gastronomic treat when you dine here. This elegant country house has all the elements you will need to enjoy a relaxing full of great hospitality and of...

Traditional Roast Beef Dinner

The suburbs of Cork City are home to a little secret. Located near Douglas, just a short drive from the centre of the Rebel City, Maryborough Hotel and Spa is set in a private estate of mature grounds and gardens. You can sense the 300 years of history...