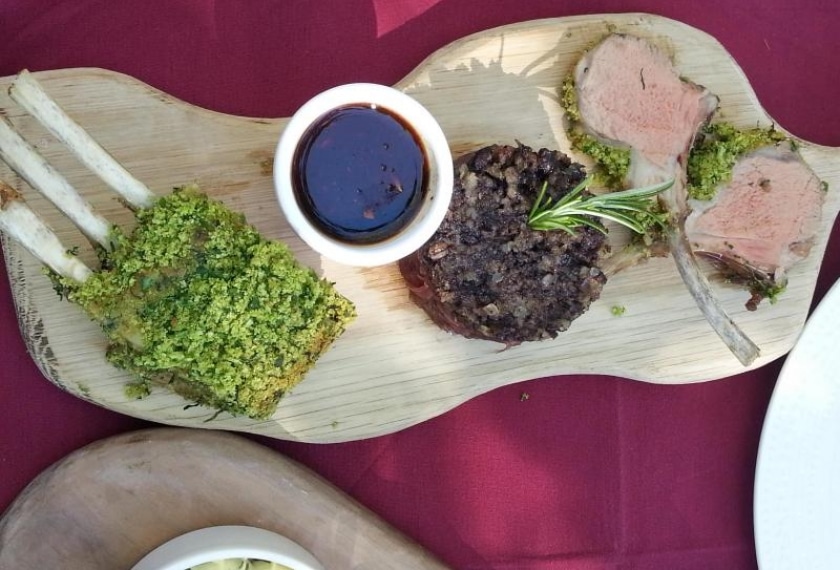 Ingredients
2 racks of lamb, trimmed
3 teaspoons Dijon mustard
200g breadcrumbs
30g chopped parsley, Rosemary
1 teaspoon chopped dill
5 red onions
500ml red wine
1 tablespoon grenadine syrup
150g butter
3 tablespoon red wine vinegar
1 glass red wine
1 teaspoon redcurrant jelly
2 shallots diced
75g fresh mixed herbs (parsley, thyme, mint)
60g diced black pudding
Salt and pepper
Method
Rack of Irish Lamb:
Preheat oven to 200°C / 400°F / Gas 6.
Place the racks of lamb on a metal tray, sprinkle a little oil over it and season with salt and pepper put them in the preheated oven and cook to taste.
Black Pudding Stuffing:
Sweat of the diced shallots, add the chopped black pudding take from heat now mix in the butter, fresh herbs and 100-120g of breadcrumbs.
Keep warm.
Red Onion Marmalade:
Peel the red onions, then slice them finely, pre-heat a deep pan, melt 30g of butter.
Add 500ml red wine, 1 tablespoon Grenadine syrup, 3 tablespoons red wine vinegar, stir well and cook until all liquid has evaporated and the onions have a shiny purple colour. Keep warm.
Rosemary Jus:
Heat a saucepan, add 1 glass of red wine and chopped rosemary.
Reduce by one third, add redcurrant jelly and add in the butter a little at a time.
Herb Crust:
Chop 25g parsley, dill mix the herbs, salt, pepper and the breadcrumbs in a food-processor until you have a rich green mixture.
Presentation:
Coat the outside of the lamb with the Dijon mustard; add the herb crust onto the mustard.
Cut the lamb into 4 cutlet portions.
Place the red onion marmalade in a ring (scone cutter) fill the ring to the half; fill the other half with the black pudding stuffing.
Now place the lamb on top of the stuffing, drizzle some of the rosemary jus around the lamb, garnish with some chopped chives and tomato-concasse.

You may also like
Ballymaloe Strawberry Shortcake

It's summer time and nothing evokes summer as much as a strawberry dessert. Myrtle Allen is a national treasure. Everyone who knows anything about proper Irish food knows that. She's a real culinary heroine without whom the food culture of this country...

Fish Pie – Greenwich Cafe

Greenwich Café is located on the corner of Caroline St and Maylor St directly behind Brown Thomas in Cork city center. Greenwich is an emerald that shines the torch for Irish food and ingredients at a top-quality level.

Easter Scrambled Egg (shells) with Burren Smoked Salmon

The Burren Smokehouse is a family-run business which was set up in 1989 by Birgitta & Peter Curtin. The quality of their Smoked Salmon has grown exponentially from the pubs, hotels and restaurants in the Lisdoonvarna area in Co. Clare to now supplying...