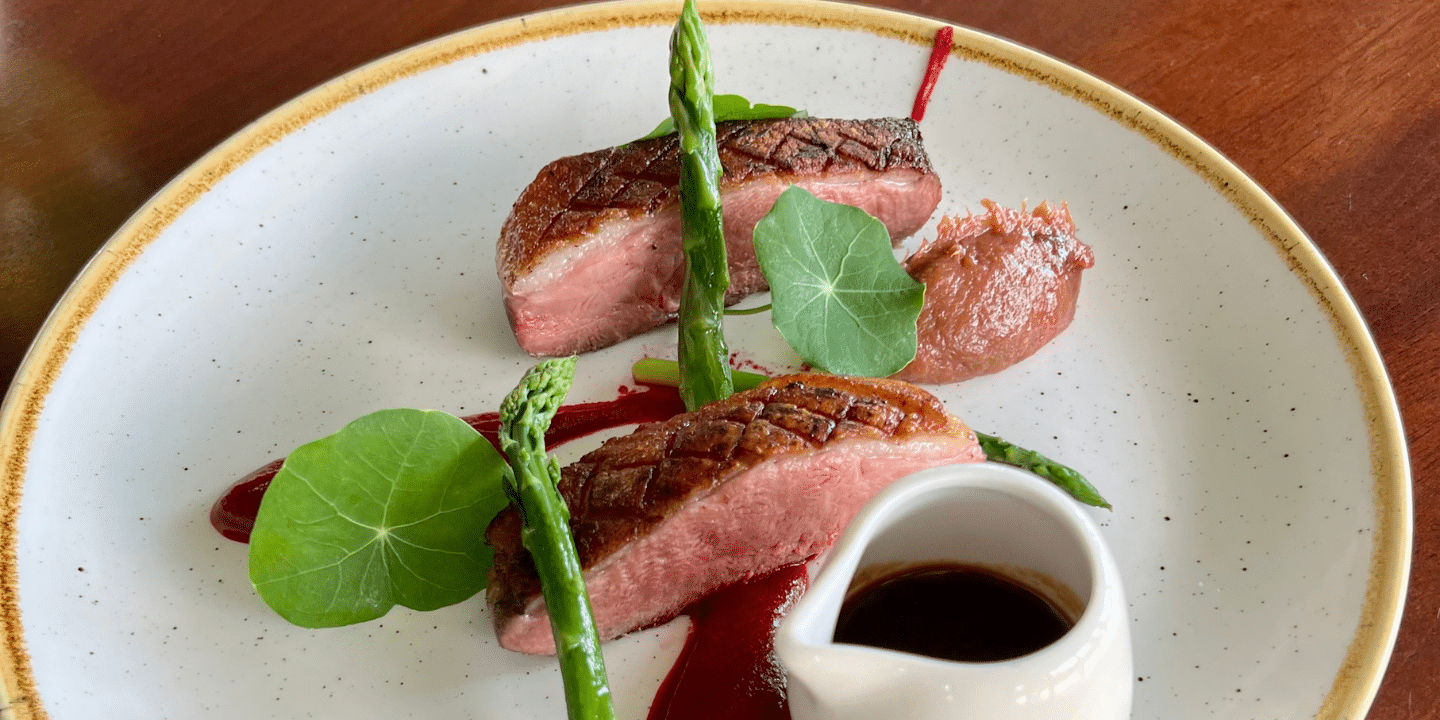 Ingredients
Garden Rhubarb Compote
150g Red Onion
300g Rhubarb
1 tbsp Olive Oil
100g Cane or Demerara Sugar
150ml Red Wine Vinegar
Method
Peel and finely chop the red onion.
Chop the Rhubarb.
Heat up 1/3 of the olive oil and sauté the onion over medium heat ( approx 5 minutes).
Add cane sugar, red wine vinegar and bring to a boil.
 Simmer until Rhubarb is tender

Garden Asparagus
Method
Blanch the Asparagus spears in a large pot of boiling salted water for 1 minute.
Take out and transfer to a bowl of iced water to stop the cooking process.
Place a large griddle or frying pan over a very high heat.
Drizzle rapeseed oil over the blanched asparagus and place on the pan until lightly charred all over.
Garden Beetroot Puree
1 Large Beetroot
Olive Oil
Salt & Sugar, to taste
Method
Add the beetroot to a pot of boiling water and simmer until tender, or you can roast it in the oven with a little olive oil and covered in kitchen foil.
Once tender and cooled a little, peel the beetroot and roughly chop. Place in a blender with a little olive oil, salt and sugar and blitz. Taste and adjust seasoning if needed.
Red Wine Jus
1 Shallot, thinly sliced
1 Carrot, thinly sliced
1 Leek, white only, thinly sliced
1 crushed Garlic Clove
1 Celery, thinly sliced
1 spring of Rosemary
1 spring of Thyme
1 Bay Leaf
100ml Red Wine
50ml Red Wine Vinegar
100ml Port
500ml Brown Chicken Stock
Vegetable Oil
Method
Place a large pot on to high heat and add enough oil to coat the bottom of the pan.
When the pan is very hot, add the shallots, carrots, leek, garlic and celery.
Cook until the vegetables reach a dark golden brown colour.
Add the port, wine, vinegar, bay leaf, rosemary and thyme.
Turn down to a timer and reduce until almost dry.
Add the chicken stock and reduce it again by half.
Remove from heat, strain through a fine sieve into another pan and reduce to sauce consistency.
Roast Silver Hill Duck Breast
Score the skin with a knife, avoid cutting into the meat.
Before roasting the duck breast in the oven sear skin-side down until golden and crispy (approx 5 – 6 minutes). Turn over and sear meat side (approx 30 seconds).
Roast the duck breast in the oven, and depending on how you like your meat cooked, cook accordingly. For a medium rare finish, cook to an internal temperature of 55C.
Allow the duck to rest for 5 minutes after cooking, covered loosely in foil. The temperature of the duck will rise to 57C for a perfect medium rare finish.
To serve: Serve up on warm plates, and garnish with Nasturtium leaves.
Visit Our Shop

You may also like
Irish Seafood Chowder

Bill Kelly is the fourth generation to head up this hotel, and we think it really sums up Rosslare. It has been such an integral part of this beachside location and now International Europort since 1895, that to imagine the place without it is unthinkable....

Tips for Cooking Irish Hereford Prime Steak

Farmer-led and owned, Irish Hereford Prime was founded in 1997 with the aim of promoting Irish Hereford Beef as a premium brand associated with quality and produced with sustainable methods. Since is formation, Irish Hereford Prime has gained a reputation...