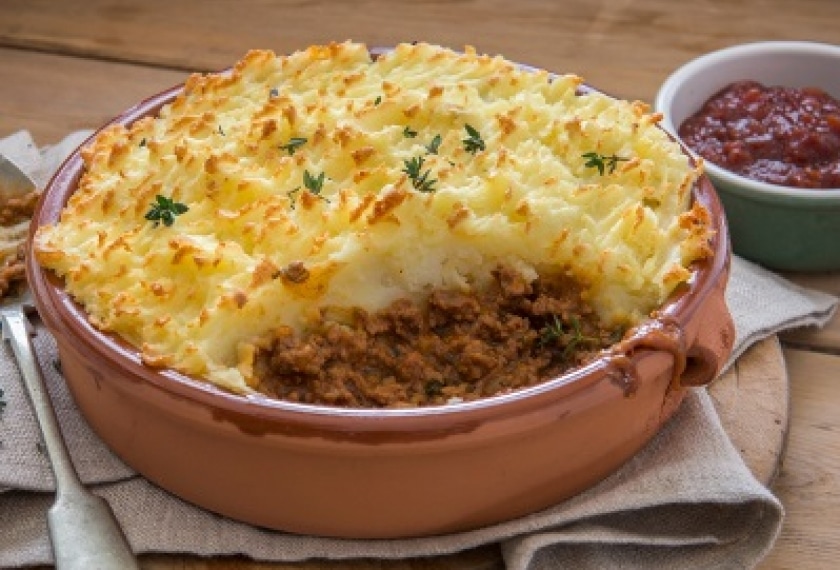 Ingredients
30g (1oz) butter
110g (4oz) onion, chopped
30g (1oz) flour
450ml (3/4 pint) stock or left over gravy
1 tsp tomato puree
2 dtsp Ballymaloe Country Relish
1 tsp fresh thyme leaves, chopped
1 dtsp parsley, chopped
Salt and freshly ground pepper
450g (1lb) minced cooked lamb
450g (1lb) mashed potato
Ballymaloe Country Relish
Garlic butter
Method
Melt the butter in a pan, add the onions, cover and sweat until soft. Add the flour, stir and cook until brown. Add the stock, bring to the boil. Add the tomato puree, Ballymaloe Country Relish, herbs, salt and pepper.
Simmer for about 5 mins.
Add the lamb and stir will. Transfer the mixture to a pie dish. Cover with mashed potato and score with a fork.
Reheat in a moderate oven, 180ºC/350ºF/gas 4, for about 30 mins.
Serve with some garlic butter and Ballymaloe Country Relish.

You may also like
Realt na Mara Oysters with Mignonette Sauce

Realt na Mara Shellfish was founded in 2015 by Micheál Sugrue and Emmet Casey. From their farm just outside of Killorglin Micheál and Emmet produce a range of high quality Irish Mussels and Irish Oysters. The unique environment lends itself to the...

Realt na Mara Steamed Mussels with White Wine Sauce

Founded in 2015 by Micheál Sugrue and Emmet Casey, Realt na Mara Shellfish produces a delicious range of Cromane Irish Oysters and Cromane Irish Mussels. Nutrients, taste and texture from the MacGillycuddy Reeks and the local Laune, Caragh and Maine...