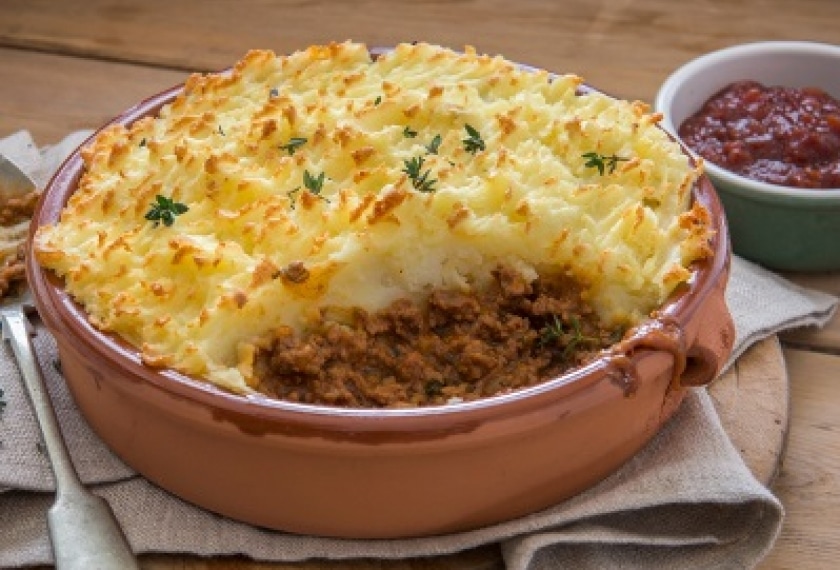 Ingredients
30g (1oz) butter
110g (4oz) onion, chopped
30g (1oz) flour
450ml (3/4 pint) stock or left over gravy
1 tsp tomato puree
2 dtsp Ballymaloe Country Relish
1 tsp fresh thyme leaves, chopped
1 dtsp parsley, chopped
Salt and freshly ground pepper
450g (1lb) minced cooked lamb
450g (1lb) mashed potato
Ballymaloe Country Relish
Garlic butter
Method
Melt the butter in a pan, add the onions, cover and sweat until soft. Add the flour, stir and cook until brown. Add the stock, bring to the boil. Add the tomato puree, Ballymaloe Country Relish, herbs, salt and pepper.
Simmer for about 5 mins.
Add the lamb and stir will. Transfer the mixture to a pie dish. Cover with mashed potato and score with a fork.
Reheat in a moderate oven, 180ºC/350ºF/gas 4, for about 30 mins.
Serve with some garlic butter and Ballymaloe Country Relish.

You may also like
Simnel Cake

Ballymaloe House is home to the cooking dynasty of the Allen family, so you know you are in for a gastronomic treat when you dine here. This elegant country house has all the elements you will need to enjoy a relaxing full of great hospitality and of...

Traditional Roast Beef Dinner

The suburbs of Cork City are home to a little secret. Located near Douglas, just a short drive from the centre of the Rebel City, Maryborough Hotel and Spa is set in a private estate of mature grounds and gardens. You can sense the 300 years of history...