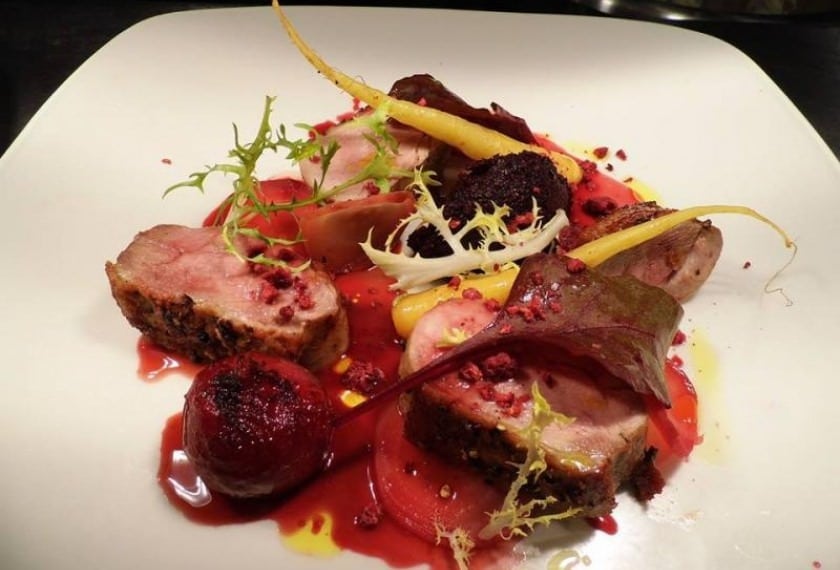 Ingredients
4 Skeaghanore Duck Breasts
Salt & Black Pepper
50g Jane Russell Black Pudding
Rapeseed Oil
For the beetroots and reduction:
12 Baby Beetroots or 4 large
For the stock syrup:
500ml red wine
100g brown sugar
100ml red wine vinegar
sprig of thyme
zest of half an orange
100g redcurrants (reserve half for plating)
100g blackberries(reserve half for plating)
Method
Pre heat your over to 180°C
Add all the ingredients for the syrup/stock to a pot, bring these to the boil and then remove from the heat.
To, cook the beetroots, place them in a small pot and cover with the stock syrup ingredients, bring to the boil and simmer for about 40 mins for the small and 70 mins for the large. Prick with a paring knife, when the knife goes through with little resistance, the beets are ready, strain keeping the stock/syrup to one side and leave the beetroots to cool separately.
Strain the syrup/stock through a fine chinois (a type of sieve), put back in the pot, and bring back to the boil and reduce by two thirds until it reaches a sticky consistency, check taste, add a little more sugar or vinegar if necessary to balance out the flavours.
Peel the cooked beetroots by using a rough cloth to rub the skin off, make sure to wear gloves or you will end up with purple skin!
Drizzle the black pudding with a little rapeseed oil, and bake for 10 mins, when cooked, take out and break up with your fingers.
Next, season the duck breasts with Oriel seat salt and black pepper, place them skin side down using a cold non stick pan, the reason we use a cold pan is to render the fat out of the duck skin, so that the skin becomes crispy right through, and the breast will also cook in its own fat, so there is no need for oil or butter.
Bring the pan to a medium heat, you will notice the fat rendering, after about 3 mins, bring the pan up to a high heat, and brown the skin, once nice and brown, turn the breasts for 30 second only.
Place in the oven with their skin side facing up, for approx 8 mins for med rare, or 11 mins for medium.
Remove from the oven and allow to rest for 4 mins, this is the most important stage, as the resting time allows the breast to relax retain their moisture when carving, and also the residual heat will evenly cook the breasts right through.
Arrange the duck and beetroot on the plate drizzle with the sauce and garnish with black pudding, a few veg and the remaining berries.

You may also like
New Season Irish Carrot Cake

International Guest Chef Fred Cordonnier. Recipe baked by Aisling Boggan from team Good Food Ireland.