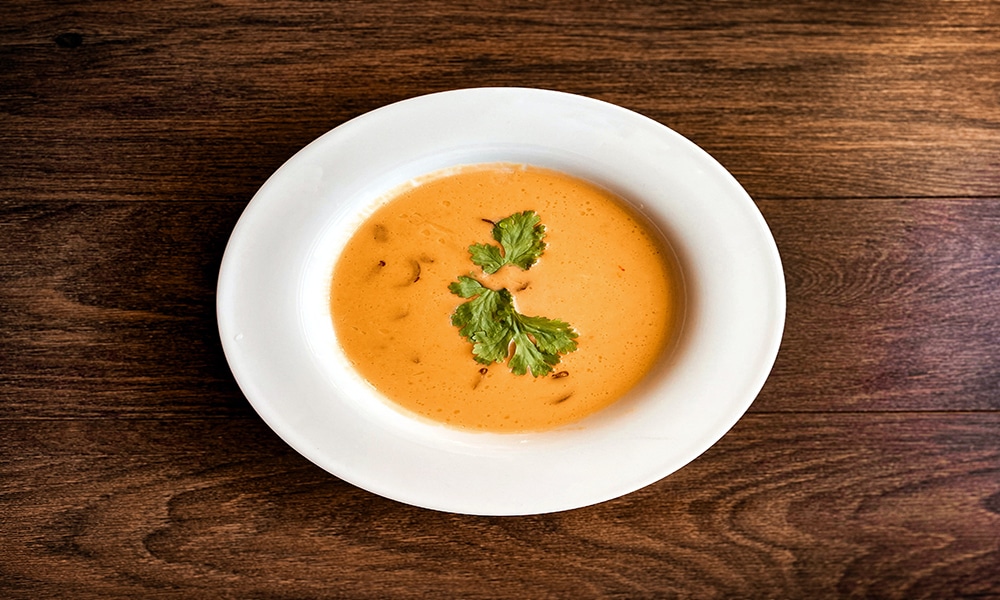 Ingredients
1 tbsp olive oil

1 small onion, finely chopped

1 piece of ginger, peeled & grated

½ red chilli, finely chopped

1 garlic clove, peeled & crushed into a paste

1 tsp cumin seeds

1 tsp coriander seeds

150 g red lentils

1-litre chicken / vegetable stock

½ lime

Small bunch of fresh coriander
TO SERVE
Natural Irish yoghurt and freshly chopped coriander

Sea salt and freshly cracked black pepper

Method
In a small frying pan, toast the cumin and coriander seeds until lightly golden.

Remove from the heat and set aside.

Pour olive oil into a saucepan and sweat the onions until translucent and softened.

Season with sea salt & freshly ground black pepper.

Stir in the ginger and chilli and cook for 2mins. 

Stir in the garlic, cumin & coriander seeds and cook for another 2mins.

Add in lentils and stir well.

Chop the stalks of the coriander and add to saucepan with the stock.

Simmer for approximately 10mins, or until lentils are tender.

Blend in a liquidiser until smooth. Add the juice of ½ lime and check to season.
SERVE
Piping hot, with a dollop of natural Irish yoghurt and some freshly chopped coriander to garnish.
Visit Our Shop

You may also like
Rhubarb and Ginger Crumble

With Rhubarb in season and grown in Renvyle House's Kitchen Garden, this has wonderful flavours and a few levels of crunch with a delicious creamy rhubarb filling. Set on the edge of the Atlantic with its back to the mountains, Renvyle House Hotel is...

Ballymaloe Strawberry Shortcake

It's summer time and nothing evokes summer as much as a strawberry dessert. Myrtle Allen is a national treasure. Everyone who knows anything about proper Irish food knows that. She's a real culinary heroine without whom the food culture of this country...