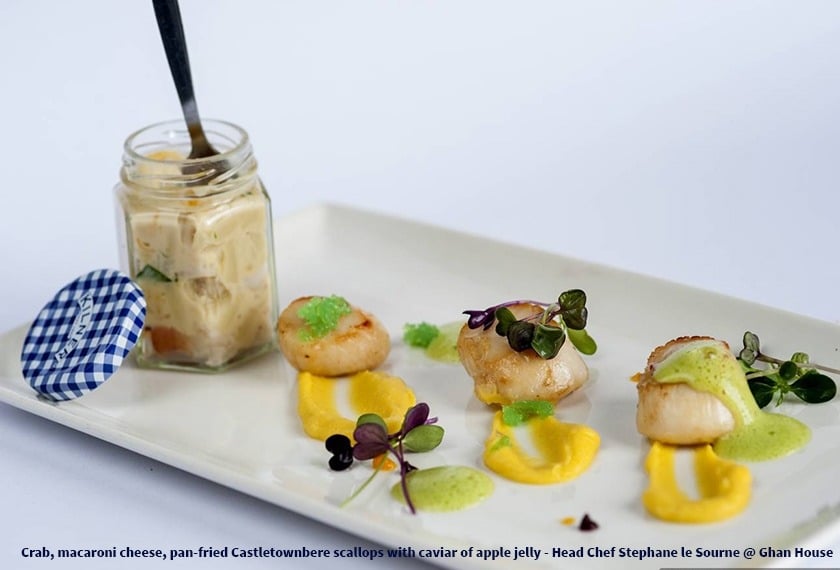 Ingredients
Crab, macaroni cheese pan-fried Castletownbere scallops caviar of apple jelly:
Macaroni and crab cheese:
½ pint of cream
2oz Worcestershire sauce
2oz red wine vinegar
8oz cream cheese
6oz fontina cheese
8oz mascarpone
1 banana shallot
1lb elbow macaroni pasta
1lb crab meat
Scallops:
Pull off the coral-coloured roe and discard if you like.
Remove the muscle that attaches the scallop to the shell.
Caviar of apple jelly:
1 litre of pressed apple juice
10 gr of Agar Agar
Method
Macaroni and crab cheese:
In a saucepan, melt the butter and cook the shallot.
Add the cream, Worcestershire sauce , red wine vinegar, cream cheese and mascarpone until almost boiling.
Mix in fontina cheese, crab meat and cooked pasta.
Cover with breadcrumbs.
Bake in the oven at 180ºC until crispy.
Caviar of apple jelly:
Bring apple juice to the boil.
Add your Agar Agar.
Bring to the boil again, allow to set.
Place into your blender and pulp until small fine bits.
Scallops:
Heat a frying pan with a drizzle of oil until hot.
Season your scallops and arrange them in the pan.
Cook for about 1 minute then turn and cook for 30 seconds more.
Tip: Cooking scallops requires a hot pan and sear rather than steam. Season well

You may also like
Simnel Cake

Ballymaloe House is home to the cooking dynasty of the Allen family, so you know you are in for a gastronomic treat when you dine here. This elegant country house has all the elements you will need to enjoy a relaxing full of great hospitality and of...

Traditional Roast Beef Dinner

The suburbs of Cork City are home to a little secret. Located near Douglas, just a short drive from the centre of the Rebel City, Maryborough Hotel and Spa is set in a private estate of mature grounds and gardens. You can sense the 300 years of history...