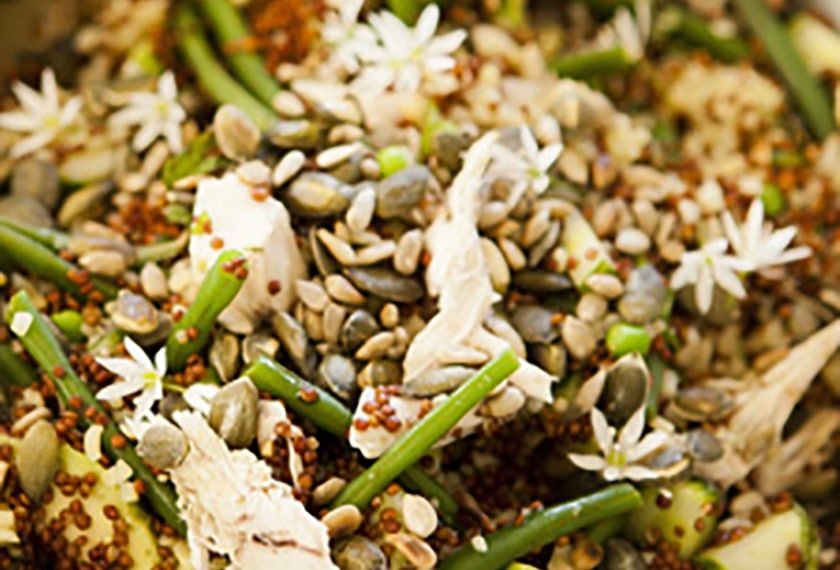 Ingredients
A fresh-tasting lunchtime or light evening meal with the added benefit of being really quite good for you by The Tasty Tart! It is quick to put together but the flavours pack a punch and leave you feeling nicely satisfied. The avocado, parsley, alfalfa sprouts, peas, green beans & seeds provide plenty of vitamins, minerals, good fats (avocado) and plant nutrients while Quinoa has a very high protein & fibre content but the bulghur provides your carbs-a meal in one bowl!
1/2 a Smoked Chicken, sliced (I bought mine from James Whelan Butchers, available to purchase online)
A large handful of green beans, blanched & cooled quickly to retain their green colour & nutrients
50g peas, fresh or frozen, blanched & cooled quickly to retain their green colour & nutrients
½ a  cucumber, diced
A handful of alfalfa sprouts
3 tbsp toasted pumpkin & sunflower seeds
1 avocado, chopped
50g red quinoa ( I like  red quinoa as it has a nuttier texture but feel free to use white, I prefer to cook it for less time than most packs state as I find it can become soggy)
50g cooked bulghur wheat, room temperature
Small handful flat-leaf parsley, roughly chopped
Small handful mint, roughly chopped
2 tbsp lemon juice
3 tbsp extra virgin olive oil

Method
Simply combine all the ingredients above and check for seasoning! Seemples
Visit Our Shop

You may also like
Spinach & Irish Greek Style Cheese Rolls

This delicious recipe if from McCormack Family Farm, a Father and Sons team with a taste for excellence and passion for produce has excelled in creating a range of products that is both innovative and commercial in nature.

Raspberry Fool

Irish Raspberry Fool is one of the simplest desserts, made with just 3 ingredients. All you need to do to enjoy this mouthwatering dessert from Ballymaloe Cookery School is to swirl pureed raspberries togheter with fresh whipped cream.