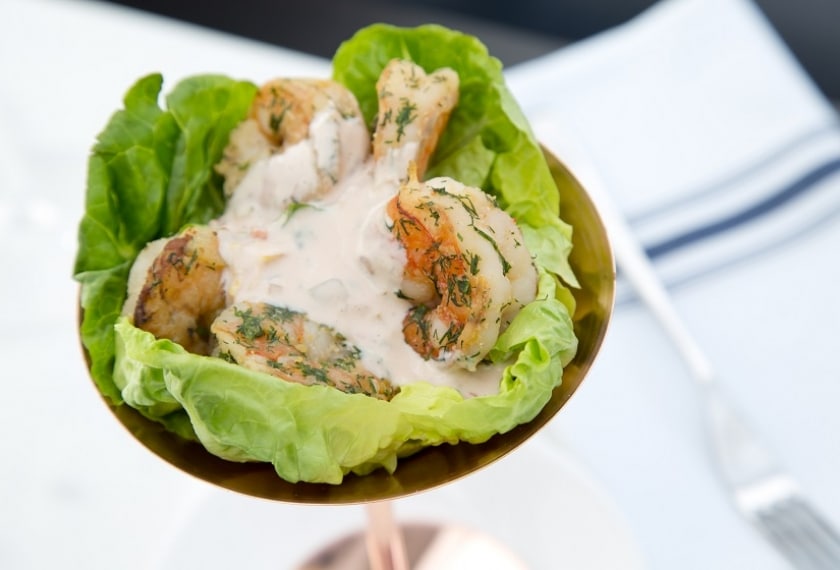 Ingredients
400g cooked shell-on prawn
2tsp Garlic butter
4 baby gem lettuce, washed and trimmed
 Coburg Spicey Cocktail Sauce 
5 tbsp mayonnaise
1tbsp olive oil
1tbsp lemon juice
1tbsp orange juice
1tsp paprika,
1tbs Worcestershire sauce
1 tsp English mustard
1 tsp white wine vinegar
1 tsp chilli sauce
3 tbsp ketchup
½ tsp Tabasco sauce
All finely diced; 
2 large gherkins
Half  red onion
Half red pepper
Half  green pepper
50gr green olives
1 pinch of parsley
1 pinch of chives
1 pinch of dill
2 garlic cloves
Seasoning
Salt and Cracked Black Pepper

Method
1. With a sharp knife, score down the back of the prawn. Remove the thin, digestive tract with the tip of the knife. Rinse the prawns under running water and pat dry with paper towels.
2. Melt the garlic butter in a large frying pan. Fry over high heat, stirring, for 3 – 4 minutes until the prawns are pink, at the last minute add a pinch of chopped dill and chives.
3. For the spicy cocktail sauce- mix together mayonnaise, olive oil,  lemon juice,  orange juice, paprika, Worcestershire sauce, English mustard, white wine vinegar, chilli sauce, ketchup, and Tabasco sauce.
4. Add finely diced gherkins, red onion, red pepper, green pepper, green olives, parsley, chives, dill, and garlic cloves.
5. Serve immediately on a bed of baby gem leaves with two spoons of cocktails sauce and a lemon wedge, Season with salt and black cracked pepper to taste, cool it down, and place in the fridge for later consumption.
Visit Our Shop

You may also like
Spinach & Irish Greek Style Cheese Rolls

This delicious recipe if from McCormack Family Farm, a Father and Sons team with a taste for excellence and passion for produce has excelled in creating a range of products that is both innovative and commercial in nature.

Raspberry Fool

Irish Raspberry Fool is one of the simplest desserts, made with just 3 ingredients. All you need to do to enjoy this mouthwatering dessert from Ballymaloe Cookery School is to swirl pureed raspberries togheter with fresh whipped cream.