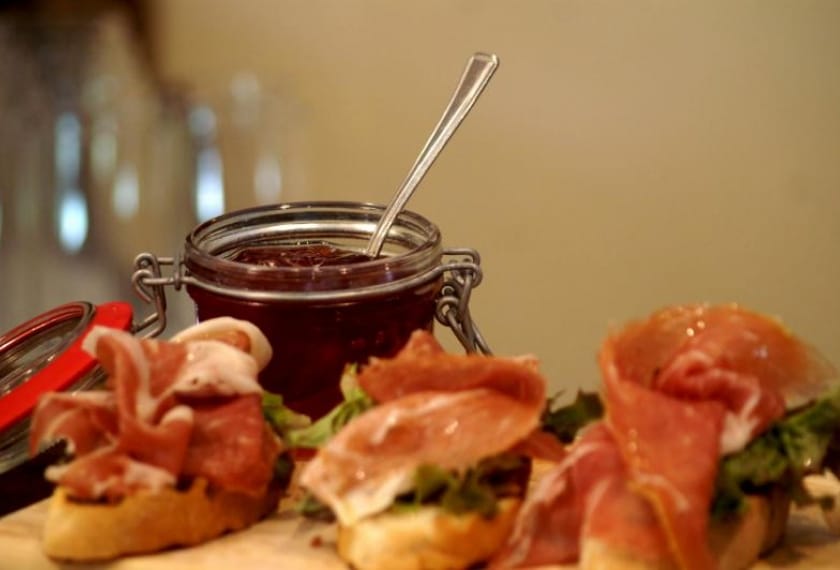 Ingredients
1.5kg of Wild Crab Apple
0.5kg of Rose Hips
Cinnamon or spices
1kg of Sugar & Water
Method
Simmer rosehips in a pot for 2 hours, press through a sieve.
Chop the apples bring to the boil and simmer separately until soft.
Combine the rosehip pulp, crab apples and juice and strain liquid through muslin, without forcing, overnight.
How to Finish:
First, take the clear liquid, place in a pot with sugar on a 50/50 basis (1 L Liquid to 1kg sugar) stir and boil rapidly until setting point, 106 degrees.
Skim and pour into sterilised jars, cover, and store in a cool dry place.
Second, twist the muslin and force the pulpy mixture through, pour into sterilised jars, cover, and store in a cool dry place.
Third, take the pulp, press through a sieve to remove cores and seeds.
Spread this on a dehydrator tray or baking tray. Dehydrate or place on baking trays in as low an oven as possible, overnight or until dry.
What you Get:
One set of ingredients, three results and no waste!
A clear Wild Rosehip and Wild Crab Apple Jelly: That works beautifully and simply toasted with a goat cheese or as an old-fashioned 'Fruit Butter' accompaniment with a vintage cheese. Also works a treat with pork, turkey or chicken and makes a great accompaniment with a traditional meatloaf or as the sweet ingredient if you're making your own muffins.
Also a Cloudy Wild Rosehip and Wild Crab Apple Cordial: Perfect as a chilled cordial with water for the kids instead of the mainstream stuff, just add your own 'sugar syrup recipe' to slightly sweeten. Also perfect for the adults as 'a teaspoon of autumn' with a glass of bubbly. Chill well after opening or if needed, freeze.
Finally, a Dried Wild Rosehip and Wild Crab Apple Leather: Cut into cubes or thin slices, you can use it with your Granola or Muesli in the morning; check it out in your bread or scone recipes.

You may also like
Spinach & Irish Greek Style Cheese Rolls

This delicious recipe if from McCormack Family Farm, a Father and Sons team with a taste for excellence and passion for produce has excelled in creating a range of products that is both innovative and commercial in nature.

Raspberry Fool

Irish Raspberry Fool is one of the simplest desserts, made with just 3 ingredients. All you need to do to enjoy this mouthwatering dessert from Ballymaloe Cookery School is to swirl pureed raspberries togheter with fresh whipped cream.