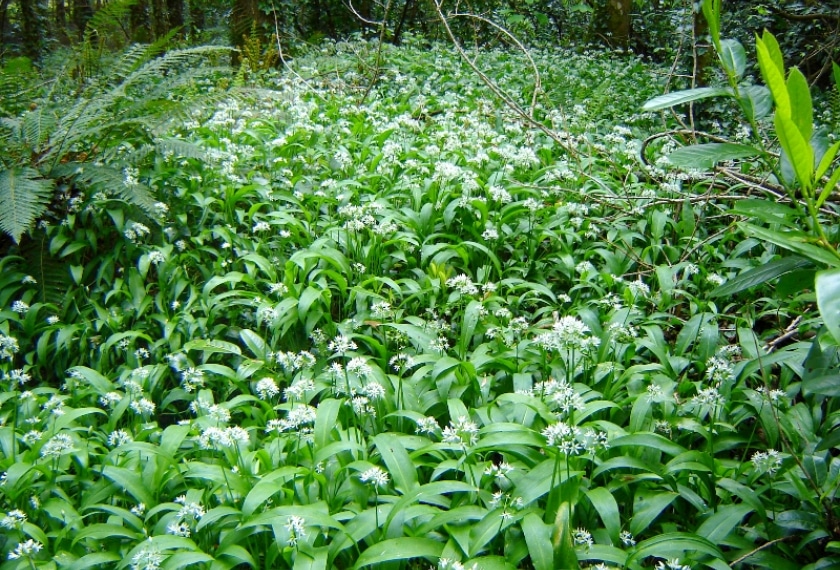 Ingredients
3–4 tablespoons olive oil
1 medium onion, diced
250g wild garlic, washed
250g young nettles, washed (be sure to wear gloves!)
250g pearl barley, washed
2 large floury potatoes, peeled and diced
1 litre vegetable stock
Salt and pepper
Method
Heat the olive oil in a large heavy-based pot over a medium heat. Add the onion, reduce the heat and gently sweat to draw out the moisture and sweetness.
Once the onion has turned opaque, you can add all the other ingredients and simmer until barley is soft and potatoes are cooked, about 15–20 minutes.
Allow to cool a little before blending with a stick blender and season well to taste. If you prefer, you could leave this as a chunky soup, or just blitz it a little to thicken the broth but to hold some of the texture.
If you picked the wild garlic while in blossom, their pretty white flower would make an attractive garnish scattered over the top.
HOME-TRUTHS…Always use gloves when picking nettles, and choose the young tender tips. It's worth picking slightly away from pathways or roadsides, and avoiding the lower leaves which may have caught the scented spray of a passing dog or cat!

You may also like
Simnel Cake

Ballymaloe House is home to the cooking dynasty of the Allen family, so you know you are in for a gastronomic treat when you dine here. This elegant country house has all the elements you will need to enjoy a relaxing full of great hospitality and of...

Traditional Roast Beef Dinner

The suburbs of Cork City are home to a little secret. Located near Douglas, just a short drive from the centre of the Rebel City, Maryborough Hotel and Spa is set in a private estate of mature grounds and gardens. You can sense the 300 years of history...