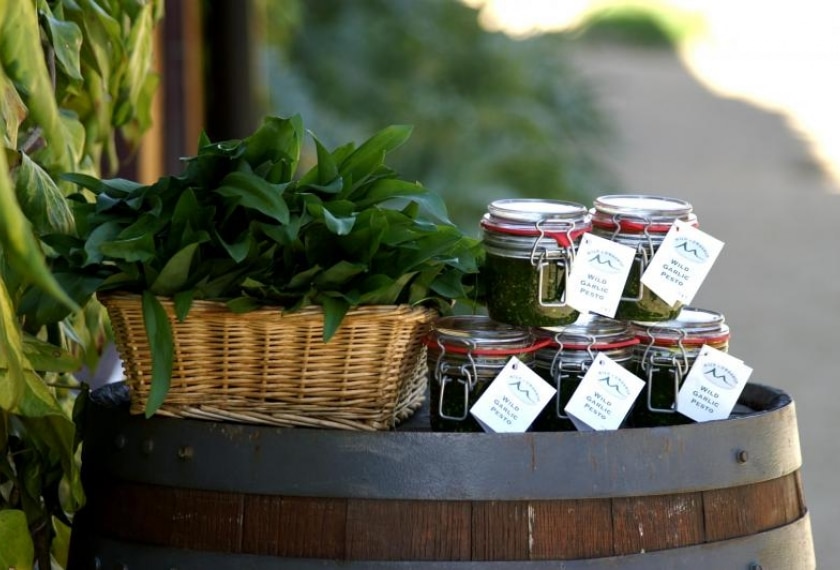 Ingredients
50g Fresh Wild Garlic Leaves
25g Pine, Cashew, Hazel or Chestnuts…your choice!
200ml Organic Olive Oil or better still Irish Organic Rapeseed Oil
40g grated, Parmigiano-Reggiano or really mature Desmond
Organic Black Pepper and Sea Salt.
Method
Simple recipes are not always the easiest. It's taken us years to get this just right. Any of the above Nuts, Oils or Cheeses will make a fabulous fresh spring tasting Pesto…we're just not saying exactly which go into our Strawberry Tree Wild Garlic Pesto! So, the easy way is to blitz the nuts and half the oil in a food processor and add in the grated cheese. Then add the wild garlic and blitz with the remaining oil to the right consistency. Then simply season, to your taste. As a fresh Oil Dressing, it'll work, every time.
How To Finish:
Pour into sterilised Kilner Jars and keep in the fridge or a really cool, dark pantry. Pesto is a fresh product, use within three weeks. If you can make it last that long!

You may also like
Simnel Cake

Ballymaloe House is home to the cooking dynasty of the Allen family, so you know you are in for a gastronomic treat when you dine here. This elegant country house has all the elements you will need to enjoy a relaxing full of great hospitality and of...

Traditional Roast Beef Dinner

The suburbs of Cork City are home to a little secret. Located near Douglas, just a short drive from the centre of the Rebel City, Maryborough Hotel and Spa is set in a private estate of mature grounds and gardens. You can sense the 300 years of history...