Good Food Ireland® Approved Since 2021
We stand over our recommendations. With exacting selection and regular review processes we ensure a rewarding local Irish ingredient led experience. You can count on it!
Overview
There has been a longstanding tradition of sea salt production on Achill Island. In recent years Kieran O'Malley, his wife Marjorie, sons Seán and Colm and their daughter Maebh have re-rejuvenated the practice by producing sea salt from the pure water of the Atlantic Ocean.
---
Meet the Maker
This family business was originally inspired by a BBC documentary on salt making and by the island's salt heritage, 'Producing salt on Achill has a longstanding history. The islanders needed lots of salt to preserve their fish and vegetables over the winter. There was a salt factory here up to the 1820's.' says Kieran O'Malley, Co-founder of Achill Island Sea Salt.
In 2013, Kieran and his family decided to give it a go. Their first attempt to make salt in the kitchen at home was 'awful' as he says himself. But they didn't give up, trying different techniques, until they found a taste and texture they were happy with. Kieran took it off to the local country market, where, to his delight, it sold out straightaway.
'Everyone loved it. We were thrilled.' Soon enough Mayo businesses began to stock the salt. Recognising the growing power of social media, Kieran set up social media accounts and began to showcasing this fabulous product to the public including chefs all across the island.
Achill Island Sea Salt really captures the essence of this captivating island on the Wild Atlantic Way, as Kieran explains, 'We collect water from the ocean and bring it back to our production factory in a large tank pulled by a tractor. We don't have a direct pipeline from the ocean to the factory.
Initially we collected the water in buckets but now our collection tanks holds six thousand litres. We gently evaporate the water to a brine, then slowly crystallize it to make the salt, this is the most important part of our process as this is where the salt flakes that chefs have said they love, are formed. It's then carefully oven dried, hand packed in glass jars and labelled. Our salt contains no chemicals or additives. It's a natural product straight from the sea."
The business began in the family kitchen and as demand grew their operating circumstances grew too, from kitchen to portacabin to where they are located now in a custom modified Udarás na Gaeltachta factory which allowed them to increase production.
An intense salty flavour of the sea is what you taste when you use Achill Island Sea Salt. The complex mineral character comes from minerals naturally occurring in the Atlantic Ocean around Achill, and the spring water flowing from the mountains on the island into the sea combined with the slow evaporation process to create the distinctive tasting and textured sea salt flakes. The flaky consistency of Achill Island Sea Salt makes it a perfect table salt for sprinkling on food and great for cooking.
This is a natural full flavoured salt, so you don't need a lot to enhance a dish. It melts superbly into food, and makes a lovely crunchy coating for oven roasted baby potatoes or baked jacket potatoes. It also acts as a great preservative for pickling, chutney and the like. Joe's Farm Crisps, Co. Cork, a fellow Approved Good Food Ireland® Member, also use Achill Island Sea Salt in their range of delicious veggie crisps. Just the right amount of this sea salt, perfects the taste.
As the business developed so did the Achill Island Sea Salt Range. Products now include a smoked sea salt; a seaweed salt and the most recent addition is their own branded salted caramel fudge made in conjunction with a fellow producer who specialises in making fudge. We can assure you the taste is sublime, a perfect balance of salty and sweet. One of the most dynamic of the range is their new sliding tins of sea salt flakes, the perfect addition to picnic dining. Simply pop the tin in your bag and off you go.
---
Other Facilities
A visit to Achill Island will promise a truly interactive experience as Achill Island Sea Salt have a fantastic Visitor Centre and Gift Shop located at their factory in Bunacurry. Well worth a visit if you're planning a trip to this famous island.
In 2019, the O'Malley family launched the Achill Island Sea Salt Visitor Centre and an on site gift shop. This provides an additional income for the business and allows the O'Malley's to share their story and unique production process. They hope to build on this visitor experience thus extending the tourist season and developing Achill Island as a food destination. Please note tours are seasonal taking place during summer months.
---
Sustainability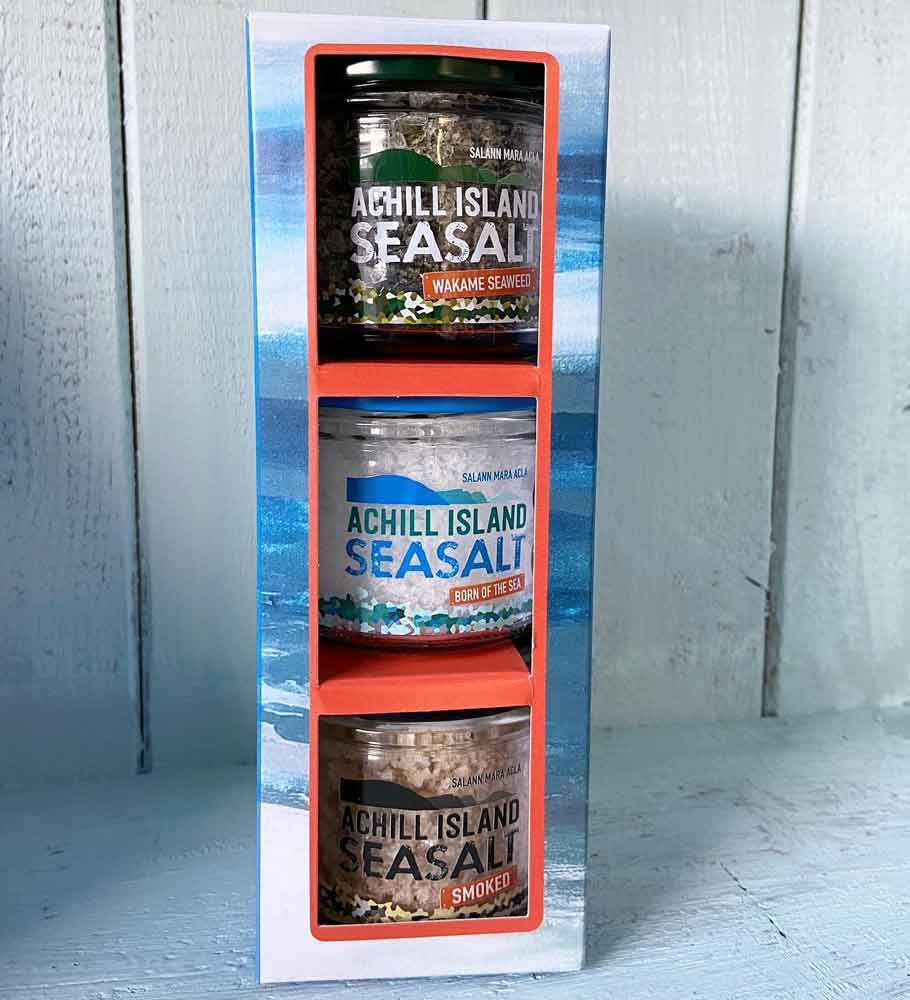 Achill Island Sea Salt is a completely natural product created from collected sea water that is of course in plentiful supply around Achill Island. No chemicals or additives are included, giving you a true taste of Achill Island in all its glory!
---
Leave review
There are no reviews yet. Be the first one to write one.
---
Nearby Experiences
Experiences

Accommodation

Dining

Cook & Shop

Meet the Makers