Good Food Ireland® Approved Since 2022
We stand over our recommendations. With exacting selection and regular review processes, we ensure a rewarding local Irish ingredient led experience. You can count on it
Overview
Step into the artist's studio when you experience all that is Arcane Chocolate. The medium here is chocolate and it's under the masterful skill of Erik Van der Veken that Arcane Chocolate delights chocolate lovers across the island of Ireland. From a lavish box of handmade chocolates to indulgent tablets of creamy chocolate, you'll find high quality, balanced flavours and impeccable taste in each bite. Erik is from Belgium and has a seriously impressive international career with extensive high-level experience. When he arrived in Ireland he worked as a mentor for people looking to understand and
Read More
---
Meet the Maker
The face behind Arcane Chocolate is Belgian Chef & Chocolatier, Erik Van der Veken who has put his considerable experience and skill into his chocolate enterprise. Erik took the plunge and quickly garnered a reputation for the Arcane Chocolate brand which has led to being featured in Ireland's top hotels, food establishments and retail spaces.
Every element of the creation of this amazing range of chocolate has been carefully cultivated by Erik, from sourcing to concept and design. This is chocolate you can easily mistake for contemporary works of art.
The cacao that Erik uses is single bean origin and ethically sourced from Bolivia. The grade of the chocolate is a step above anything we have ever heard of and is called Felchlin Cacao.
Erik creates and crafts each product with the creativity of a master at work. This is not a fun mould chocolate business; this is the Picasso level of chocolate in Ireland. Erik's skill and expertise are visible and tasted in each piece of chocolate.
The fillings and casing chocolate are paired and inspired in the hope that 1+1 = 3 by virtue of the sophisticated flavours and a balanced synergy.
The chocolate is tempered which is an art in itself and the whole care passion is tangible in the studio – workshop. Production is by eye and hand in terms of precision and product development. Each element is carefully managed by Erik.
This chocolate is not for the fainted hearted, it is for serious chocolate lovers on a special occasion indulgence. Make sure to get your orders in early during peak times such as Christmas, Valentine's Day, Mother's Day and Easter.
Arcane Chocolate and chocolate products like Easter Eggs and indeed some bars need to be given the respect of having been inspired and executed in creation with excellence. Hand painting and delicate spraying are achieved with time and due diligence using food grade colouring dyes.
This attention to detail and design of each chocolate may make you just that little bit guilty of taking a bite out of such a wonderful creation. Fear not though, as the taste will make all those feelings of guilt fade away.
This is a business that prides itself on using premium Irish Butter in the production process, which Erik attributes much to the taste and quality of the finished product.
Furthermore, the chocolates and bars are handmade and packed with the highest hygiene standards.
These delicious pieces of fine art are sculptured, packed and sold in luxury retailers like Brown Thomas, Avoca and Fallon & Byrne.
They are also being sold into 5 Star hotel properties as bedroom amenities and what's not to love about finding a box in your bedroom on arrival. What an aphrodisiac they would be?!!
One chocolate transports the customer to the edge of heaven and will leave you wanting another luxurious experience.
ENJOY !!!
---
Sustainability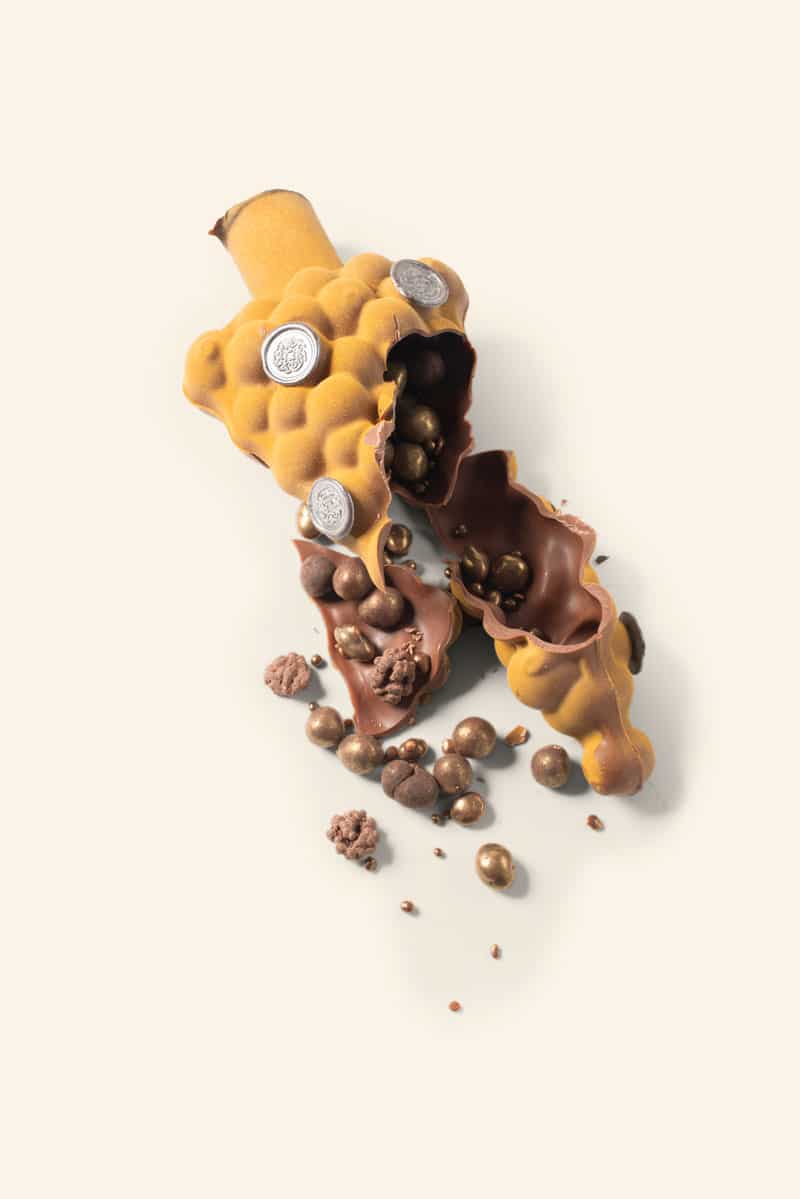 Erik of Arcane Chocolate keeps sustainability in mind with the creation of his chocolate.
For example, the butter used in chocolate production is sourced from Irish creameries while the cacao used is ethically sourced from Bolivia.
Furthermore, all packaging is supplied by a local business in support of the local economy. They also try to avoid using plastics where possible.
---
Leave review
WHAT CUSTOMERS VALUED AND ENJOYED
There are no reviews yet. Be the first one to write one.
---
Nearby Experiences
Experiences

Accommodation

Dining

Cook & Shop

Meet the Makers