Good Food Ireland® Approved Since 2018
We stand over our recommendations. With exacting selection and regular review processes we ensure a rewarding local Irish ingredient led experience. You can count on it!
Overview
Atlantis Seafoods provide flappingly fresh, locally caught fish and seafood from their Rosslare Road shop in County Wexford.
---
Meet The Maker
Located in the sunny south-east in County Wexford, Atlantis Seafoods was founded by John and Mark O'Connor and John Kenny. Combined, they have 50 years' worth of experience in the seafood industry. Their skills and knowledge have made Atlantis Seafoods the success story that it is today.
Atlantis Seafoods prides itself on the ability to offer the freshest of catches to clients. Located on the Rosslare Road, it has the enviable position of being just a few minutes' drive from Kilmore Quay Port. Each day, landings come in with the daily catches and Atlantis Seafoods works with fishermen to select the freshest, top quality, locally caught fish.
From here the catch is brought to Atlantis Seafoods' premises where it is filleted, boned, descaled, breaded and portioned off. An on-site smoking facility creates flavourful smoked products. Fish and shellfish are ready for consumption allowing you to get down to the fun part of cooking without the hassle of the prep. The Atlantis Seafoods fishmongers also make sure to approach preparation as sustainably as possible, ensuring a maximum yield with a minimum amount of waste.
A wide variety of fresh fish and shellfish is available from Atlantis Seafoods depending on weather conditions and the seasons. White fish, trout, Atlantic salmon and smoked salmon are available in a variety of cuts. Fishmongers in Atlantis Seafoods will happily advise you on cooking and other ingredients that compliment your fish purchase, ensuring you have a tasty dining experience.
Atlantis Seafoods also stocks a selection of frozen fish and shellfish, which you can easily pop back into your freezer to use at a later date if you wish. Choose from selections of fish fillets including sea bass, plaice and John Dory. Steaks such as tuna and halibut are also available. Why not branch out with some eel or scallop and mussel meat? There is a wide selection available to suit all tastes.
Atlantis Seafoods also produces a range of pre-packed products that can be found in retailers across the country. The Kilmore Quay range features haddock goujons, fish cakes and burgers that are gluten free. Pre-packed meals also include a selection of fresh fish with a delightful mix of accompanying sauces and seasonings. Pop them in the oven and they'll be ready in no time. This no-hassle option is perfect for those short on time but who still want a delicious and nutritious meal made with the finest local, sustainable ingredients.
---
Atlantis Seafoods Shop
The frestest of fish is available for you to purchase in the Atlantis Seafoods shop in Wexford. There's plenty of choice and knowledgeable staff are on hand to help you chose the perfect piece of fish and to advise you on cooking techniques and accompaniments.
---
Sustainability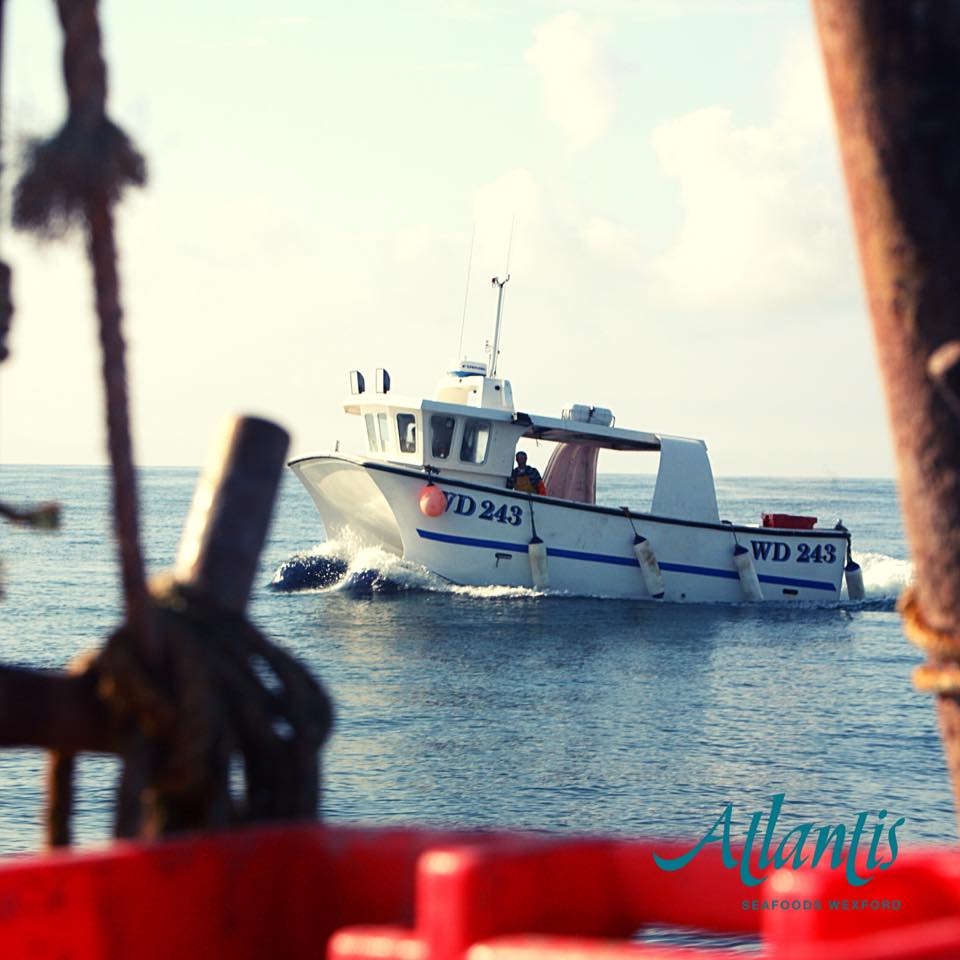 Atlantis Seafoods is a verified Origin Green member. The fishmongers prepare the fish as sustainably as possible to ensure a minimum amount of waste. The company is also a member of Responsible Irish Fish (RIF) which is a certification for trawler boats and helps to promote Irish fish caught in responsible manner.
---
Leave review
WHAT CUSTOMERS VALUED AND ENJOYED
There are no reviews yet. Be the first one to write one.
---
Nearby Experiences
Experiences

Accommodation

Dining

Cook & Shop

Meet the Makers