Good Food Ireland® Approved Since 2012
We stand over our recommendations. With exacting selection and regular review processes we ensure a rewarding local Irish ingredient led experience. You can count on it!
Overview
Michael Finegan produces award-winning cheese from his herd of 300 goats on his family farm in Co. Meath. The herd grazes on the lush green grass of Boyne Valley. Milk produced from the herd of goats is used to make Boyne Valley Blue Farmhouse Cheese and Boyne Valley Bán. Boyne Valley Blue is a semi-hard pasteurised blue-veined goats cheese. It is the only one of its kind made in Ireland and is even rare to find across Europe. Boyne Valley Bán, the newest cheese in the range, is a semi-hard pasteurised white goat's cheese.
---
Meet The Maker
Michael Finegan is well known both locally and nationwide for his award-winning blue goat's cheese, made from his own herd of 300 milking goats in Boyne Valley, Co. Meath. Boyne Valley Farmhouse Cheese makes two kinds of cheese – Blue Farmhouse Cheese and Boyne Valley Bán. They have cheese at three months, six months and older for those who like a stronger blue cheese.
"Our goat's cheese is selling faster than we can make it!", says Michael Finegan of Boyne Valley Farmhouse Cheese. That sums up just how popular his range of Boyne Valley Blue goat's cheese and Boyne Valley Bán goat's cheese is.
Michael, a third-generation dairy farmer, was brought up with his family on the farm in Slane. The fertile land was owned by his Grandfather and his father before him. Both were traditional dairy farmers with a large herd of cows and Michael looked set to follow in their footsteps. But prior to taking over the farm, a four-year stint in New Zealand managing goat's milk enterprises brought about a change in his thinking. Michael took the decision to swap the cows for goats and to supply the dairy, and it's been "the best thing we did", he says. Together with his wife Jenny – a trained nurse who is no stranger to milking goats and running the farm – Michael has achieved a modern-day success story. He gives full credit to Jenny, saying "I couldn't have done it without her."
These days, the 300-strong Finegan mixed herd of Saanen, Alpine, Toggenburg and Anglo Nubian goats produce milk for the dairy co-op, and to make their Boyne Valley cheeses, which were introduced to the Irish market in 2010. Chefs and professional cooks all around the country use Boyne Valley cheeses.
This well-deserved success led to Michael undertaking an expansion of his business in 2016. A 200-year-old barn located on the family farm was converted into a dedicated cheese-making facility. The new facility allowed Michael to increase his blue cheese production and also to develop a new cheese for the business. This resulted in the creation of 'Boyne Valley Bán'. A white goat's cheese made similarly to the French 'Tomme de Savoie', it has been a fantastic addition to the Boyne Valley Farmhouse Cheese range.
Boyne Valley Blue is similar to Bleu D'Auvergne in texture and taste – a brown rinded crumbly cheese with good veins of blue throughout. The flavour is a marvellous balance of the character of the goat's milk and the depth of taste from the mould running through the paste.
In contrast, Boyne Valley Bán, the newest cheese in the range, is a semi-hard pasteurised white goat's cheese. At two-three months old, the rind will be dry and white from mould. As for tasting, the cheese is rustic in appearance – a thick, sometimes fuzzy, grey rind. The pâté can be buttery in colour, or so pale that it is virtually white, with an earthy scent, small eyes also appear on its surface. Boyne Valley Bán is mild and creamy, fruity and nutty, but it also has robustness with overtones of salt. Michael recommends that you pair it with sausages, fruit, bread and of course, wine!
Michael says his cheeses are ready at two months old when the flavour is developed and carries the piquancy of the goat's milk. With ageing, this cheese becomes more crumbly and more powerful on the tongue – a giant of cheese on the cheeseboard. Two months is an optimum age to enjoy the cheese, although some of his cheeses have been left to mature for as long as a year – serious cheeses for serious cheese lovers!
---
Sustainability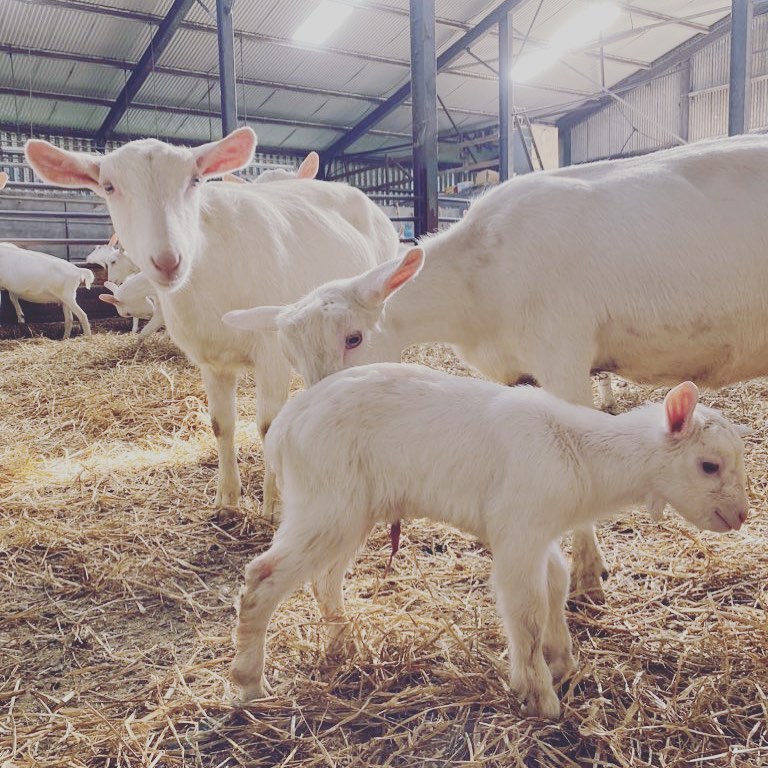 Boyne Valley Farmhouse Cheese is an artisan Irish cheese producer that takes great care of the adorable goats that are responsible for producing the milk that gives Boyne Valley cheese its unique taste. Using sustainable farming methods, producers Michael and Jenny showcase just how good goat's cheese can be.
---
Leave review
French Delight in Irish Cheese
We are thrilled to offer Boyne Valley Cheeses to our French customers here in Normandy. They have met with great success.
---
Nearby Experiences
Experiences

Accommodation

Dining

Cook & Shop

Meet the Makers