Good Food Ireland® Approved Since 2011
We stand over our recommendations. With exacting selection and regular review processes we ensure a rewarding local Irish ingredient led experience. You can count on it!
Overview
Crossogue Preserves produces a range of 100% hand-made jams, jellies, marmalades, curds, chutneys and coulis on the Crossogue Farm, a family-run farm in the heart of Co. Tipperary.
---
Meet The Maker
Crossogue Preserves is an award-winning producer in Tipperary that makes all sorts of delicious jams, jellies, curds and more. Not a lot has changed since they made their first homemade batch of preserves in the early 1990s; all their products are still hand made in small batches in a kitchen on the farm, with nothing added to natural ingredients except lots of time and enthusiasm.
Owner Veronica Molloy was born and raised in Kenya, where she was unused to kitchens. However, that all changed when she married Tony Molloy in 1967. She moved to Ireland where her wonderful mother-in-law who taught her everything she needed to know, including family recipes for delicious homemade preserves. While at first making jams was more or less a hobby, and Veronica sold only in local shops and country markets, this hobby has now turned into an award-winning enterprise.
Everything at Crossouge Preserves is made in small batches, just as it is in any countryside home kitchen. Six pounds of fruit is used at a time, so there is no large-scale production. From fruit and vegetable peeling and prep to measuring sugar and labelling jars, the Molloys do everything by hand.
The highest quality ingredients combined with traditional cooking, without using any artificial colourings, preservatives or flavourings, results in a product that is not only unique but has a distinctive and delicious flavour.
Crossogue Preserves has won three Great Taste awards to date: their Quince Chilly Jelly won a '2 Gold Star Award'; their Apricot, Pear and Grand Marnier Jam won a '1 Gold Star Award' and their Red Pepper Chilly Chutney won a '1 Gold Star Award'.
With a diverse range of fruit growing on their own farm, the remainder and the vegetables come from producers who grow especially for Crossogue, with blackcurrants coming from fellow Good Food Ireland® Member, Mr Jeffares Blackcurrants. Seville oranges, lemons and other citrus fruit are imported from Spain due to Ireland's climate restrictions, but they remain carefully sourced.
As well as the usual range of preserves, there's also an unusual apricot and almond, pear and walnut, gooseberry and elderflower and marrow and ginger. Prefer your jam with a bit of a kick? You could try apricot and brandy or the award-winning blackcurrant and Irish stout. Marmalades include lime and brandy and Irish whiskey. There's also sugar-free spreads and savoury jellies, all available to buy individually or as part of a luxury gift hamper. Take your pick from 90 different homemade items.
Chutneys make an ideal pairing for so many foods and Crossogue's range has a very unusual fig and apple. Curds include the traditional lemon but there's also a wonderful Irish Coffee (check out their website for a delicious cheesecake recipe using this product).
Following a fire in 2010 when much of the original house, including the Georgian kitchen, was destroyed, Veronica moved production to a new, specially designed kitchen. The Crossogue products are found in most leading specialist gourmet food stores and delicatessens around Ireland, including most of our own Good Food Ireland Members' businesses.
Today, Crossogue is not only the home base for the preserves; it is also a working Stud farm and offers residential equestrian holidays for small numbers of guests from around the world.
---
Sustainability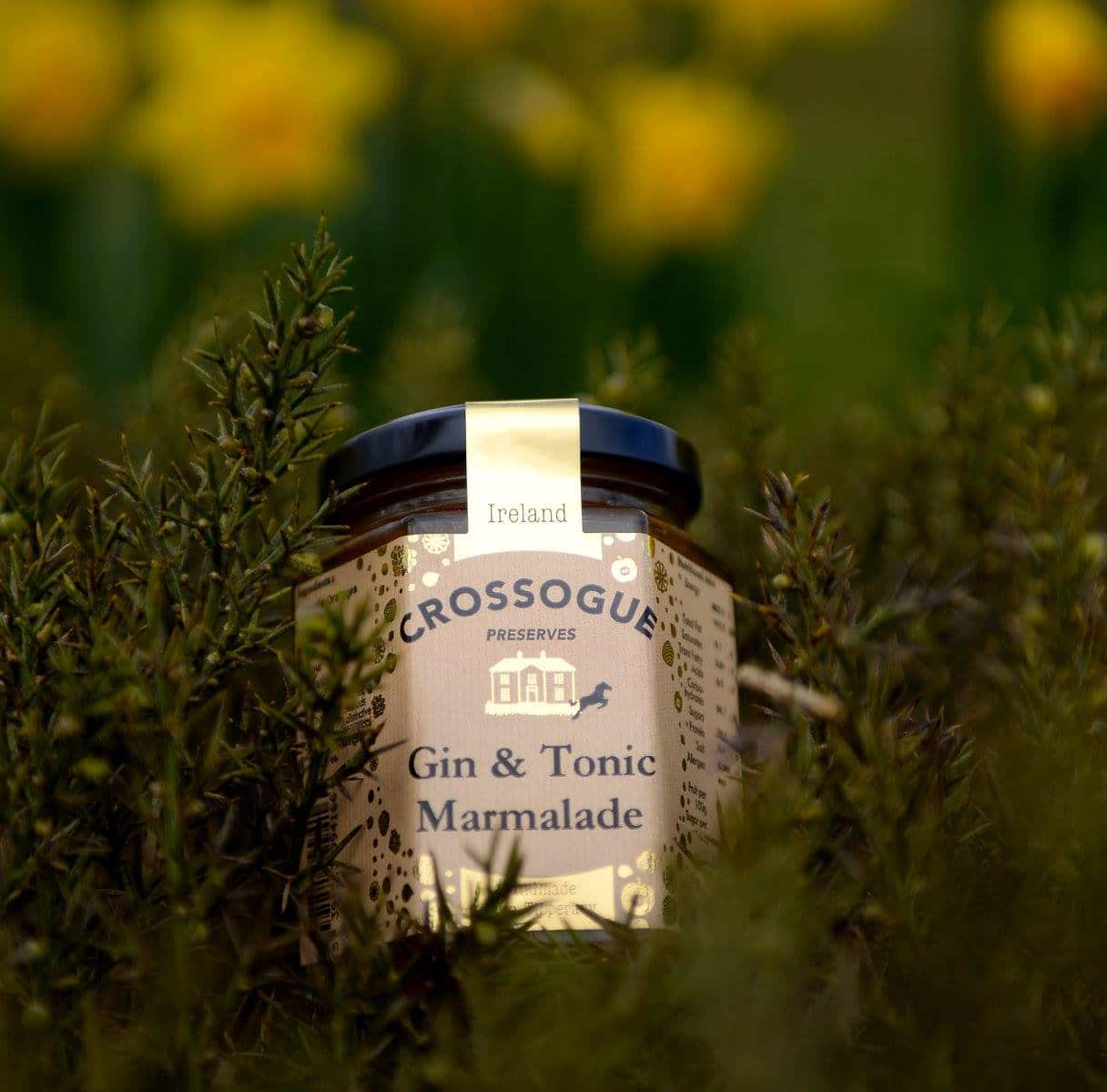 Crossogue Preserves is a certified member of Bord Bia's Origin Green programme. They use their own organic fruits and vegetables alongside produce from other local farms. They really go the extra mile for the environment: they have even transformed their on-site green space by planting 25 fruit trees and maintaining all hedgerows in the space.
---
Leave review
WHAT CUSTOMERS VALUED AND ENJOYED
There are no reviews yet. Be the first one to write one.
---
Nearby Experiences
Experiences

Accommodation

Dining

Cook & Shop

Meet the Makers