Good Food Ireland® Approved Since 2022
We stand over our recommendations. With exacting selection and regular review processes, we ensure a rewarding local Irish ingredient-led experience. You can count on it.
Overview
Jackford Irish Potato Gin was created with a view to using the entire potato crop and as a way of creating an added value product. The result of this endeavour is a fabulous and premium Irish Craft Gin that is the perfect beverage of choice! The day we visited Slaney Farms, home of Jackford Irish Potato Gin, the grading line was operational and we observed the quality potatoes that were selected for the Jackford Gin production. The selected potatoes are of a quality standard but are not suitable for food service or the retail market. Diversifying into Gin was something quite unique and this gin has an incredible
Read More
---
Meet the Makers
The Stafford family is as rooted in County Wexford as the harvest they lovingly produce. They are potato growers, famed for the quality and consistency of their crops. Theirs is the proud heritage of a humble staple and now that has produced another yield – of premium, locally sourced, locally distilled spirits.
Slaney Farms, home of Jackford Irish Potato Gin are based in Enniscorthy, and the core ingredient of the gin is The Rooster potato, making this gin about as Irish as any spirit could possibly get…
The process for creating Jackford Irish Potato Gin is based on traditional distilling methods where a mash is produced and there is a PNS created. PNS – Potato Neutral Spirit and then the magic happens with adding the high-level quality botanicals, which include:
Juniper
Liquorice Root
Angelica
Black Peppercorn
Orris Root
Cassia Bark
Basil
Gooseberry
Bitter Orange
Rosemary
The current offer is the Jackford Gin Original but there will be Strawberry Gin which is coming soon and we can't wait!
The Gin can be used in cocktails or through menus for fish marinades or for desserts.
There is a business development strategy around getting it listed with all Good Food Ireland® members, so expect a call!!
Remember when you're at the bar, don't just ask for a gin – ask for a Jackford.
---
Other Facilities
The product is available online through Celtic Whiskey for international shipping but also in Dublin and soon will be available in Cork Airport's duty-free area.
The gin is sold in bars, restaurants and hotels around Ireland, especially near its home in the Sunny South East. You'll be sure to find it on the menu across many County Wexford bars, hotels and restaurants. Here's a list of where to get your hands on a bottle of this luscious Irish Craft Gin:
The Strand Cahore, Ballygarrett, Co. Wexford
Luttrellstown Castle – Rugged Lane Restaurant, Dublin
Marlfield House, Gorey, Co. Wexford
Seafield Hotel, Gorey, Co. Wexford
Ferrycarrig Hotel, Wexford, Co. Wexford
Monart Destination Spa, Enniscorthy, Co. Wexford
Ashtown Park Hotel, Gorey, Co. Wexford
Pettitts SuperValus, Co. Wicklow and Co. Wexford
Kellys Resort Hotel & Spa, Rosslare, Co. Wexford
The Lobster Pot, Carne, Co. Wexford
Dublin Duty-Free, Dublin Airport
iNua Hotel Collection
---
Sustainability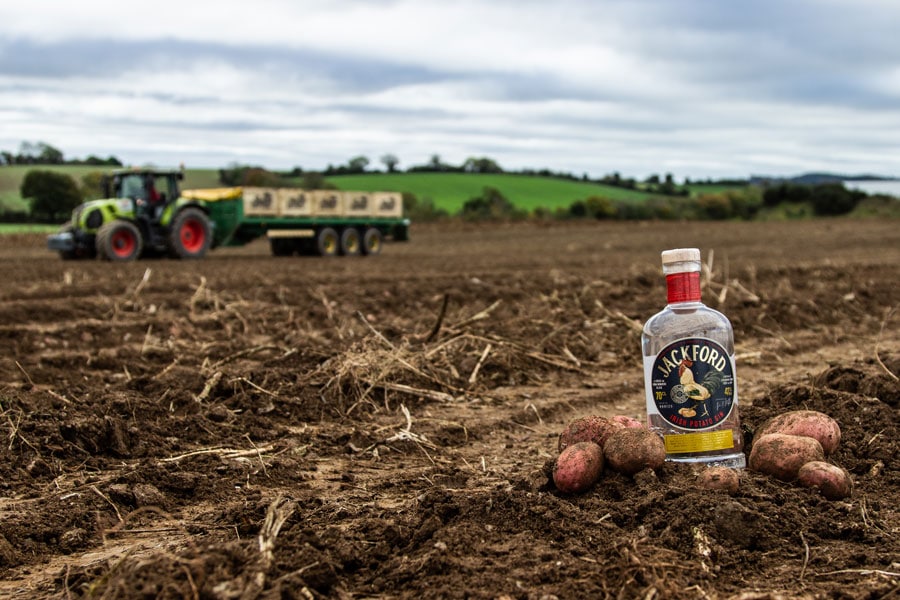 Jackford Irish Potato Gin is leading the way in terms of sustainability.
Accreditations:
Origin Green Gold. Slaney Farms are accredited with Board Bia's Origin Green Gold standard, recognising Slaney Farm's performance at the highest level of sustainability.
Global G.A.P. This is an internationally recognised standard for Good Agricultural Practices guaranteeing safe food, traceability and with their Global Gap accreditation, this guarantees World levels of excellence.
Sustainable Practices:
Jackford Irish Potato Gin in turn is an absolute winner as the base neutral spirit is made from the highest possible standard of potato product in the world of farming. The locally-sourced potatoes have been grown by one family on one farm for generations.
In producing the potatoes that are used for the production of the neutral spirit, when the potato crop breaks ground the crop is fed with a liquid organic Irish Seaweed harvested along the Wild Atlantic Way. No chemical-based fertilizers are used.
From season to season Slaney Farms operates a crop rotation and the growth of a cover crop policy, this also introduces a natural source of nitrogen into the soil.
All the team at Slaney Farms are trained to a standard to deliver the Origin Green Gold and the Global G.A.P. objectives.
This of course comes with a commercial cost in production, and this is what makes Jackford command the higher pricing as the production cost is expensive.
The result is this incredible Irish product that can hold its head high among the best gins on the World stage.
The bottle itself is absolutely gorgeous and can be reused in many different ways.
---
Leave review
WHAT CUSTOMERS VALUED AND ENJOYED
There are no reviews yet. Be the first one to write one.
---
Nearby Experiences
Experiences

Accommodation

Dining

Cook & Shop

Meet the Makers