Good Food Ireland® Approved Since 2007
We stand over our recommendations. With exacting selection and regular review processes we ensure a rewarding local Irish ingredient led experience. You can count on it!
Overview
Jane Russell's great-great-grandfather established his pork and bacon business in Tipperary in 1863, and today Jane is proud to be carrying on this tradition making a range of premium, meaty sausages by hand in Kilcullen, Co Kildare. Jane sources all her meat from Bord Bia approved Irish farms and only uses fresh shoulder and belly meat.
---
Meet The Maker
"No off cuts. No short cuts. Just prime cuts." That's Jane's motto and ethos for producing only the best quality pork sausages. Jane is the fifth generation of a prize-winning pork and bacon curing family and uses traditional family recipes alongside her own culinary creations.
Consistency is key at Jane Russell's Original Irish Sausages, and customers can be sure that every product has that same fantastic taste. Every batch is made the same. First, the spices are mixed, these include mace, nutmeg, coriander, ginger and white and black pepper. Then the meat is minced and mixed with the spices. Once filled into natural casings, the sausages are allowed to hang overnight to settle and packed the next day.
Since Jane Russel's Original Irish Sausages only uses prime fresh cuts of Irish pork, they do not have to use strong preservatives like nitrates or nitrites, nor do they fill the packs with preserving gasses. It's simply lean, juicy pork in natural casings.
A mix of old fashioned recipes with modern flavours ensures a sausage for all tastes. Travels to France brought about the garlicky and meaty Toulouse sausage. The Beef and Guinness sausage was first thought of in London. There's also an Italian sausage infused with flavour from fennel and pimiento, and a German Bratwurst, meaty and gluten-free. Following family traditions, Jane also dry cures bacon rashers.
All sausages are wheat-free (using oats from E & J Flahavan in Kilmacthomas, Co. Waterford) and there are also gluten-free sausages available. You can find these products online and in all good independent retailers.
---
Sustainability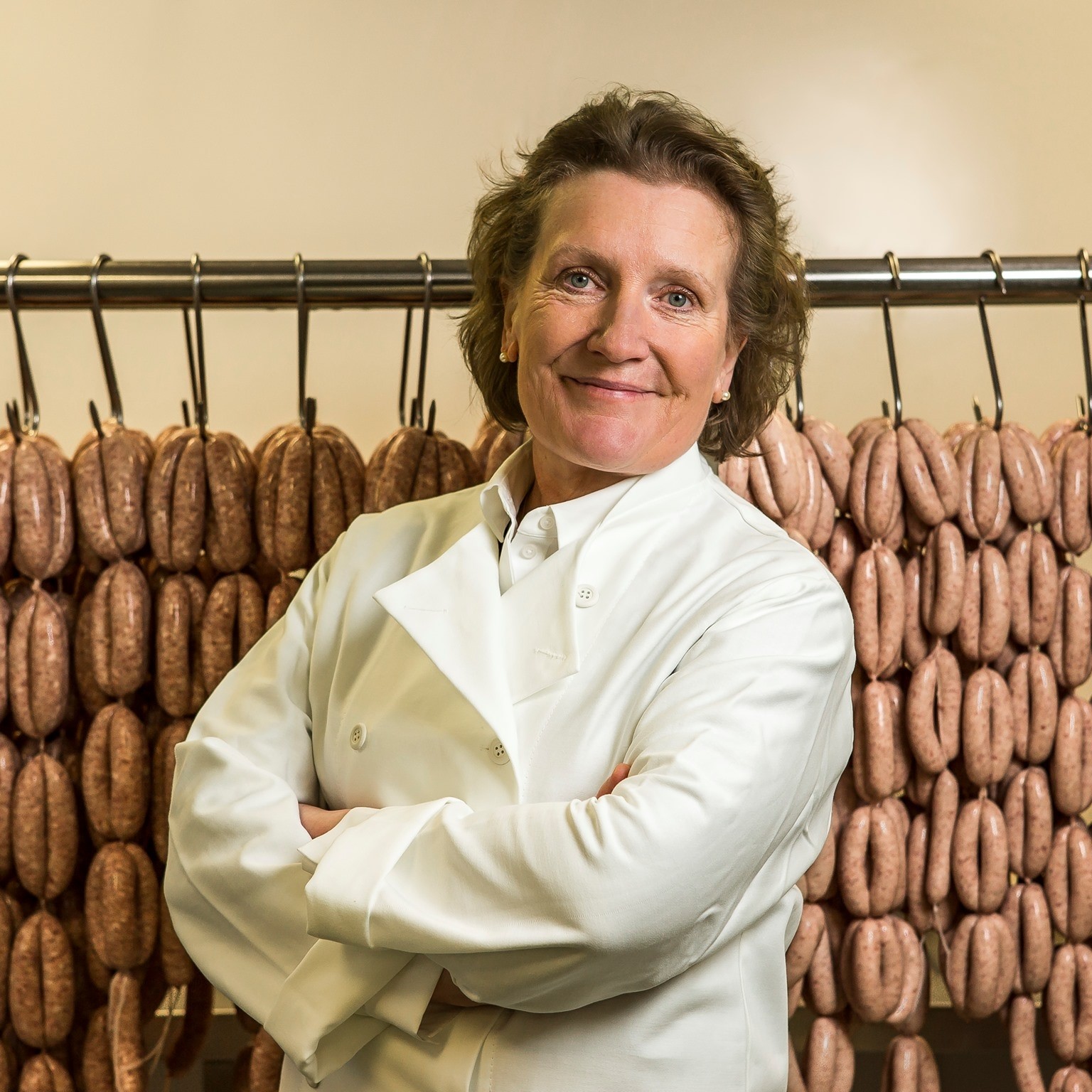 Jane Russell's Original Irish Sausages is an approved member of Origin Green, Ireland's food and drink sustainability programme. All of their products are nitrate-free. This is something they have done from the start and are able to do because they only use fresh top-quality pork and so only need a mild preservative.
---
Leave review
There are no reviews yet. Be the first one to write one.
---
Nearby Experiences
Experiences

Accommodation

Dining

Cook & Shop

Meet the Makers