Good Food Ireland® Approved Since 2021
We stand over our recommendations. With exacting selection and regular review processes we ensure a rewarding local Irish ingredient led experience. You can count on it!
Overview
Sinead and Pascal Gillard have created quite the business in their hometown of Drumshanbo, Co Leitrim, producing fresh breads, cakes and more. All of which are for sale in their bakery, online shop and good food shops across Ireland. You can also sample Jinny's delicious baking in their lovely Tea Rooms located on site.
---
Meet The Maker
Sinead Gillard was born into the world of hospitality having grown up with her parent's popular self-catering cottages and restaurant located near the shores of Acres Lake in Co. Leitrim.

A popular spot for fishing enthusiasts from France and Germany, the business has now turned to the next generation, Sinead and her husband Pascal Gillard. Sinead and Pascal have grown the business and inserted their own interests and skills into what is today Jinny's Bakery & Tea Rooms.
Sinead has always had a passion and knack for baking and took the leap into creating her very own bakery in 2003. You may ask where did the name Jinny come from? Well Sinead decided to name her bakery business after her childhood nickname Jinny, ensuring her personality continues to shine throughout the business.
A small operation to start off with, Sinead began selling her fresh breads and cakes at local farmer's markets. She quickly gained a great following as customers bought her products in their droves.
To keep up with demand, Sinead and Pascal scaled the business up and today they now employ 11 team members and the Jinny's Bakery range is now available in farmer's markets, supermarkets and the food service sector across the greater Connacht and midlands region.
Talking with Sinead and Pascal, you can't help but be wowed by their passion and commitment to their business, they strive each and very day to give their customers the very best food experience going!
The Jinny's Bakery range includes freshly baked breads and cakes created using the very best natural ingredients. Breads include an Irish Stout Bread, Irish Soda Bread (with a sugar free version), Treacle Bread and even a Porridge Oat Bread, such wholesome goodness all round.
Jinny's Carrot, Lemon, Coffee Cakes and Banana Bread make for the perfect tea time accompaniments. Just delicious! You can enjoy the entire Jinny's Bakery range at their Tea Rooms located onsite at the bakery.
---
Other Facilities
After exploring the nature and beauty of Acres Lake in Co Leitrim, Jinny's Tea Rooms is a place you must visit to take a much deserved rest and enjoy a good feed!
In recent times Sinead and Pascal have stepped up their offering with the opening of their Tea Rooms, located onsite at the bakery. A stroke of genius, as the area is visited by cyclists, walkers and families making the most of the beautiful Blueway Boardwalk.
Famished outdoor enthusiasts are no doubt drawn into Jinny's Tea Rooms by that enticing scent of freshly baked breads. The Tea Room is bright and open, begging you to sit down and relax for a bit. Mouth watering displays of fresh breads and cakes are there to tempt you to indulge in a little treat.
The ethos at the Tea Rooms follows that of the Bakery, only the best local, seasonal and wholesome ingredients. Fruit and vegetables are also sourced from their very own kitchen garden, giving diners a true homegrown food experience. Freshly baked breads from the bakery are used to create a delicious range of sandwiches, served with fresh crisp salads and soups all made from scratch.
Of course, you'll also find a plentiful supply of sweet treats to enjoy with a cup of tea or coffee. Enjoy in the Tea Rooms or buy a loaf of bread or cake to enjoy at home.
If you're planning an outdoors adventure around Acres Lake and the Blueway Boardwalk, make sure to call into Jinny's for a delicious picnic feast to enjoy on your travels.
---
Sustainability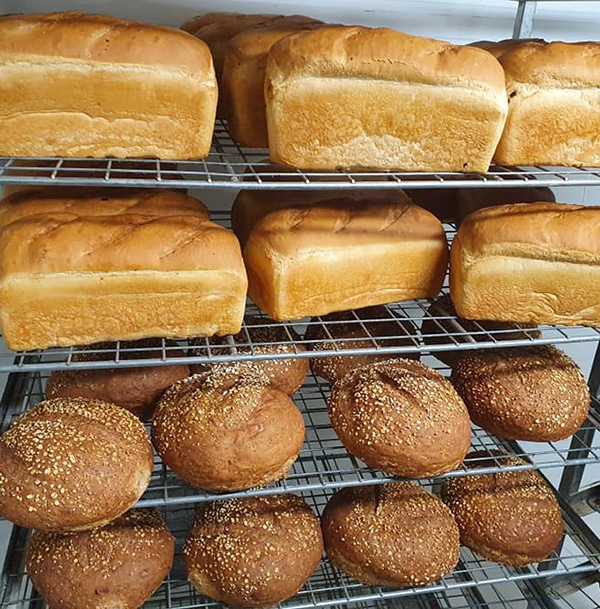 Jinny's Bakery & Tea Rooms has a strong commitment for the best quality local ingredients. Locally sourced ingredients feature in the Tea Rooms which is supplemented by homegrown fruit and vegetables grown in their kitchen garden.
---
Leave review
There are no reviews yet. Be the first one to write one.
---
Nearby Experiences
Experiences

Accommodation

Dining

Cook & Shop

Meet the Makers