Good Food Ireland® Approved Since 2010
We stand over our recommendations. With exacting selection and regular review processes we ensure a rewarding local Irish ingredient led experience. You can count on it!
Overview
Linnalla Pure Irish Ice Cream is a small farmhouse-based production on the County Clare coastline in the foothills of the Burren. Using milk from their own herds of shorthorn cattle, the Fahey's produce beautiful dairy ice cream in lots of different flavours. Visitors to County Clare can taste all the delicious flavours of Linnalla Ice Cream with a visit to Linnalla Pure Irish Ice Cream Shop.
---
Meet The Maker
This quality ice cream has been produced since 2006, following the owners' Roger and Bríd Fahey's decision to find a way to increase turnover on their farm. They visited producers extensively in England and Italy, the home of ice cream, before starting their own ice cream company. Bríd is responsible for developing recipes and all the wonderful flavours on offer at the shop, while Roger's herd of shorthorn cows provides the creamy milk that makes Linnalla Pure Irish Ice Cream so special.
Linnalla Pure Irish Ice Cream is a farm-based production by husband and wife Roger and Bríd, based on the County Clare coastline in the foothills of the Burren.
Roger's herds of shorthorn cattle graze the lands around the farm, sometimes travelling across the sea inlet to Scannell Island, where he has a little land. He walks them over at low tide and has to wait for the tide to go out again before bringing them back for milking. The end result is worth it since the milk takes on a salty freshness from the sea mist bathed grasses and wildflowers there. All this adds to the unique flavour of Linnalla.
Bríd makes her ice cream in small batches, starting with the farm's pasteurised milk and cream, then adding the flavours and absolutely nothing else. Chefs in some local restaurants even have Linnalla ice creams created especially for them. The ingredients come from many sources – they grow some, such as blackcurrants, rhubarb, apples etc; some they forage, such as gorse, blackberries, sloes and hazelnuts. Others – like vanilla, chocolate, citrus and exotic fruits and nuts – have to be imported, as Ireland's climate doesn't support the growth of such exotic ingredients.
As well as classic flavours, Linnalla Pure Irish Ice Cream try and follow the seasons when using their local ingredients, so that the flavours are always in date. They start in the spring with rhubarb or wild gorse, elderberry or sea buckthorn. Summer has all the lovely summer fruits such as raspberries, strawberries, plums and damsons. The autumn has the full harvest of wild sloes, blackberries, hazelnuts, apples, pumpkin and many more!
When you visit Cafe Linnalla the display cabinet will serve local, fresh in-season ice cream for you to enjoy. This is really the best way to sample it – sitting at a sunny outdoor table, looking out over to Ballyvaughan to one side and Galway bay and coastline to the other.
You can also find Linnalla in selected local supermarkets in 500ml tubs and 120ml tubs for the "to go' trade – which are available at the visitor centre at the nearby Cliffs of Moher, Ailwee Caves and Bunratty Folk Park. Good Food Ireland® member, the Burren Smokehouse and Visitors Centre also stocks this delicious product. Catering tubs of 2.5 litres and 5 litres are also available. The farm also makes some fruit sorbets and frozen yoghurts.
---
Other Facilities
You can visit the home of Linnalla Ice Cream, they have an ice cream shop and cafe located on Co. Clare's stunning Flaggy Shore. Stop in and order an ice cream and coffee as you tour around the county!
---
Sustainability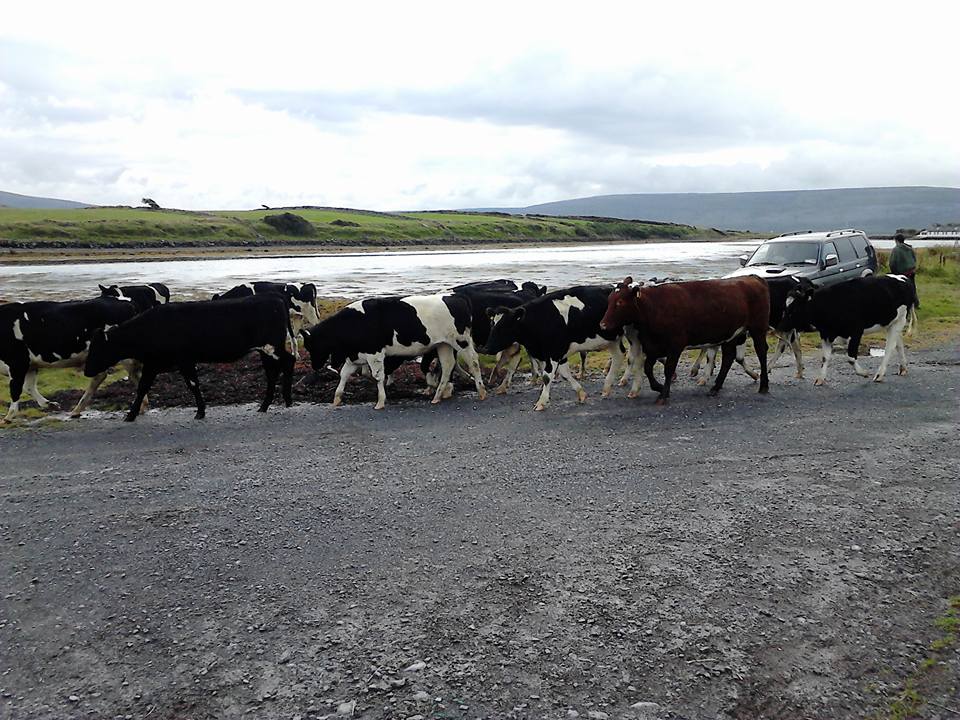 Linnalla Pure Irish Ice Cream make artisanal ice cream in Co. Clare in a natural and sustainable way, using freshly pasteurised milk from their own herd of shorthorn cows. The cattle graze on lush farmland and are milked every morning. Linnalla Pure Irish Ice Cream also grows its own fruits and uses local ingredients as much as possible, including foraged ingredients from the surrounding countryside.
---
Leave review
There are no reviews yet. Be the first one to write one.
---
Nearby Experiences
Experiences

Accommodation

Dining

Cook & Shop

Meet the Makers