Good Food Ireland® Approved Since 2021
We stand over our recommendations. With exacting selection and regular review processes, we ensure a rewarding local Irish ingredient-led experience. You can count on it!
Overview
O'Shea Farms is a major supplier of fresh fruit and vegetables, serving the daily needs of wholesale and retail outlets across Ireland. Their modern facilities in Piltown, Co. Kilkenny include temperature-controlled storage and logistical tracking systems.
---
Meet the Maker
O'Shea Farms is built on a firm commitment to the past while looking forward to the future and the word that we would best use to describe the farm and the produce is *Quality.
O'Shea Farms is a 4th Generation business growing from Thomas O'Shea's original 20 Cows and mixed-use farming in 1943 to the 1500 acres they farm today.
By 1969 they were farming 195 acres with a mix of Dairy, Beef, Cereal, Potato, Soft Fruit including Blackcurrants and in 1972, the  O'Shea Brothers were set up by Tom's sons – Richard, Seamus, John, Joe. A new adventure started in 1978 when they opened 7 Greengrocers in surrounding counties – Waterford, Kilkenny, Tipperary.
In 1980 Iverk was created selling produce to wholesalers, retailers and foodservice and in 1992 Fyffes now (Total Produce) bought into Iverk.
2009 James and TJ O'Shea took over field operations, processing, packing and marketing of the business.
2015 there was a major investment into sustainable farming with 960 photovoltaic panels on the roof of the facility.
2017 O'Shea's invested in a produce processing facility enabling their fresh produce to be utilized in food production, therefore, minimizing waste and any crop loss.
O'Shea's is situated on stunning mature farmland surrounded by tall majestic trees and access via a treelined avenue, We found O'Shea Farms on the sat nav traversing the stunning mountains and down through the rural village of Piltown – on the Waterford border.
O'Shea Farms facility is purpose-built and very impressive on arrival, with visual signage of their Origin Green accreditation and Bord Bia certification. Clear Covid procedures are adhered to and the facility is extremely well organized.
Good Food Ireland® was welcomed warmly and both Keith Walsh and Tom Murray were waiting in the reception area, as we had shared our journey on Sat Nav so they knew as we were about to arrive.
We were treated to a coffee and a cupcake, and a very friendly informative chat before we moved out to the Carrot field.
Tom and Keith were so enthusiastic about where they work and who they work for… The O'Shea family clearly led from the front as the dedication was clear and James made sure to say hello to us before we set off for the fields.
The guys were smiling when they saw we had our wellies on hand and wax jackets – We would even go as far as to say relieved when they saw we were travelling in a jeep to get into the fields.
In the pack-house – there is a purpose-built Carrot washing and packing facility with a BRC rating and it is cleaned, serviced and ready for the season to start in July 2021.
O'Shea Farms was started with a family move from Kerry more than 150 years ago. The business has evolved through the generations with each generation making progress by building on past success and looking ahead with technology and innovation.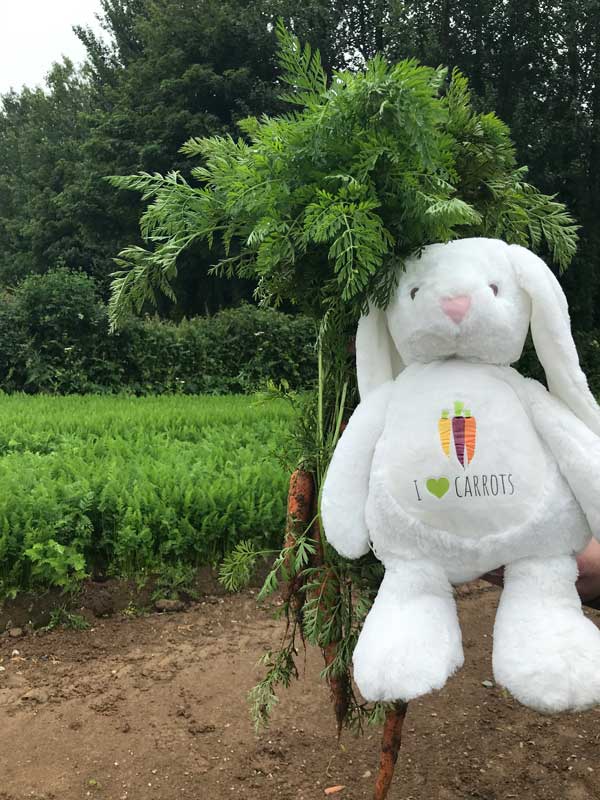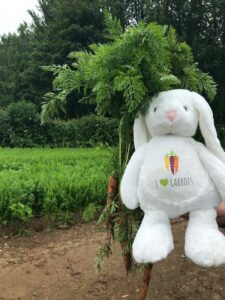 Carrots are a core product in the Irish diet and there was a recognized demand for top quality produce. The Irish Carrot season starts in July and runs through the rest of the year approx. 10 months.
Carrots are not stored out of the ground (unlike Potatoes) they are grown, harvested, washed and packed and shipped for sale.
O'Shea Farms operates a 7-crop cycle and has a full-time Agronomist Tom Murray (our guide for the day) to look after that the growing yield is maximized but also to ensure top class produce from the harvest.
The word Terroir is hugely relevant for the Carrot crop at O'Shea Farms – (Terroir comes from the French word "Terre" meaning land, it is a concept used to describe how the collective environmental factors can affect the taste of a particular crop, such as the soil, climate and specific farming practices.)
We have made a video to show the health and strength of the Carrots tops as they are harvested by pulling these, and we are looking forward to seeing the large-scale machine in action in the coming weeks.
New Season Carrots are harvested from 5 am to ensure freshness and cool conditions, then they are washed from 8 am having been pulled from fields literally up the road.
Carrots need to be treated with care and respect and at O'Shea Farms they know how to handle these Irish Carrot Diamonds… They are dug up, transported, washed until they gleam and sent to be packed for sale.
---
Sustainability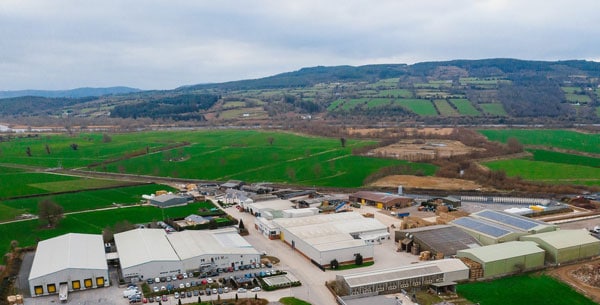 O'Shea Farms – very healthy organic matter in the soil 5/7%, operate 7-year crop cycle.
Carrots are fed to the O'Shea Farm dairy cows so no carrots are wasted, larger or misshapen carrots are sent for food processing nearby.
Carrots fields are located on rolling land with excellent natural drainage – irrigation only happens when is totally necessary.
---
Leave review
There are no reviews yet. Be the first one to write one.
---
Nearby Experiences
Experiences

Accommodation

Dining

Cook & Shop

Meet the Makers