Good Food Ireland® Approved Since 2020
We stand over our recommendations. With exacting selection and regular review processes we ensure a rewarding local Irish ingredient led experience. You can count on it!
Overview
The Village Dairy located on the Carlow/Laois border in Kileshin is a small locally run dairy producing a variety of milk based products with milk sourced from second and third generation farmers from the local area.
---
Meet the Maker
Founded in 2014, The Village Dairy is operated by General Manager Noel Barcoe who has a passion for promoting the great taste and quality of craft based milk products including Jersey and organic milk and cream. Such is the high quality of what Noel and his team are doing, many cafes, restaurants and other hospitality businesses use the Village Dairy products in their daily operations and they have become a most valued supplier for many.
The Village Dairy is a small local micro dairy located in the rural countryside on the Carlow/Laois border. While small, it certainly packs a punch in the fine quality products that are churned out each day. Managing Director Noel Barcoe has carefully crafted the business to ensure the greatest taste and quality of product. Fresh milk is conscientiously sourced from local second and third generation farmers. The majority of the farms in which milk is sourced, comes from within 10kms of the dairy, ensuring a true taste of local. The milk then goes through the dairy, in which it is then carefully pasteurised to ensure the freshest and most natural tasting product. The milk is pasteurised and homogenised as little as possible in order to not interfere with the natural great taste, texture and nutrients present. Upon packaging it up, the milk is delivered to customers all within a 24 hour period. Now that really is fresh local food & drink at its best and a true authentic farm to fridge experience.
The product range offers something for all tastes from fresh milk and cream to organic milk and even the much loved Jersey milk and cream, renowned for its taste and texture. Low fat and skimmed options are available too along with a buttermilk which will help make your batch of brown bread the best of the bunch!
The Village Dairy has a super online shop, ensuring fans of this fresh milk range can enjoy from home. The full range is available to buy online in a one off purchase or a weekly subscription order ensuring you've got delicious fresh milk and cream each week.
The Village Dairy has earned a fantastic reputation for its excellence. They're known as the 'cream of the cop' with chefs, cafes, hotels and coffee shops up and down the country using their milk each day in their businesses. Noel's aim is always to produce and promote the authentic and natural taste of milk and he and his team have had enormous success. They have also won numerous independent awards for their products. The Village Dairy's Motto of 'Where Milk Matters' really comes into play here, Noel and his team have successfully elevated the humble milk product to something that is celebrated and loved by household and hospitality customers alike.
---
Sustainability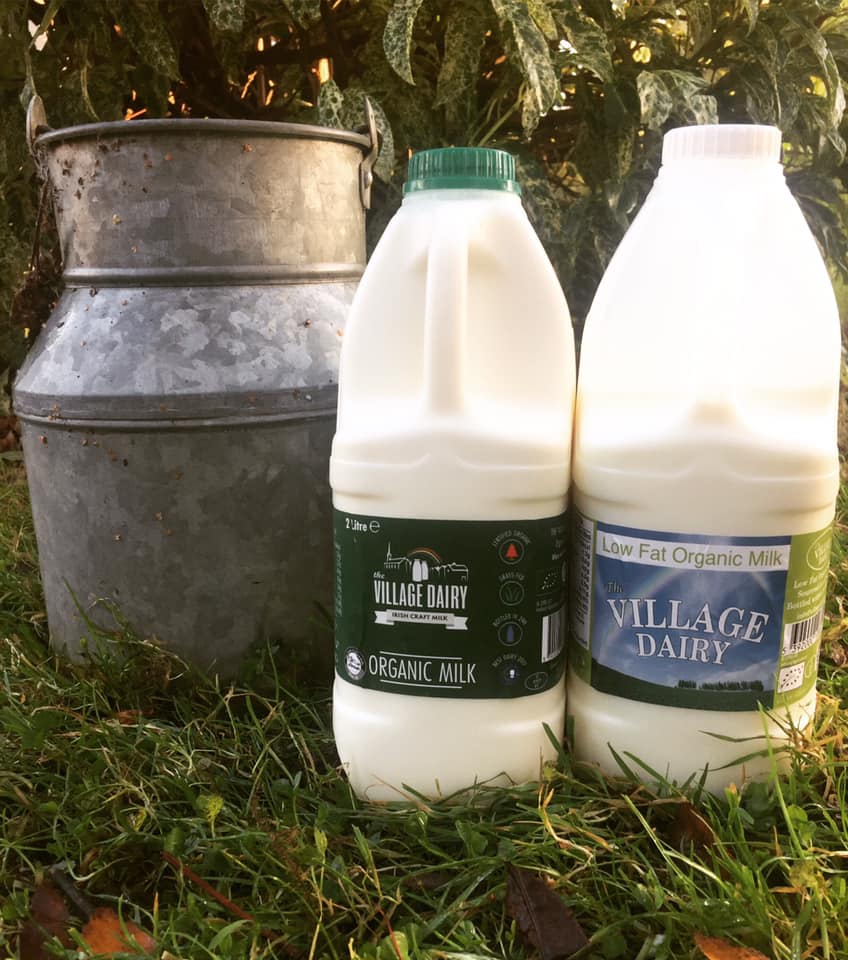 The Village Dairy range of fresh milk and cream is local in its entirety. Fresh milk is sourced from local farmers, many of which are located within 10km of the dairy. Fresh milk is then processed in their micro-dairy. The whole process from milking to fresh products supplied to the customer is done within 24 hours.
---
Leave review
There are no reviews yet. Be the first one to write one.
---
Nearby Experiences
Experiences

Accommodation

Dining

Cook & Shop

Meet the Makers