Overview
In their small factory, not far from the shores of the Lough Derg in County Clare, Patricia and Con Farrell create deliciously mouth-watering chocolates. All the chocolates are handmade by the "Wilde Bunch' in the small artisan outlet in Tuamgraney. Even the exotic names of the Wilde products are a temptation – Hazelnut Duet, Seaweed & Lime, Midnight Mint – who could resist? There's a huge range of handmade artisan bars, fudge, gift selection boxes and even sugar-free chocolate bars.
---
Meet The Maker
When Patricia and Con Farrell opened the factory in 1997, they had the single aim of producing great tasting chocolate. It's safe to say they've far exceeded that goal.
Success followed with the awarding of five Great Taste awards in five years. Patricia and the team hand-make a range of 20 different chocolate bars from white Chocolate, through to super dark 80% cocoa solids, and even a 99% cocoa solids bar.
If you are wild about chocolate, then you need to visit Wilde Irish Chocolates in East Clare. In the small factory, not far from the shores of the Lough Derg, Patricia and Con Farrell create artisan chocolates.
They hand-make over 80 different yummy chocolates in their small artisan chocolate factory. Variations range from Triple Choc Chip and White Choc Mint to Irish Porter Fudge. That's not the end of it though; they also make chocolate slices such as Rocky Road, Tiffin, Raspberry Caramel and many more.
As well as the original production company in Tuamgraney, you can also visit Wilde Irish Chocolates at The Doolin Chocolate Shop in Doolin, North Clare on the Wild Atlantic Way. Wilde Irish Chocolate also has stalls at farmer's markets across the country.
---
Other Facilities
Chocolate lovers will be thrilled to know that you can visit Wilde Irish Chocolates. Their Tuamgraney location is open for pre-booked tours. You'll also get the opportunity to buy a selection of chocolates and enjoy a hot chocolate from their cafe offering.
Want to see how they make their huge range of chocolate goodies? There is an open plan production area where you can see the chocolates being made and packed, entrance is free and you will be able to see what's in production, ask them questions, make suggestions and most importantly, taste the freshly made chocolates.
---
Sustainability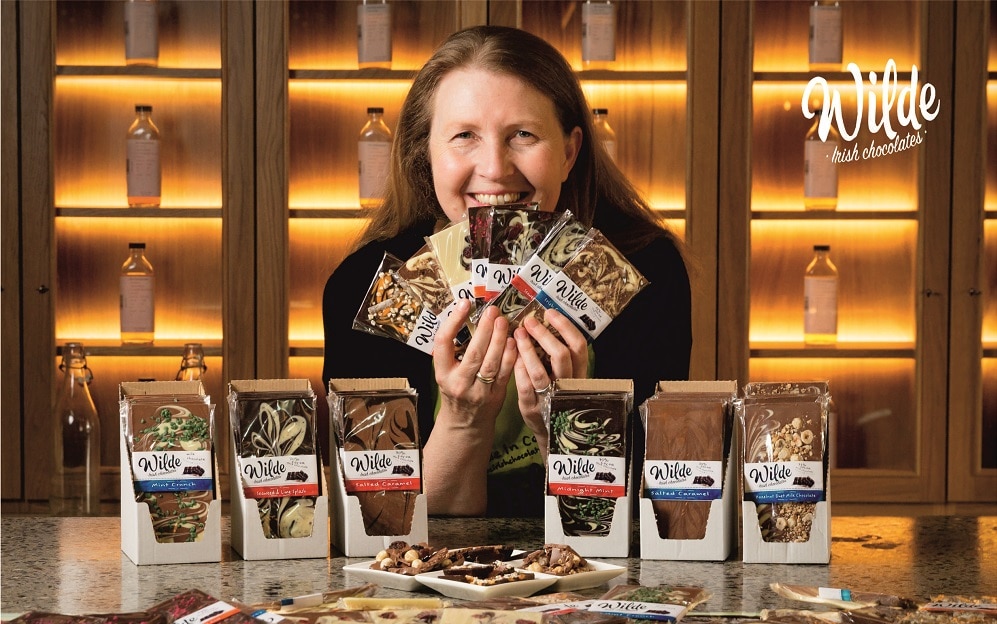 Wilde Irish Chocolates is a family-owned chocolatier in Clare that uses only the best natural ingredients to create their artisan chocolates. As a local, rural business, they actively support tourism in the area and are a testament to Ireland's small food producer scene.
---
Leave review
WHAT CUSTOMERS VALUED AND ENJOYED
There are no reviews yet. Be the first one to write one.
---
Nearby Experiences
Experiences

Accommodation

Dining

Cook & Shop

Meet the Makers