Good Food Ireland® Approved Since 2021
We stand over our recommendations. With exacting selection and regular review processes, we ensure a rewarding local Irish ingredient-led experience. You can count on it!
Overview
The Mariner Hotel offers delicious boutique accommodation in the coastal town of Westport, Co Mayo. Its envious location at the centre of town centre makes it a popular choice for visitors.
When you first enter the lobby and reception area it's a totally pleasing and surprising experience, you are immediately struck by the classy and stylish décor.
In recent times, this 34-bedroom hotel has been totally remodelled and tastefully decorated. You are warmly greeted by a large open-plan reception area with lounge furniture presented in a range of contemporary pastel colours. An eye-catching centrepiece to the lobby is an open fire to welcome you on chilly evenings. The whole feel of The Mariner is a classy boutique atmosphere full of warmth.
Visitors to The Mariner can expect a warm and friendly welcome from the experienced Mariner hotel staff.
Read More
---
Dining
Providing excellent hospitality and an exemplary food & drink offering for their customers is at the heart of the operation of The Mariner. Diners are in for a real treat as they experience a series of delicious dishes cultivated with local ingredients.

Executive Chef, Fearghal O 'Neill takes his inspiration from the bountiful local ingredients available to him and comments on their local food ethos stating:
'If it's not in season it's not on the menu'
You will find that Fearghal changes his menu frequently to match seasonal availability. There is also an ethos to support and showcase local sourced artisanal ingredients such as freshly baked bread along with dessert creation in house.
During our visit, Chef prepared a steaming pot of clams and mussels from Killary Harbour. For the main course, we savoured a 6 hour slow cooked short Rib of Irish Beef served with a mustard mash, fresh Kale and divine gravy sauce.
The quality food offering at The Mariner extends across an all day and brunch-style menu served in the bar, lounge and outdoor terrace.
Breakfast was also a positive experience with plenty of choice across the board. Choose from hot dishes cooked to order. We recommend the vegetarian breakfast option which includes free-range poached eggs, mushrooms, heritage tomatoes, fresh spinach and roasted halloumi cheese.
A dining experience at The Curious Fish is a true taste of all the wonders that the Wild Atlantic Way has to offer.
Head Chef Fearghal, delights in giving diners a tour of the region through the food offering at The Curious Fish. You'll savour a menu that showcases some most favoured classic dishes created with ingredients of the local terroir.
The restaurant is aptly named The Curious Fish as you'll find a bevvy of fish & seafood options on the menu including a hearty Smoked Atlantic Seafood Pie full of flavour along with the classic Fish & Chips and a Grilled Wild Atlantic Hake. Meat lovers fear not, as you'll also find a mouthwatering 6 hour Slow Cooked Short Rib of Irish Beef and a juicy Irish Cheeseburger to sink your teeth into.
Delicious dining is an all-day affair at The Curious Fish as breakfast, brunch, lunch and dinner menus are also available seven days a week.
---
Rooms & Facilities
When you adventure around the stunning West Coast of Ireland, Westport is a must-visit destination and The Mariner will ensure you enjoy a relaxing overnight experience.
€€€
The Mariner features 34 bright and open rooms all tastefully decorated with their own individual design elements and splashes of colour.
Residents will have a choice of rooms, with something to suit all occasions. Classic rooms are perfect for quick stays or business trips while premium rooms are also available along with family rooms if you are bringing the whole clan along for an Irish staycation across the Wild Atlantic Way.
Plush bedding will ensure you seep into a restful and relaxing night's sleep while the bathrooms in each room act as the centrepiece for an overnight experience at The Mariner. Bathrooms feature large showerheads to rid yourself of all those knots in your muscles, while luxury biodegradable and vegan-friendly toiletries are on hand to add that extra bit of pampering.
Throughout the rooms and the hotel, residents can avail of complimentary high powered broadband, an essential amenity for the modern tourist. Rooms are also fitted with TVs so you can switch off after a busy day.
---
Sustainability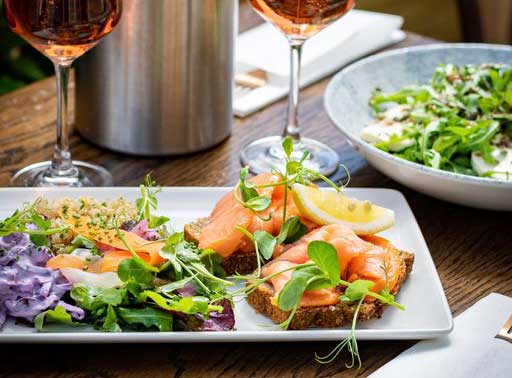 Sustainability plays a major role in the day to day operations at The Mariner Hotel. This hotel recognises the impact hospitality industry has on the environment and has taken proactive steps to reduce its carbon footprint.
Water and energy consumption along with recycling initiatives are closely monitored in the hotel while they are also trying to reduce the use of plastics. Hotel bathrooms are all equipped with biodegradable and vegan-friendly toiletries.
Furthermore, The Mariner sources where possible from local suppliers when it comes to their food & drink offering. This helps contribute to the local economy.
---
Leave review
The Curious Fish
It was an extremely fine meal. The staff were lovely, the choice on the menu was excellent and everything was more than good.
---
Nearby Experiences
Experiences

Accommodation

Dining

Cook & Shop

Meet the Makers