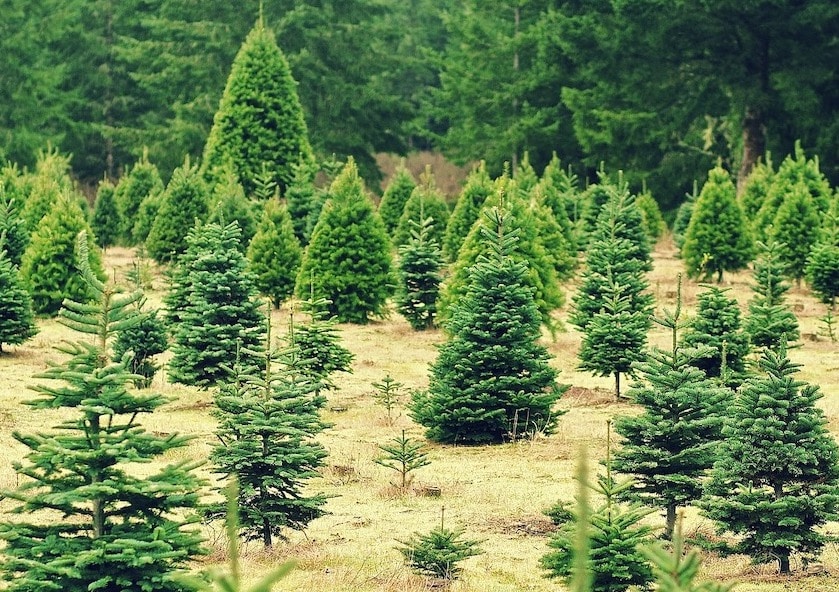 So Christmas trees are edible. Who knew? Well actually, the concept is not entirely new to us, since this particular Good Food Ireland® team member was shown how to infuse organic honey with fresh pine from a Christmas tree some years ago, by a Polish friend who had learned this from his grandmother. The tree in question had been brought in and out of the house in its pot every Christmas for four years. It was part of the family until it got left behind in the garden during a house move. There was wailing and sobbing and gnashing of teeth. It still tugs the heartstrings just thinking about it. The honey was delicious.
View Our Christmas Gifts
But let us move on. Before you get adventurous with your Christmas tree in the kitchen, you need to know how it was grown. You want a tree grown without chemical interference from fertilisers or pesticide sprays. If you are not sure about the origins of your tree, don't use it.
There are many Irish farmhouses and country houses that have a 'cut your own Christmas tree' service in the run-up to Christmas. So if you haven't got your tree yet, cutting your own makes a great day out for the kids, and also helps in finding out how your tree was grown and whether it's edible afterwards.
The other important piece of information to note before eating your Christmas Tree is that trees with soft pine needles are best for use in cooking. Trees with pin-sharp needles are not a good idea.
When the decorations are down and the lights are off for another year, you can get cracking and put your tree to good use in the kitchen.
TIPS FOR HOW TO EAT YOUR CHRISTMAS TREE THIS YEAR:
Using pine to infuse marinades for fish or roast meats is one of the little tips in this particular article. As we already mentioned, infusing honey is a wonderful trick, which gives heady forest scents to your breakfast toast. See below for how to do it.
Other tips include making pine tea by pouring boiling water over the leaves as you would with tea leaves. Pine tea is known to be high in vitamin C.
Further research suggests infusing sea salt with fresh pine for flavouring meat or fish. Or sugar, for buns and biscuits. Both are lovely ideas.
Preparing your pine needles for eating:
For pine-infused honey, simply cut little clusters of the most tender leaves from the growing tips of the branches. Sometimes known as pine shoots. Rinse them well in cold water to remove any house dust and bits of leftover tinsel. Pat dry thoroughly. If you are cutting from a live potted tree that you intend to keep for next year, don't cut the end shoots off all the branches, as this will damage future growth.
Here are 8 different ways you can eat your Christmas Tree this Christmas!
1. Make some Pine Honey – Stir into organic honey, which you can easily order from Leahy Bee Keeping,  in a sterilised jar. Seal and leave for at least one month before using, to allow the flavour to infuse.
2. Infuse the needles to make Pine Tea – Strain hot Pine Tea into a mug and flavour with honey, fresh ginger and lemon. All that Vit C makes a great winter cold buster.
3. Use it to make a fresh Pine Jelly – Also use strained cold pine tea as part of the sweet syrup to make a festive pine-flavoured jelly.  Set with gelatine, readily available in sheets from good food shops. Pine jelly is a bit like mint jelly. It will go with cold meats, especially spiced beef, really well.
4. Roast your fish on a bed of fresh pine – Snipped sprigs of rinsed and dried fresh pine make a great bed for roasting whole fish. Lay the pine sprigs on a large roasting tray, as you would with fresh rosemary sprigs, and pop whole lemon sole, hake or black sole on top. Dot with butter and season the fish before roasting in a preheated oven till the flesh comes away from the bone easily.
5. Infuse your roast chicken with the scent of Christmas – Use fresh pine sprigs to stuff the cavity of a free-range chicken, with a halved onion and an apple. This will infuse flavour in chicken juices for the gravy.
6. Add Pine to Your Bread – Breadmakers can use chopped soft-leaved pine needles to sprinkle over bread with crunchy sea salt before baking.
7. Barbeque with Pine: If you're planning a festive barbecue during the holidays, throw a few pine needles over the coals to infuse the air and your food with fragrant forest scents.
8. Use fresh pine to hot smoke salmon fillet – Place sprigs of pine in the base of a dry wok or deep saucepan, to cover the bottom. Put a wire rack over the top and lay your seasoned fish fillets on this. Cover with a lid and smoke over gentle heat till the fish is just cooked through. Fresh salmon can be cooked a little bit pink in the centre, which retains moistness.
And finally, when Christmas has been and gone, and your tree has seen better days, burn the branches on an open fire. Even the most dried-out tree will send nostril twitching aromas around the house as it burns. A useful and very pleasant end to your investment!