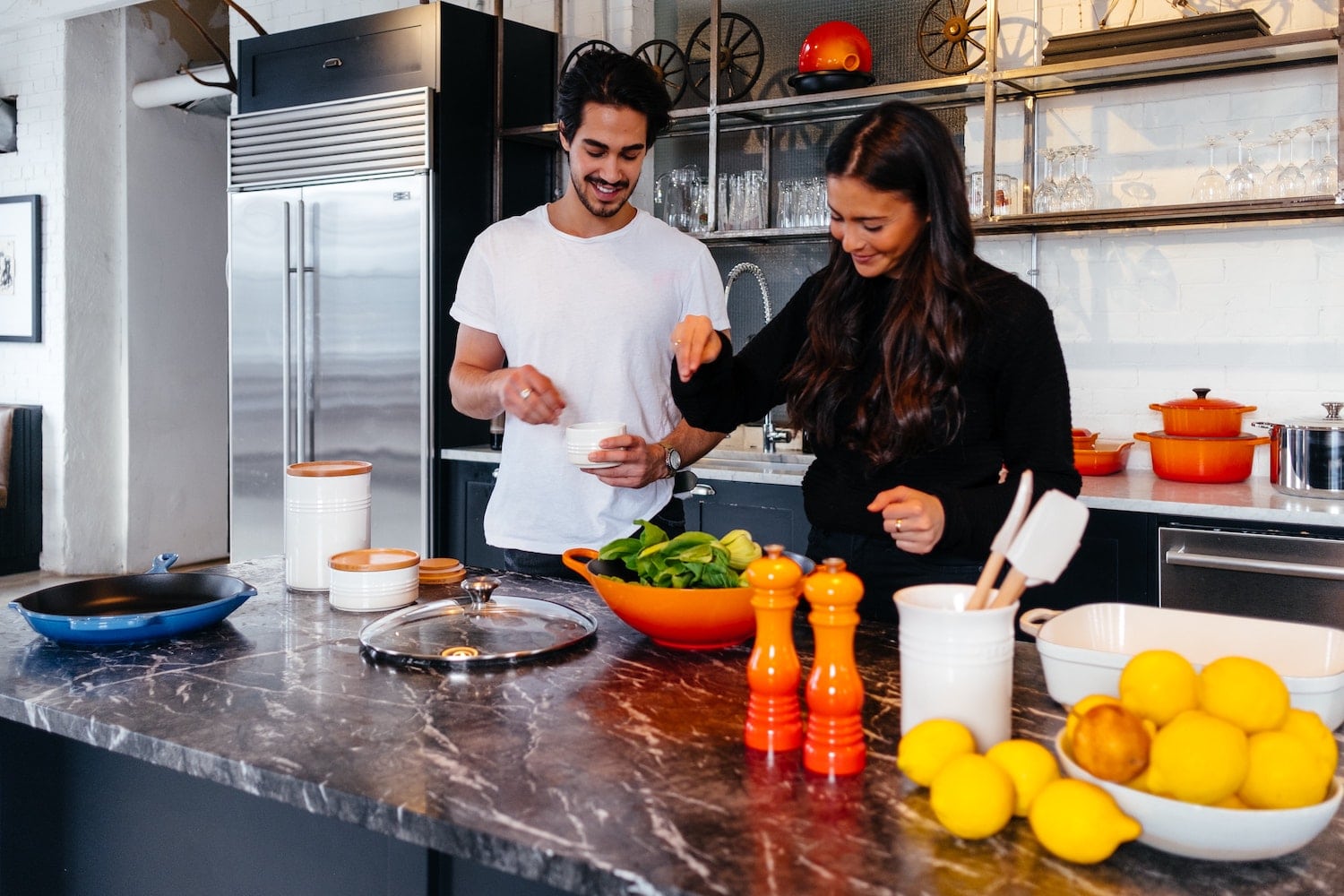 No doubt you've dug out the little black dress or the smart dinner shirt and tie for the Christmas season.  Very important to look at the part for all the festive parties. The same goes for your salads this Christmas. They will look and taste all the better, for a bit of attention in the dressing up department! It takes roughly two minutes to make a straightforward fresh vinaigrette salad dressing that will work on most leafy or chunky salads. When you've mastered the art of vinaigrette making, you can add to that basic recipe with a few ideas of your own. The world is your salad tosser, with any number of ingredients all willing to step up and add something fantastic to your salads.
Basic Vinaigrette
What you need for this is good oil (extra virgin olive oil or cold-pressed virgin Irish rapeseed oil – see basic ingredients and producers below), white wine or Irish cider vinegar, some Dijon mustard and salt and pepper. That's it. The basic rule of thumb is four parts oil to one part vinegar. So you can make one quantity of it or double or triple the recipe dead easy, once you know this ratio.
Place 4 tbsp oil in a jam jar.
Add 1 tsp of Dijon mustard
1 tbsp of cider or white wine vinegar.
Season with sea salt and freshly ground black pepper.
Put the lid on the jar.
Shake to combine.
Taste for seasoning and adjust if necessary.
And that's all there is to it. Some people also add a tiny pinch of sugar but this is entirely down to personal taste. This dressing can be kept in the fridge or a cool larder for a few days. Just give it a good shake before you use it.
Accessorise Your Salad Dressings
Accessorising your salad dressings means adding a few well-chosen extras to your basic dressing, to give it a different personality each time. Here are a few ingredients to get you started.
Lemon juice and zest – Use a good squeeze of fresh lemon juice with finely grated lemon zest instead of the vinegar for a simple Lemon Vinaigrette. Perfect for light leafy salads with mixed lettuces. Or drizzle this over cold fish salads.
Lime juice and zest – as above, but you may need a little dash of vinegar as well because lime juice tends to be not quite as sharp as lemon juice, depending on variety and ripeness. Use a lime juice and zest vinaigrette for dressing or salsa with finely chopped tomatoes, green pepper and avocado.
Fresh chilli. Will add bite to the basic vinaigrette recipe. Drizzle it over a warm leftover turkey noodle salad.
Fresh Ginger. Finely grate and use this in the basic vinaigrette for light oriental salads with vegetables, Christmas turkey leftovers, or prawns. Combine it with the chilli for more of a smack.
Sweet chilli sauce. Adds two components to the basic recipe. Sweetness helps round the dressing and the chilli gives that spike of heat. Really good for dressing a warm grilled prawn salad tossed with slivers of fresh pineapple, spring onions, and rocket or baby spinach leaves. Yum.
Soy sauce. A good dash of soy adds dark colour and salty taste to your basic dressing. Good for oriental salads with leftover rice or noodles tossed with strippy veggies. Beware when using soy because you probably won't need salt, or at least as much salt, in your seasoning. You can also combine soy in your dressing with fresh chilli and ginger for a serious flavour hit.
Honey. Gives a lovely sweet warmth to a basic vinaigrette. Really good with Christmas salads that contain leftover duck or goose. Combine soy sauce with honey and chilli in leftover pork, duck or goose salad and you create the wow factor!
Fresh Herbs. This time of year, soft herbs like chives and basil are not readily available. You're relying on the good old winter standbys of thyme, rosemary and parsley to take your salad dressing to new heights. Thyme works well in dressings for warm salads containing chicken or leftover turkey. Rosemary is good to add to a dressing for a roast vegetable salad. Parsley works in a dressing for almost any dish, adding vibrant green speckles and minerally tastes. Great with veggies, meat or fish salads.
Dried fruit: Dried fruit is a seasonal speciality that adds an amazing fruity lift to Middle Eastern Salads with couscous as a base. Add a couple of snipped semi-dried apricots or a few chopped dried cranberries to the dressing before pouring over a couscous salad with roast vegetables flavoured with tagine spices like ground cinnamon, cumin and coriander.
Dressing Essentials
These are the things with which to build your wardrobe of salads dressings.  Oil and vinegar are the most important components of a classic vinaigrette and its derivatives. The best quality makes the best dressings. Ireland now produces its own culinary oils and cider vinegar, perfect for dressings – Try these:
Oils
Donegal Rapeseed Oil is made by a co-operative of farmers in the Donegal region. It's a cold-pressed virgin oil made from homegrown Irish rapeseed. 'Cold pressed' means it is not extracted by the use of heat, and 'virgin' means seeds get just one pressing to obtain the purest, most nutritionally balanced and flavoursome oil. A beautiful richly coloured oil gives a great taste to salad dressings.
Also really good nutritionally, with lots of Omega 6 and Omega 3 for heart health and maintenance of normal blood cholesterol levels, Vitamin E for good skin and protecting cells from damage. The range includes a classic oil plus oils infused with Chilli, Garlic or Lemon. The Gold Range of three Rapeseed Oils is infused with Porcini, Curry or Fennel. Three fab oils to add a totally different slant to your vinaigrette and make great basting oils too.
Harnett's Oils are produced by Jane Harnett at the family farm on the Waringstown Estate in Co. Down. Jane's family have been growing GM-free seeds for oils here since 1656. A few years ago, Jane decided to add an artisan string to the family's bow, when she began cold pressing rapeseed for Harnett's Rapeseed Oil, a small-batch culinary oil perfect for salad dressings.
She now also makes Cold Pressed Hemp Seed Oil. Both oils are extremely good for health, with Hemp Seed Oil highly recommended by heart specialists for its high contents of Omega 3, 6 & 9 fatty acids which help control cholesterol levels and promote heart health. For convenience, Jane also produces ready-made salad dressings which contain her wonderful oils. Unlike the large commercial productions of dressings, these are made in small batches, using only the best and purest ingredients.
Irish Cider Vinegar
This is the vinegar made from the fermentation and maturation of the juice of fresh apples. The Apple Farm in Cahir, Tipperary, produces a range of cider vinegar for your salad dressings. The initial process involves creating a cider with around 6% alcohol. Then a vinegar 'mother' or 'culture' is added, which converts the alcohol to acid. It takes a little while to complete the process, but the end produce is a delicious natural cider vinegar full of the flavour of Irish apples. The Armagh Cider Company also produces cider vinegar from the company's own delicious apples, grown in the Orchard County.
Country Choice Salad Dressings
Peter and Mary Ward of Country Choice scour Ireland and Europe for the best oils to make a great salad dressing. From Italy, they have sourced a range of extra virgin olive oils which will do any dressing proud. You'll also find Irish cider vinegar, Irish apple balsamic vinegar and continental wine vinegar here.
And if you still don't fancy making your own dressing, you can rely on Mary Ward's timeless Country Choice Salad Dressing to enhance your salads this Christmas. Mary is a natural cook whose recipes come from the heart. Find her ready-made and beautifully balanced bottled salad dressing at Country Choice in Nenagh, or on sale at Country Choice in the Milk Market, Limerick.
Ballymaloe French Dressing
This classic dressing is a stalwart recipe always used at Ballymaloe House in Co. Cork. Originated by Myrtle Allen, to dress all types of salads made with vegetables grown in the house gardens. Try it yourself and you will see why it has stood the test of time! Find the recipe here.