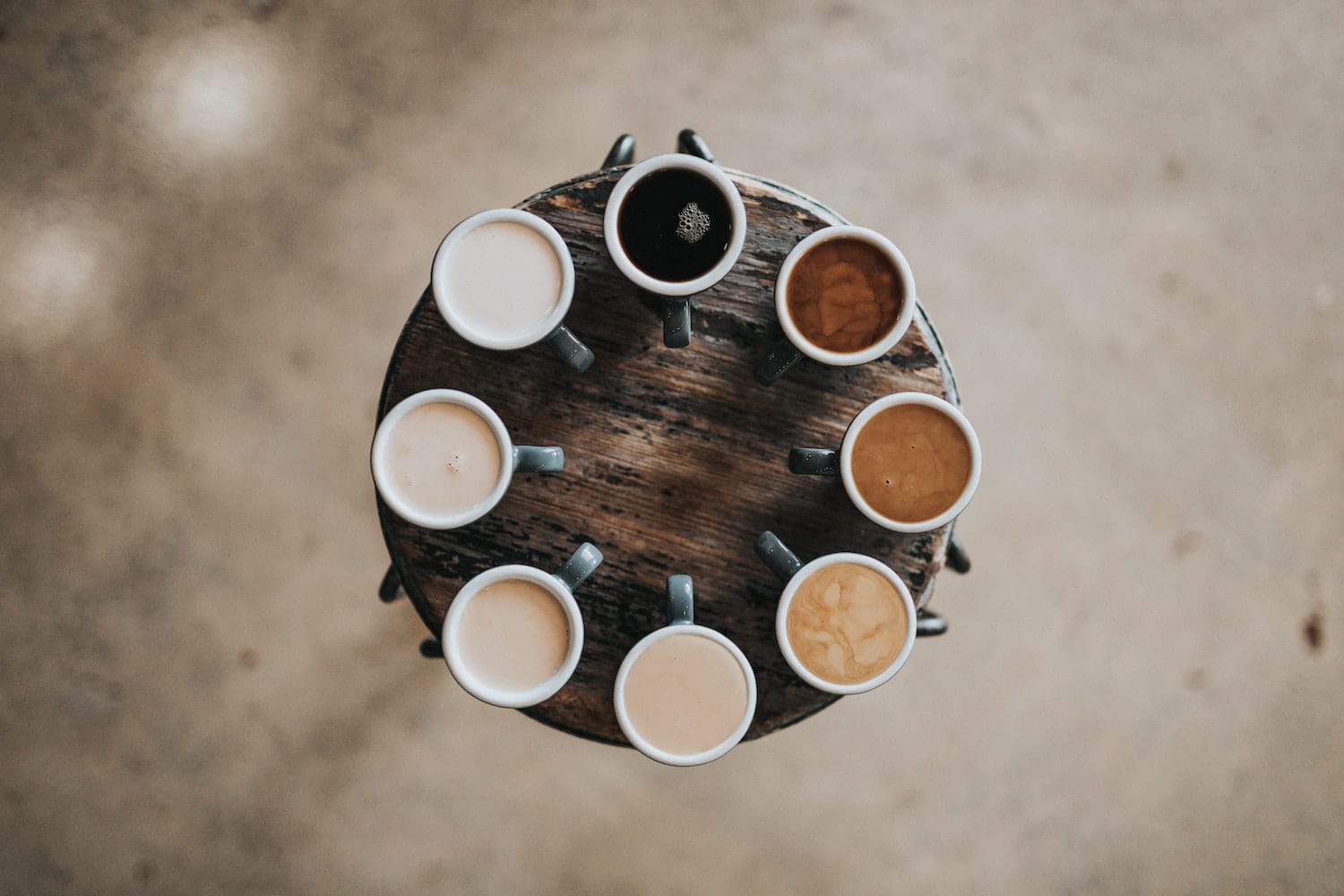 Coffee makes the world go round! Or at least, when you drink a cup, it feels that way! That first zap of caffeine in the morning helps wake up the system and brighten the brain. Like all great culinary treasures, coffee has its own story.
Visit Our Shop
Legend has it that many moons ago, a young goatherd was the first to discover coffee when his goats began chewing the little red berries of a nearby bush. Very soon afterwards, the goats became full of life,  leaping all over the place,  and would not sleep that night. The youngster tried the berries himself and found them to be extremely invigorating. He reported his findings to the local monks, who brewed the berries into a drink and got the same result. The rest, as they say, is history.
Top coffee-growing countries include Brazil, the world's largest producer, Columbia, Indonesia, and Ethiopia (where it is believed the young goatherd came from) among others. Coffee beans grow on the coffee bush, in little clusters of red or purple berries, known as coffee 'cherries'. Two seeds form the central kernel of the coffee cherries. These seeds are the flat-sided fresh coffee 'beans',   green when harvested, turning the familiar deep dark brown colour after roasting.
Coffee was always enjoyed in traditional coffee-producing countries. It is the drink of the USA and South America,  and also enjoyed in the famous coffee culture countries of Europe. In the modern-day,  opportunities for worldwide travel and discovery of the local foods and beverages of these destinations introduced coffee to visitors from non-coffee drinking countries like Ireland.  Coffee is now very popular here  – you'd normally find it available alongside the tea in most Irish households. Quite a move for a country traditionally renowned for its tea drinking reputation! The growth of coffee trends in Ireland is reflected in the upsurge of coffee shops and Irish artisan coffee producers. Ponaire Coffee, based in Limerick, is one of Ireland's top artisan coffee roasteries. Beans are roasted in small batches,  using specific temperatures for the type of roast, by Master Coffee Roaster Tommy Ryan. Ponaire is the Irish word for bean, a very appropriate name for this top quality,  award-winning range,  roasted in the traditional way, then blended and packaged by hand. Available in whole bean or ground coffee.
According to research by the Irish Coffee Council, which represents the coffee industry in Ireland, studies of 1000 Irish coffee-drinking adults revealed that  30% choose Cappucino, while 27% love Americano.  Latte is also popular, preferred by 22%. A  full-on small shot of strong Espresso, extremely popular in countries like Italy, France, and Spain, is only enjoyed in Ireland by 10% of those surveyed. As we well know, those who love Espresso are dedicated to that and that alone – they adore the strong hit of flavour and caffeine and nothing else will do. Follow the Irish Coffee Council on Twitter @Coffee_Ireland.
Know your coffee terminology
Arabica – considered to be the best coffee bean, giving super smooth and in-depth flavour – the most widely grown coffee bean in the world. Arabica coffee beans can be from a single estate (grown on one farm) or a blend ( a mix of beans from different farms or different regions of one country or even a blend of different countries). 100% Arabica coffees are considered the best.
Robusta – this bean has higher caffeine content and as the name suggests, a robust, rustic taste. Usually used in small proportions in a blend with Arabica. Adds stronger kick and more earthy flavour.
Barista – a superlatively trained coffee-making expert – professional Baristas are a joy to watch and learn from.
Single-shot  – means one shot of espresso coffee.
Double shot – two shots of espresso coffee, makes a stronger drink.
Cappucino – perhaps the most famous on any cafe coffee menu –  for those who like a small shot of coffee, topped up with lots of frothy milk. Typical proportions would be a single shot espresso and two-thirds steam-heated frothy milk,  optionally finished with finely grated chocolate or a light dusting of cocoa powder.  This is probably the style that really set off the coffee culture trend in non-traditional coffee drinking countries like Ireland.
Americano – the simplest of coffee styles,  a straight cup of black coffee made with espresso and water, to which you can add cold milk/and or sugar to taste if you wish.  Lovers of Americano will often ask for a 'double shot', which means two measures of espresso coffee,  topped up with water and normally drunk black. A real wake-up call for those who like a long coffee drink.
Latte –  a single or double shot of espresso topped up with steamed milk, which has a silky foamy texture – not frothy like a Cappucino. Some cafes serve Latte in a tall glass, where the coffee shot is poured into the bottom of the glass and the milk poured over so it almost 'floats' on top,  so you can see the lovely colours. Other Baristas prefer a cup, and use their skills with milk pouring to make beautiful decorations on the top.
Espresso – This is the serious one  – a single or double shot of pure strong black coffee, served in a tiny espresso cup – if you want a caffeine hit, this is the one for you! Add a small amount of silky foamy milk to this ( just literally to top it)  and it becomes a Caffe Macchiato, now also growing in popularity. Caffe Macchiato means 'marked'  coffee because of the pattern of the milk in the dark liquid. Nice.
TOP PLACES TO ENJOY COFFEE IN IRELAND
There are many great places to drink real freshly made coffee in the Good Food Ireland membership. Here are some:
Ponaire Roastery and Coffee Shop at Annacotty Business Park Co. Limerick – great coffee from beans roasted on-site.
Heron's Rest Boutique B&B, Sorcha Molloy is a fully trained and award-winning Barista – so you can imagine the superb quality of coffee you will get at her wonderful townhouse in Galway city.
Urru Culinary Store, Bandon Co Cork – a great menu of Irish artisan roasted coffees available in the cafe and for sale in the shop.
Urbun Cafe, Cabinteely, Co.Dublin – brilliant coffee menu – good looking and award-winning expert Baristas are an extra bonus!
Barrons Bakery and Coffee Shop – great coffee with real home baking in this trad bakery destination.
Dunne and Crescenzi Frederick Street Dublin, and Sandymount, Co. Dublin – Italian coffee with a kick in super stylish surroundings.
Ditty's Bakery and Coffee Shops Castledawson and Magherafelt – take a trip to Northern Ireland to enjoy the home baking of the region with a great cup of coffee. Meet Master Baker Robert Ditty – famous for his wonderful traditional Irish oatcakes.
Hickey's Bakery and Coffee Shop – grab a table, browse the homemade cakes and buns, and choose your coffee to go with them. What a delight!
Buy Gift Voucher