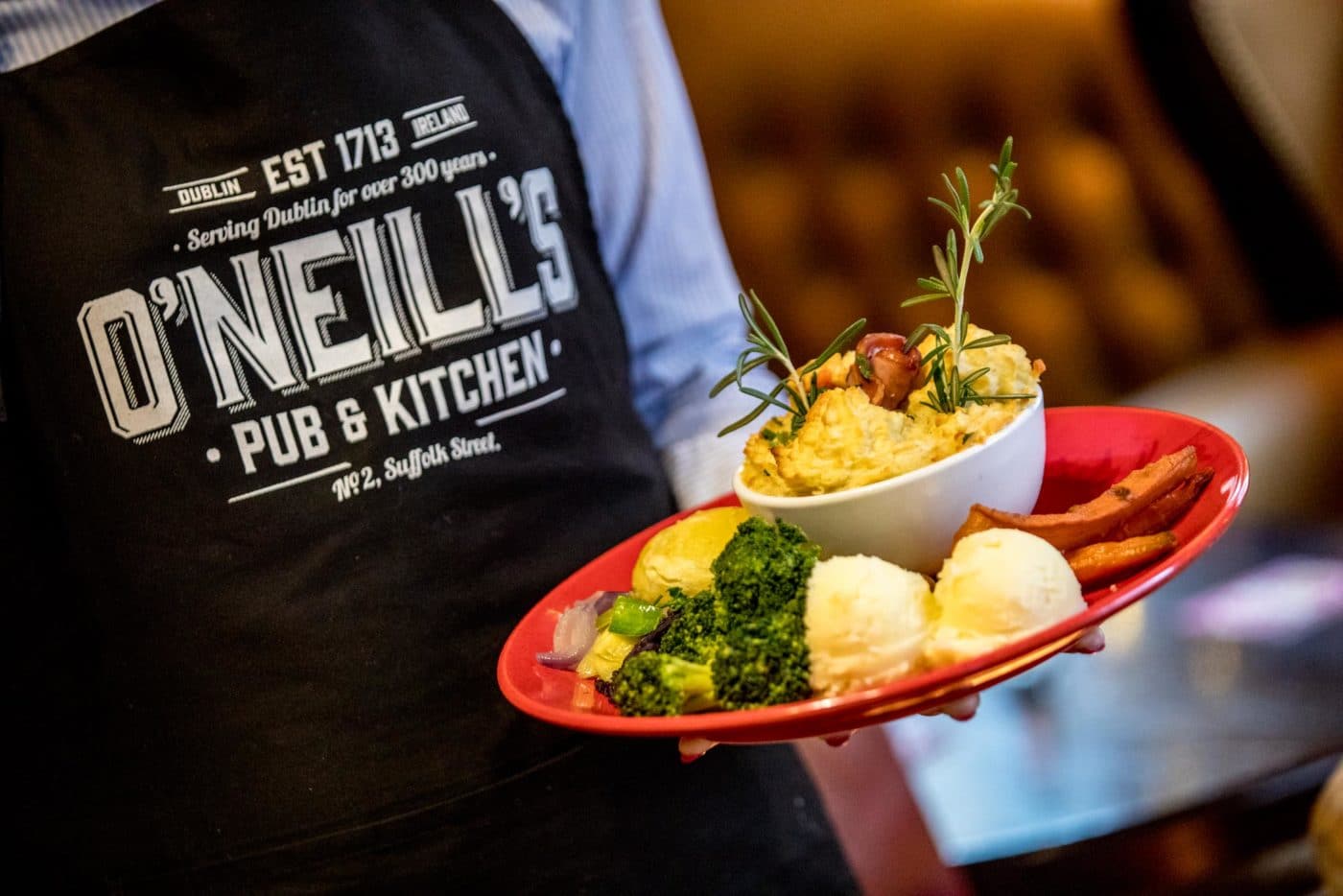 With clocks going forward last weekend, our Irish summertime has officially arrived! That extra hour of light in the evenings is already bringing renewed impetus to do something with the time. As the weather improves, we lose the urge to stay at home with the telly and the fire, yearning instead to be making the most of the long days.
Our eating patterns also change. We want lighter, seasonal foods and naturally have an inclination to have a meal out during the week, instead of cooking at home. That's probably because the longer daylight hours mean we can go out after work and still return home while there's light left in the sky. As summer moves on, we feel increasing like enjoying dinner out before going home for the evening. This is where the gastropub comes into its own. It satisfies the need for casual wholesome food, served in a relaxed atmosphere.
Visit Our Shop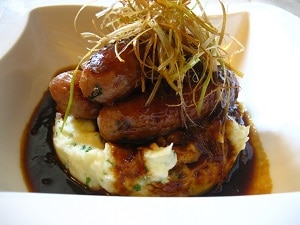 HISTORY OF THE GASTROPUB
The term 'gastro pub' first came into everyday use in 1991. Back then, pubs weren't known for serving food as the highlight of the visit. But the owners of The Eagle pub in Farringdon, north London, changed that. They introduced a casual dining menu of homemade stews and casseroles, fish and chips and bangers and mash, among other dishes, all very familiar meals made in home kitchens.
This was food that people already loved, and here it was, elevated to gastronomic status in an old London pub. The Eagle was set up in a recession with the furniture that came with the pub and a coat of paint to brighten the interior. Ingredients were sought from nearby butchers, fishmongers and grocers. It was a totally new concept to the diners of London. The rest, as they say, is history.
GOOD FOOD IRELAND GASTROPUBS
From those early days, the gastropub has risen to stardom for quality food at reasonable prices. In Ireland, the emphasis is still on familiar food, with Irish seafood chowder, hearty soups, great homemade bread for sandwiches, good burgers with local butcher's steak, fresh fish and hand-cut chips on the menus of most good Irish gastro pubs. Good Food Ireland gastropubs source local ingredients to give a real taste of Irish cuisine in casual surroundings. You will find all these things and a few surprises on each menu. Check this little lot out for a fantastic value meal that represents Ireland on every plate.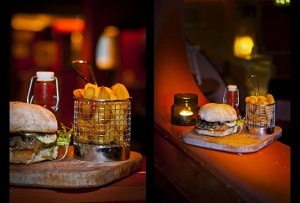 EAT AT MASSIMO
Jp McMahon's Eat at Massimo pub offer is cool and quirky, as you'd expect from this chef! Galway residents and visitors have a treat in store with fantastic food which comes with Jp's ethos of sourcing the best quality and local. It has a nice spot outdoors to enjoy an alfresco meal too when the weather's good.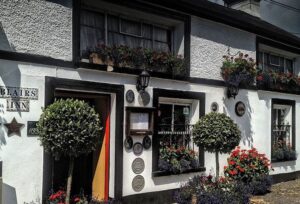 BLAIR'S INN, BLARNEY
Cute as a button old country pub in Blarney, just outside Cork city, which serves a sublime menu of traditional and contemporary gastropub dishes. Owned and run by Richard and Duncan Blair, Blair's Inn has been in the Blair family for generations. Here you're getting good old fashioned Cork hospitality from two boys who were reared in the industry! Not to mention fantastic food and a good selection of Irish craft beers as well as the usual full bar.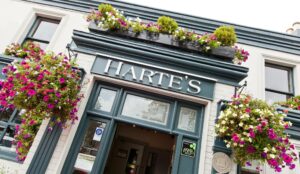 HARTES OF KILDARE
Hartes of Kildare is located in the centre of Kildare town, in a prime spot right on the square. This beautiful establishment has two sides to its story. In one half, a superb restaurant offering. In the other, the original quaint pub bar, with the telly, so you can watch the sport while you're tucking into whatever is on the menu.
Barry Liscombe is a creative and talented chef who spares nothing in sourcing the best local ingredients for his menu. A superb selection of Irish craft beers including a house beer brewed locally. If you've not been yet, it's time to pay a visit and see why this place keeps winning awards!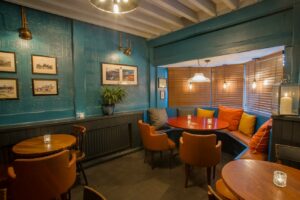 DEW DROP INN
Sister premises to Harte's, the Dew Drop is a well-known establishment in the Naas area. Brothers-in-law Paul Linehan and Ronan Kinsella added this baby to their clutch of three successful gastro pubs, continuing the ethos of serving great local produce with a full selection of beers, wines and spirits. You can even sample Ronan's own craft beer creation on sale here. The Dew Drop attracts a good local crowd, but new faces are always welcome!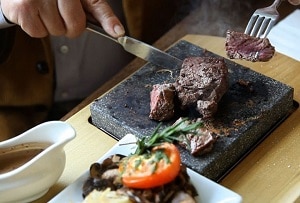 ASHTON'S OF CLONSKEAGH
Another Lenihian Kinsella success! Ashton's is a traditional pub with a contemporary feel. It follows the pattern of Harte's and the Dew Drop Inn, bringing customers the very best of local ingredients, served in a modern Irish style. This pub is bright and buzzy, a good neighbourhood finds and worth a drive to get to if you're in the Dublin area. Very popular in summer, with the large beer garden attracting crowds!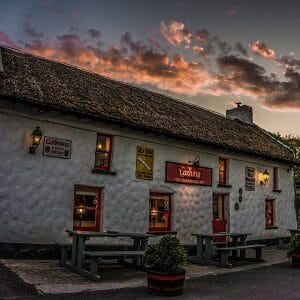 LARKIN'S BAR 
Larkin's Bar in Garrykennedy Co. Tipperary is the sort of pub you dream you will find when you visit Ireland. A 300-year-old hostelry, right on the banks of Lough Derg, Larkin's is chocolate-box pretty, a place where time stands still. Owned by Cormac and Maura Boyle, Larkin's dishes up a traditional Irish welcome as well as familiar favourites like bacon and cabbage. Come the summer, outdoor tables overlooking the Lough get snapped up! Traditional Irish music and dancing are also a feature here.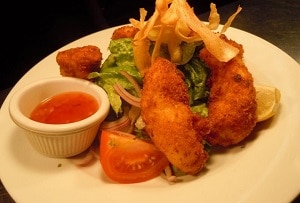 MURPH'S TAVERN
Murph's Tavern is owned and run by brother and sister duo Michael and Laura Cashman. They rescued the pub from desolation and made it into a hub of great food in East Ferry, East Cork. Now visited by the food luminaries of the area, including members of the Allen family. 
Murph's enjoys a superb view over the inlet to Cork harbour, where pleasure crafts can moor up and their owners hop ashore for a great meal. Michael Cashman is a superb chef who strives to give his customers the best local tastes. Laura Cashman is a very accomplished front of house manager. A proper family welcome here.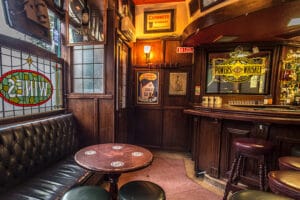 O'NEILL'S BAR
Right in the heart of Dublin, close to Trinity College and other major sights, O'Neill's is one of the most historic pubs in the capital, serving Dubliners for over 300 years. Nothing has changed architecturally in this pub. It's still full of all the original features and little nooks and crannies. But the food, well, let's just say it isn't easy to make a decision! 
The buffet is always full of tempters, from traditional carvery roasts to individual pies and other delicious creations. A full selection of beers, craft beers, wines and spirits. Not to be missed when you're in Dublin.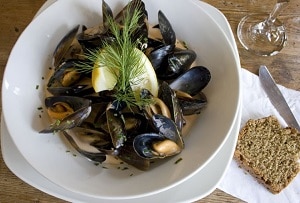 THE CROOKHAVEN INN
This pub sits right on the edge of Ireland! The Crookhaven Inn in Crookhaven on the tip of the Mizen Peninsula in West Cork occupies one of the most stunning spots in the whole of the country. The place is buzzing in summer, with local sailors and holidaymakers joining forces with the few permanent residents of the area to create a lively atmosphere, fed by good food! 
Owned by Emma Jepson and her Swedish born husband Freddie Olson, Emma was born and brought up here and her father is one of the original artisans of the region. Freddie brings his own style to the produce of the area. Tables outside get jammers in the height of the season. And why wouldn't they, with this view?!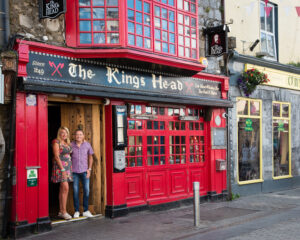 THE KING'S HEAD, GALWAY
In the Latin Quarter of Galway, 800 years of history awaits. Learn all about The Kings Head as you sip a pint and enjoy a dish from the pub menu. You will learn of the links to the beheading of King Charles I (hence the name) and admire the original fireplace of this quirky ancient building, where nothing has a straight line! 
Owned by Paul Grealish, whose family have been involved in the pub for over three decades. Paul's chefs put on a damn good spread, accompanied by good old Galway craic, live trad music every night and a proper atmosphere of shindig! We love it.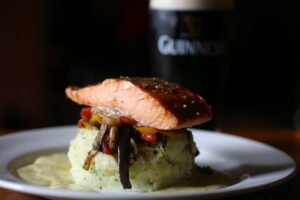 THE ROADSIDE TAVERN
In the wilds of the west, The Roadside Tavern in Lisdoonvarna, Co. Clare is the original home of Clare man Peter Curtin, married to Swedish born Burgitta Curtin. The pair are artisan food celebrities, producing award-winning smoked salmon and other artisan specialities at the Burren Smokehouse next door. 
But this pub is where it all started for Peter. His family owned the pub and he continues to work here, serving customers with his particular brand of the wild west of Ireland charm, plus brewing his own craft beers for sale only in the pub. Kieran's Kitchen at The Roadside Tavern provides a menu featuring all Burren Smokehouse and local produce. Step back in time in a beautiful spot to enjoy some of Ireland's best produce and lively banter!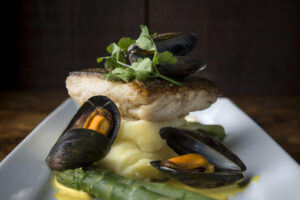 HARGADONS 
Sligo town is lucky to have this little place to hang out in and eat! Hargadons is a time-honoured old Irish pub where the news of the locality is served up with the pints. It's like stepping back to a bygone era to step inside here. The cosy counter is perfect for lone diners or those just wanting a drink. 
The little snug booths are great for family or friends enjoying a meal together. Food is traditionally Irish, with Irish ingredients. Hargadons is famous in Sligo, a gastropub long before the term was ever invented! This where the locals got their good honest grub and are still getting it, with awards attached!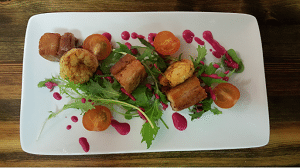 FLANAGAN'S GASTROPUB
A little gem in a country location. That's Flanagans Gastro Pub in Brickens, five kilometres from  Claremorris town in Co. Mayo. 'We're your typical rural Irish pub, on a crossroads with a community centre and the church', says Luke Flanagan, who owns and runs the pub with his wife Caroline. 
Luke is the fifth generation of the family to run this establishment, originally Flanagan's shop opened in the mid-1800s by Luke's Great Great Grandfather. What a history to fall back on. Now the place is hopping with people enjoying Luke's great food, including his fish chowder with Clew bay Sunset Ale bread  – and lots of other goodies! 
Buy Gift Voucher