Good Food Ireland® Approved Since 2006
We stand over our recommendations. With exacting selection and regular review processes we ensure a rewarding local Irish ingredient led experience. You can count on it!
Overview
Just a few steps away from the glamorous shopping of Grafton Street and the historic site of Trinity College sits one of Dublin's most traditional pubs. It is a great place for a quiet pint, to try some delicious Irish food and to tap your feet along to some lively music. At O'Neill's, you'll always be sure of a warm, friendly welcome.
---
Dining
O'Neill's has been serving beverages to weary travellers for over three hundred years. The O'Neill family have been at the helm for almost one hundred of those. This pub has the feel of an Ireland of old. It is a characterful space where everyone is welcome.
The small snug to the front is the haunt of regulars who have been coming here for many a year. Here they sit with a quiet pint and the newspaper. Beyond this is a myriad of nooks and crannies, snugs and corners, where original bric-a-brac and artefacts adorn the walls and where friends gather, colleagues chat and tourists marvel. O'Neill's is the epitome of traditional Dublin pub life.

€€
O'Neill's is a pub for those who love their food and want a decent drink to go with it.
Many have said you won't find a better pint of Guinness in town. But it's not just about the black stuff here, there a huge range of international beers plus shining stars from Irish craft brewing, in fact, O'Neill's has the largest selection of Irish craft beers on draught in Ireland. There is a terrific whiskey range too and you'll find it in the beautiful whiskey corner. A tasting tray option offers three levels of whiskey tastings depending on your taste and experience.
Groups on a night out will love the 'best seats in the house', which are high stools around individual tables where you can pull your own pint.
O'Neill's is also really popular for its food. The menu reads like a who's who of artisan suppliers from around the island. The team at O'Neill's are fiercely proud of the local produce they use in their dishes and the food is a wonderful example of modern Irish cooking.
Live music is a feature at O'Neill's, once again compounding the traditions you'd anticipate at a real Dublin pub.
Major sporting events are captured on 13 large plasma screens and three big screens. There is a great vibe here when a big game is on.
There's also a lovely heated rooftop beer garden, which is a very nice place to hang out any time of day.
O'Neill's really has it all; the look and feel of a traditional Irish pub, modern Irish food and up to date facilities all in a sensational city centre location.
---
Sustainability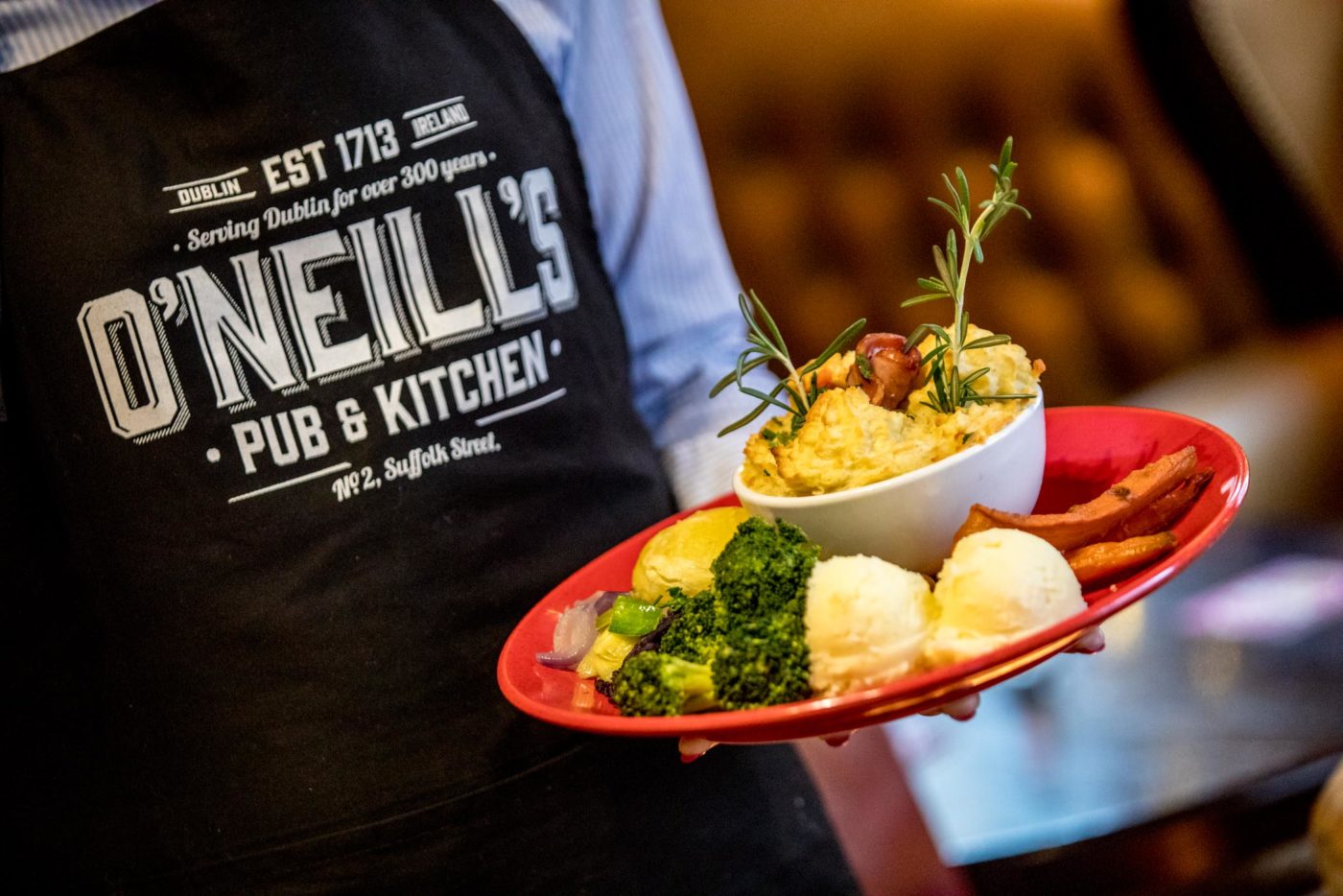 At O'Neill's, all the food products are sourced from around the island from the best artisan suppliers. O'Neill's uses only the finest Irish meat, fish, shellfish and seasonal vegetables giving customers the best on offer.
---
Leave review
WHAT CUSTOMERS VALUED AND ENJOYED
There are no reviews yet. Be the first one to write one.
---
Nearby Experiences
Experiences

Accommodation

Dining

Cook & Shop

Meet the Makers