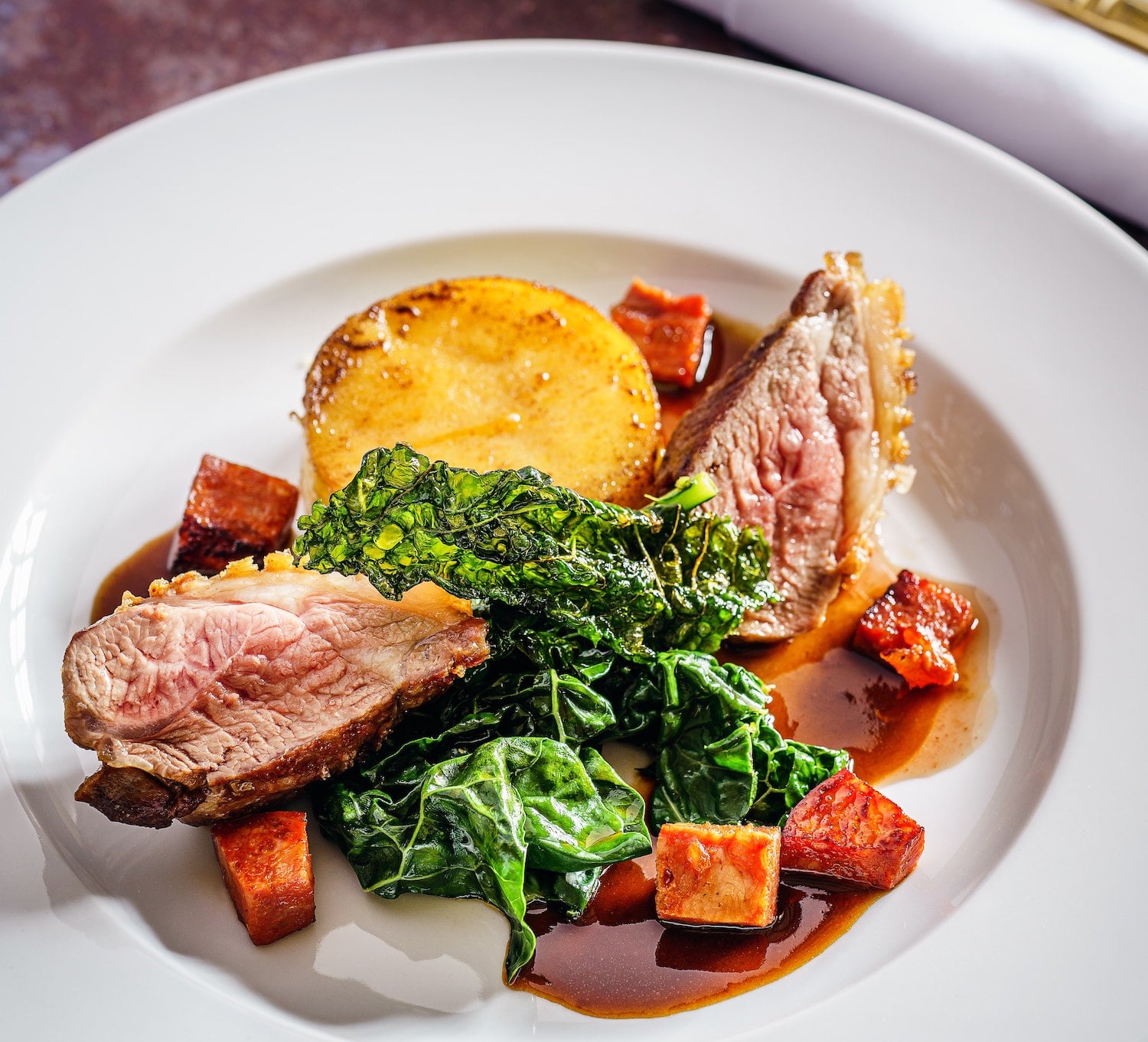 It's Friday and the weekend is upon us. We're looking forward to Sunday, and reclining over a gorgeous lunch. The heart of a Traditional Sunday Roast is, well, the roast. Good meat, be it beef, lamb, pork, chicken or duck, is the centrepiece of proceedings.
Visit Our Shop
Choosing the Meat
The best meat comes from Good Food Ireland butchers and suppliers. Look for these guys near you:
Kelly's of Newport, Co. Mayo. An award-winning butcher with his own abattoir. Browse the counter and be spoilt for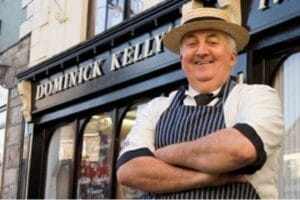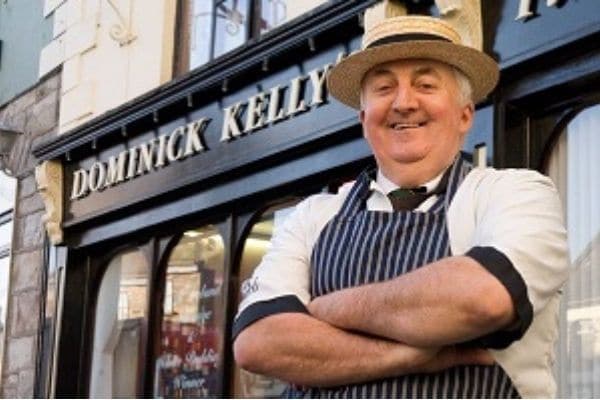 choice in Mayo lamb and beef and Sean Kelly's award-winning black and white puddings for a weekend brekkie!
M.J. O'Neill, Clonakilty – good local beef grazed on sea misted lands by Inchydoney Beach in West Cork, processed in own abattoir.
The Market Butcher, Rathcoole Dublin. always a good family deal on offer here, as well as exclusive beef and lamb from Lambay Island off the coast of Dublin.
Jack McCarthy butchers Kanturk, Co. Cork. Artisan butcher selling locally reared beef,  lamb and free-range pork and chicken, plus own artisan meat cures and charcuterie. Find a roast with a twist here!
Martin Divilly Butcher's, Galway.  A champion craft butcher with family values. Look out for the meat of the week, which could be the finest grass-fed Irish sirloin beef roast or some Connemara lamb. The magnificent Irish rib beef on the bone is particularly impressive!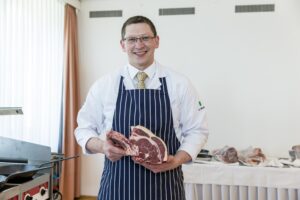 Michael McGrath, Lismore, Co.Waterford. A traditional butcher's shop with its own abattoir. Super choice of beef and
lamb cuts from family and local farms.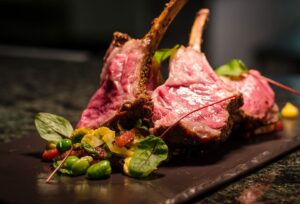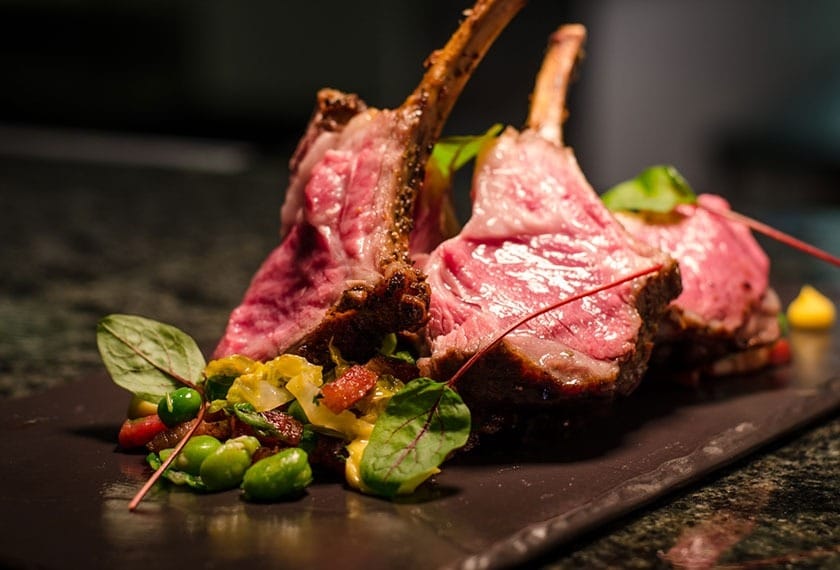 These producers also supply direct to customers online:
Achill Island Mountain Lamb –  'Heather seasoned – Seaside Sweetened' lamb from the Calvey family, who exclusively supply mountain lamb from Achill Island in Co. Mayo, straight to your door. Half or whole lamb joints and cuts, boxed and ready to cook or put in the freezer.
Irish Piedmontese Beef – A wonderful marriage of an Italian beef breed reared on Irish soil! Enjoy the lean and tender roasts and other cuts available to order online.
How to Choose your Sunday Roast 
Beef – rib is a great roasting joint, either on or off the bone. Look for well-coloured meat with a generous creamy fat layer and good marbling of fat throughout. This will melt off during cooking to make the beef moist and succulent.
Pork – choose a loin or a piece of leg, on or off the bone, But both with the rind on for good crackling. Ask your butcher to score the rind finely when you buy.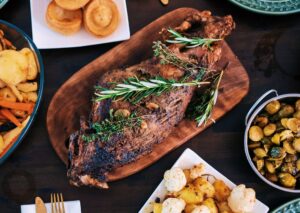 Lamb –  New season lamb from this year has now had a chance to get a bit older, dining out on sweet summer grass. Super time to eat lamb. Choose a leg or shoulder joint.  The leg can be whole or cut into shank end or fillet joints. The whole shoulder is a huge joint to feed a crowd. Long slow cooking gives tender succulent meat with fat which crisps up.
Chicken – Your bird has to be free-range. It will be more expensive but worth every cent.  If you live in or around Cork, look out for East Ferry Free Range Chicken in local shops and butchers.
Duck – the best we know comes from Skeaghanore Duck in Ballydehob, West Cork. Lovely plump ducks which roast to crispy perfection and provide heaps of duck fat in the roasting tray which you save for the roast potatoes.  Check the Skeaghanore Duck website for stockists near you.
How to Get a Great Roast 
Beef – Rub with Soil and season with sea salt and freshly ground black pepper. A good over a smear of wholegrain mustard also works wonders.
Lamb – make slits in the meat of leg or shoulder and stuff with little sprigs of fresh rosemary and slivers of garlic. Drizzle with oil and season.
Pork – rub the scored rind generously with oil and salt. Rub the salt into the cuts in the rind. Start the roasting at the highest oven temperature, till the rind begins to crackle and crisp. Lower the heat to Gas 4 180C and roast till cooked through and the rind is super crackly.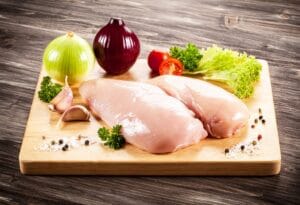 Chicken – Stuff the cavity with some fresh herbs and half a lemon or onion.  Lift the breast skin gently without tearing, and push slices of garlic underneath. Rub the whole bird with softened Irish butter. Season with sea salt and freshly ground black pepper before roasting.
Duck – This bird has plenty of fat of its own, so it doesn't need more. Simply prick the skin all over with the point of a knife, especially underneath and around the legs. This helps the fat to run during cooking. You will need to pour it off during cooking. Save it for wonderful roast potatoes.
And Finally…
Don't forget the…
Mint Sauce for Lamb
Yorkshire puddings and English Mustard for Roast Beef
A herb and lemon breadcrumb stuffing for Chicken
Homemade apple sauce for Roast Pork
Buy Gift Voucher