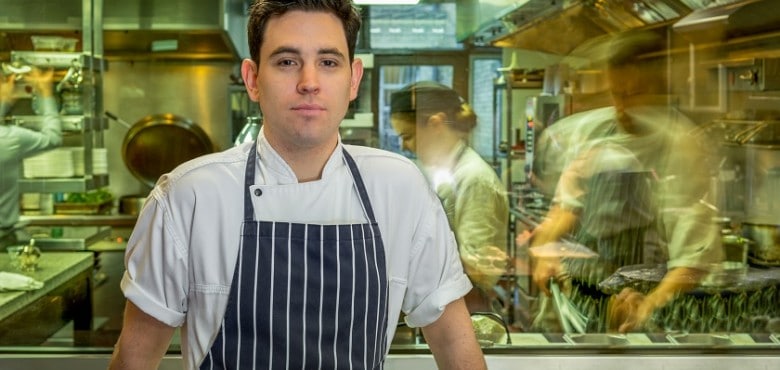 WHO I AM
Eric Matthews, Head Chef at Chapter One Restaurant. I've been here for nearly two years. I work closely with Ross Lewis, as his right-hand man, running the kitchen team. Chapter One is a Michelin starred modern Irish fine dining restaurant. Local and Irish ingredients dictate our menus.
THE NITTY GRITTY
What type of training did you have?
I trained at Cathal Brugha Street catering college. (Now Dublin Institute of Technology's Culinary Arts and Food Technology Department). In my career, I've learned a lot working in kitchens like L'Ecrivain and Restaurant Patrick Guillbaud in Dublin and the Fat Duck in the UK, learning from great chefs. Then I won a scholarship to go to college in Australia and worked with Guillaume Brahimi, then at Bennelong in the Sydney Opera House. That was an amazing experience. I came back from there to work at Chapter One for the first time, before leaving again for London. I wanted to do the London thing. I worked for Philip Howard at The Square in Mayfair. Almost two years ago, I returned from London to Chapter One as Head Chef and I've been here since. I absolutely love it. Read more on learning to cook.
What were the challenges along the way?
One of the biggest challenges is the impact this job has on family and relationships. The hours are long with a lack of pay in the early years. You have to really make an effort to see people if you want to keep in touch with friends. I think that these short cookery courses are absolutely brilliant, they give you all the cookery basics and techniques. But they don't prepare you for the hard work you have to do and the sacrifices you make in this job. The industry is a much better place now. We have a 49 hour week here at Chapter One and anyone who does overtime gets looked after. We like a kitchen full of happy people, not a group of chefs who are scared, stressed or exhausted. 

Were there any major positives or crucial turning points in your career?
Going to London in 2012 made a huge impact on me. As much as I thought I was a good chef when I went, I joined a two Michelin starred restaurant, so I went from being a sous chef back to being a commis chef again. A light bulb moment. The standards, the produce, the hours, it was immense. I was 25 when I went to London so it was a decider in a way. A real test. London was a magical place to work because the job was horrible and amazing at the same time! Definitely a massive turning point for me.
Which people influence your cooking?
Philip Howard in London influenced me hugely. I was already influenced by London anyway from an early age, around 20-21. You're impressionable at that age. I liked Marco Pierre White and Gordon Ramsay, I liked their work ethic. Then the produce started to come into my head. Ross Lewis has definitely influenced my cooking in that sense. I've learned a lot from him. What we do here is try to keep things simple with less, using fantastic quality ingredients. Ross and I talk about this all the time. We work on dishes together to concentrate on getting the ingredients to speak.  
Which food styles/trends interest you or influence your cooking as a professional Chef?
I've been cooking for twelve years now and have seen lots of different trends! The molecular gastronomy thing is a precise and scientific way of cooking. I like to cook food that's food. I'm not really into the new Nordic cuisine. We live in Ireland where people just want lovely food and we have lots of fresh food here. My style has become more natural, getting top quality ingredients, keeping it simple and doing less to the dish. I like the heritage behind techniques like fermenting. We feature local traditional specialities where we can. I come from northside Dublin, where we have Gurr Cake, an old Dublin recipe a bit like a treacle tart, made to feed the 'gurriers' (old Dublin street urchins). Our pastry chef has recreated it in Chapter One. I like that kind of link between the dish and its heritage. 
Why do you love your job as a professional chef?
I love my job because I couldn't imagine doing anything else. I love it because I don't know what's going to happen on any given day. We have a road map but this is not an office. Anything can happen. Being a chef is the best job in the world. It's a beautiful job. 
What's the worst thing about your role as a professional chef?
I don't enjoy it when I get a lack of commitment from someone. When I put so much effort into train and motivate them to a point where they can begin to give back to you, then they decide to leave. That's the worst part of this job. Because I really believe I would like to create a team that would stay with us for ten years. A team that looks at the bigger picture. 
Describe a typical day in the kitchen
For me, it's usually an 8.30 to 9 start. I have a chat with my Sous Chef and plan out a few things. Then I have a walk around and make sure everyone is present. We have a briefing and talk about any special requirements for the day like group bookings, allergies, vegan menus etc. After that, I go through each section and make sure everyone is happy and knows what they are doing. Our vegetables come in about 9.45 am so I check those and make sure all is good. I give the guys a break at 11 am. I am generally chatting to Ross then and we plan out our day. At 12 noon we taste everything, every element of every dish. We run a recipe system here so everything will be consistently good no matter who made it. We serve lunch from 12.30 pm to 3 pm. Today we have a group of fifty from the industry with tasting menus, snacks, inter-courses and pre-dessert, so it will be full-on. 
At 4 pm every day we prepare for dinner. We talk about any requirements and try out new dishes in the afternoons. We play around with new ideas, do tastings and discuss with my Sous Chef. Then we park it till the next day and discuss it with Ross. He has the final say. Our big management meeting is every Tuesday. We sit down and discuss past weeks, review any issues, what we did that was good and what we could have done better, just generally reassess where we are.    
Evening service starts from 5.30 pm when we serve a fantastic pre-theatre menu till 6.30 pm. It's a brilliant value at €38 for really good food and quick service which doesn't compromise the dining experience. The pre-theatre menu generally takes up about an hour. When that's over, we clean the kitchen and set up for dinner. We take a little break from 7- 7.30 pm, so everyone can chill out and have coffee. We are all set up and ready to go at that stage anyway. Our kitchen is designed so that people don't have to move far and when dinner kicks in, I conduct and run the kitchen accordingly. Our tasting menu finishes at 9.30 pm and dinner at 10 pm. After that, the kitchen is cleaned down ready for the morning. We try to get everyone out by 10.30 pm if possible, depending on how busy we are. We try to all leave together, which is a good end to the day, part of the teamwork. Our routine works well and it means that if I have a night off or Ross has a night off, everything runs exactly the same and goes fine. 
What are your strong points? 
I have youth and energy. My previous experience has set me up to deal with a lot of the pressures of this job. My strengths are my education, background and temperament. We don't have an attitude here. We value people and their opinions. I am a negotiator rather than a dictator. I always look at this job as a 'we' situation rather than a 'me' one. 
Would you change anything about your journey so far?
Absolutely nothing. I've reached a point where I can build on what I have done. I would like to do more stages (short internships in other restaurants). I don't know what the future holds but I am very happy with Chapter One. I would love to stay here for a long time and continue the legacy Ross has created. 
Who does the cooking at home?
I do most of the cooking although my girlfriend is a good cook. She is sick at the moment so last night I cooked her a big bowl of Ramen with lots of healthy ingredients. I like to cook at home and for the family. I try to cook for my family once a month and the big occasions like Easter and Christmas. 
Any advice for anyone who wants to become a professional chef?
Work as hard as you can at the highest levels you can. It might be tough but it will be worth it. For the people who cook here at the University of Chapter One, it's our responsibility to make them into better chefs when they leave us.  
Buy a Cookbook
What's your favourite dish or recipe?
I like our Corned Mutton with Donegal seaweed and pickled kohlrabi. It's a really 'umami' dish. Pickled and Charred Mackerel with Clarenbridge Oysters and lovage cream is also a favourite. We always create our menu just using what's good and try to be clever with a dish without over-complicating it.  
Written By: Good Food Ireland®